Beautiful artist paintings come out of the heart and imagination of the artist
What makes beautiful artist paintings? Beauty is in the eye of the beholder. My paintings share the beauty, peace and joy of the things around us. 
There are a lot reasons artists paint.
We want to paint and share what we see and experience around us.

We want to put things down on canvas, so other people can see it before it"s gone.

Good painting comes with practice and the more we paint, the better we get.

Painting the same way all the time may not be fun. So we like to try out new things and continue to grow our skills.
Most of all we paint for the sheer joy of painting!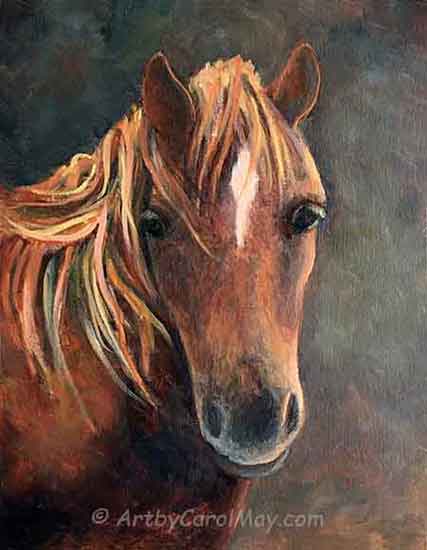 Christmas Pony
sharing is the best joy of painting!
My sister and I went to a cookout at the local feed store. The food was good, but the best thing was watching all the children running and playing.
The owner's daughter was riding her stick horse she named "Bucky". What fun!
Some lucky child will soon be getting a real equine, not a stick horse but, a live "Christmas Pony".
This quick watercolor painting, "Fun Color" shares my love of color.
Color is fun! It is one of the joys of being an artist.
Artist paintings from ancient cultures depicted their lives and the things they saw around them.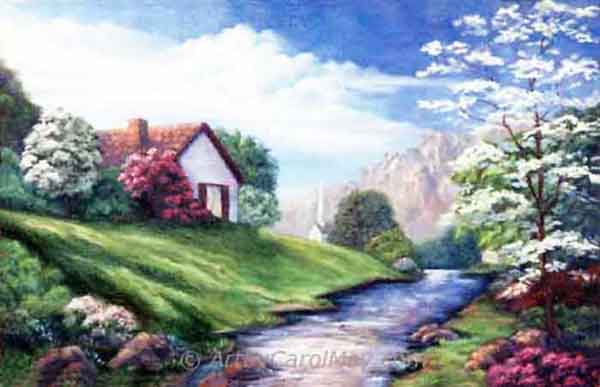 Springtime
This painting shares the beauty of the "Springtime" blooming flowers. And the wonder of a stream flowing around a cottage into the distance.

Whatever the reason, we like to paint the things we see around us. This is one of the main reasons artists paint today.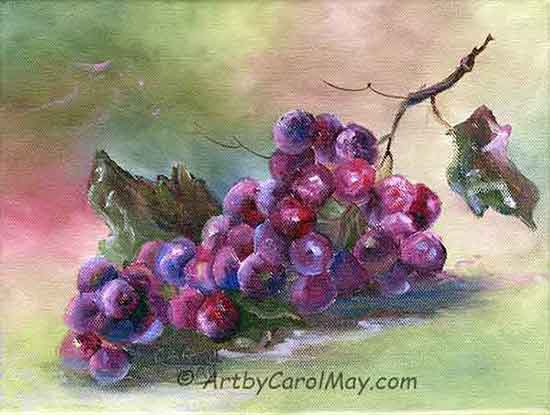 Harvest
My home state of California grows lots of grapes. Harvest time is a very important time.
The schools start after Labor Day, so the children can help with the picking, loading, and preserving all of the produce. Grapes make a wonderful "Harvest".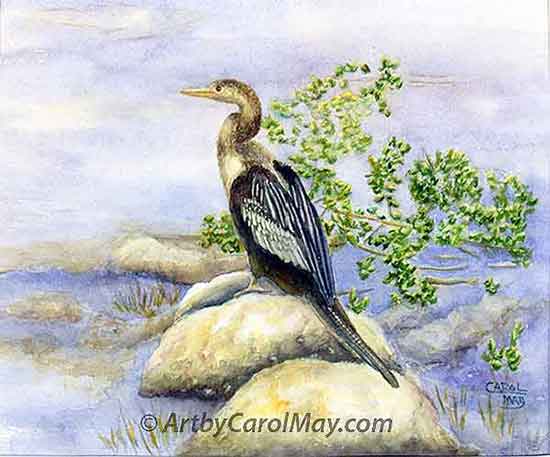 Anhinga with Mangrove
Florida was my second home for about thirty years. I really enjoyed all the bird life. The "Anhinga" is one of the native birds we would see around the waterways and lakes in Florida.
Some people call it a snake bird. While it is swimming, its body is below the water. The head and neck stick out of the water giving the appearance of a snake. Not to me, they are just interesting birds. 
artist paintings record history
The gulf coast of Florida used to have numerous stilt homes just off the shore.
Many of the commercial fishermen lived in these homes. We are friends with a man who grew up living out on the water.
The fish house would send a boat out to their stilt house to pick up their day's catch. The boat would also bring them groceries. They virtually spent most of their life out on the water.

Day's End
"Day's End" records the days of Florida's many stilt homes.
This stilt house was one of the last ones remaining in Cedar Key. It is gone now after the many Florida storms. But, it is recorded for history.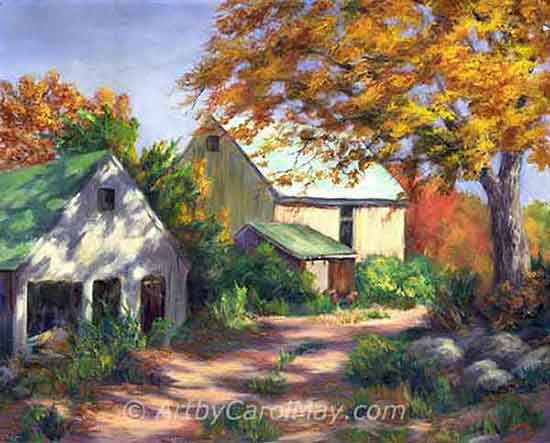 Country Barns
Farmers have to have barns. They would build their first barn. Years later, they may build another one. It could be a different style from the first barn. They may build additional structures, such as a storage shed.
It was fun painting the different style barns and the sun and shadows on the "Country Barns".
we paint to hone our painting skills
When Florida became my home, I only painted with oils. But, at my new home in Florida, watercolor paintings were the norm.
So I started working on my watercolor skills.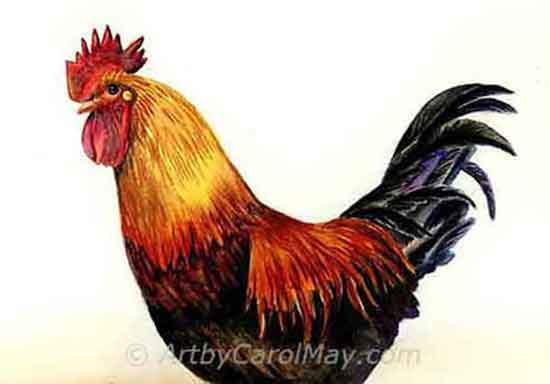 Rooster, an excerpt from a larger painting
Watercolor can be painted in a realistic manner like the "Rooster" above.
Or you can let the watercolor do its amazing things. It was fun letting the paint flow in "Surf Catcher", below.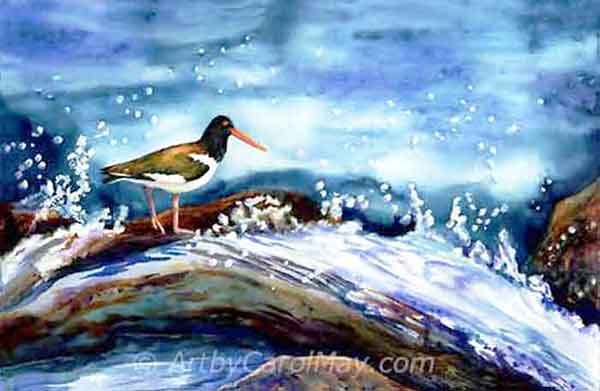 Surf Catcher
One of the best things to do in Florida is walk on the beach and watch the shore birds.
This Oyster Catcher bird is catching some surf, while he is on his way looking for oysters.
we may paint to try new things

Various water-based paints can work together in the same painting. So it's fun to experiment.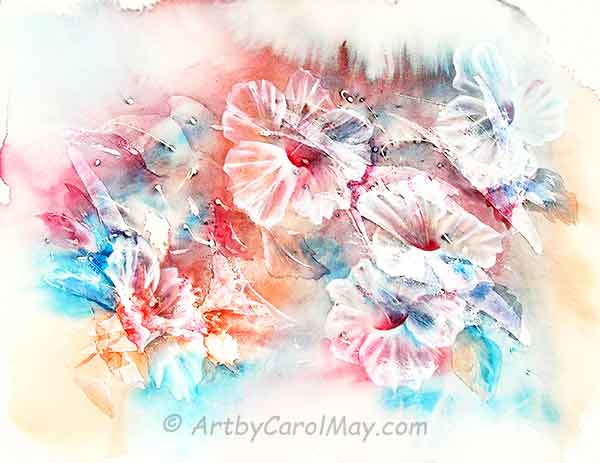 Hibiscus Freedom
This watercolor and acrylic, mixed media painting "Hibiscus Freedom" shows off the pretty flower colors.
Learn this mixed media painting method

we may paint to teach others
"Koi Challenge" is a fun how-to tutorial of pouring watercolor paints.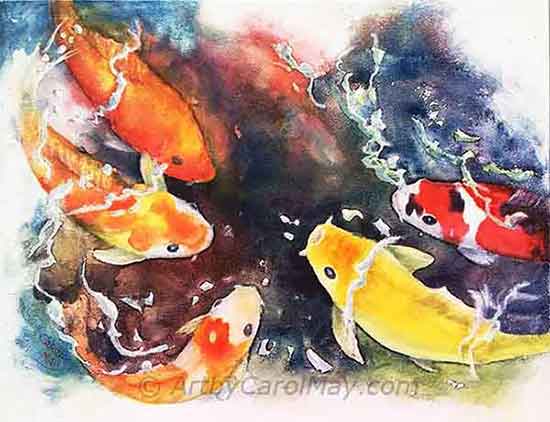 Koi Challenge
Go and find how to pour watercolors.

best of all - we just paint for the fun of it!
It is fun to do artist paintings for children and let your imagination run free.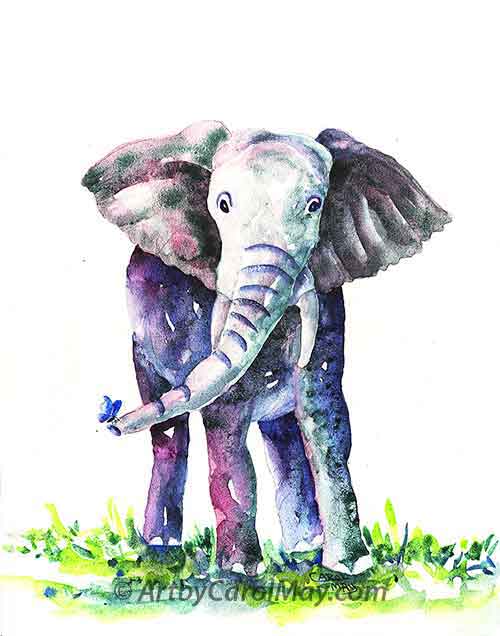 Baby Elephant
This "Baby Elephant" is surprised by the blue butterfly that just landed on its trunk!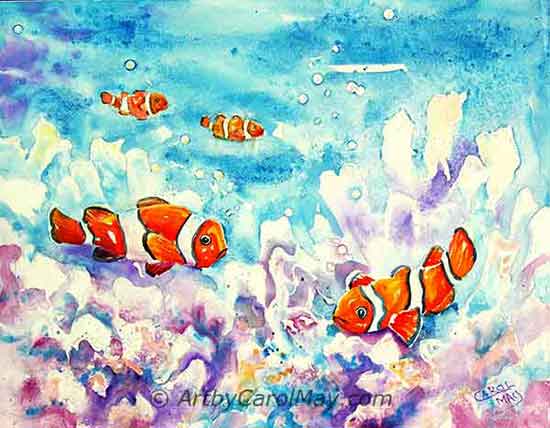 Who's This?
Nemo's relatives are checking out each other in this fun watercolor painting. They are wondering "Who's This?". Who is that other guy?
so, Why do artist paint?
We paint to share our heart. Beautiful paintings are a reflection of the heart and imagination of the artist.


it's a joy sharing my artist paintings with you!


Oct 20, 21 09:05 AM

You can enjoy the flowers all year long with oil paintings of flowers.
Paintings of roses, daisies and more by Carol May, flower paintings are both fun and challenging!

Oct 05, 21 09:29 AM

The beautiful and awesome paintings of the old and modern masters inspire us to learn painting.
How do we get started leaning how to paint? What supplies should we get? What colors do we need? What is…

Sep 26, 21 09:23 AM

Learning the principles of good art made me a better painter.
All successful paintings use the same principle elements of art. Rev-up your art journey by using the elements of composition, values, foca…
Oct 20, 21 09:05 AM

You can enjoy the flowers all year long with oil paintings of flowers.
Paintings of roses, daisies and more by Carol May, flower paintings are both fun and challenging!

Oct 05, 21 09:29 AM

The beautiful and awesome paintings of the old and modern masters inspire us to learn painting.
How do we get started leaning how to paint? What supplies should we get? What colors do we need? What is…

Sep 26, 21 09:23 AM

Learning the principles of good art made me a better painter.
All successful paintings use the same principle elements of art. Rev-up your art journey by using the elements of composition, values, foca…