isn't painting about enjoyment?
I wanted more freedom in my watercolor paintings.

These fantastic, awesome paintings gave me that freedom.
These mixed media paintings are different from traditional watercolor paintings.

I first started doing them when I was doing street festivals in Florida. People would stand and stare at the paintings because they were so different from regular watercolor paintings.
People would just rave about them!

They would stand with their mouths open. They would ooh and aah over the paintings.
"What awesome paintings," they would say. Then they would ask me, "How do you do it?" I never told.
Well since I am not doing festivals anymore and I am in my mid-70s, I figured - why not share?


it is a simple process you can use to create your own awe-inspiring paintings.



what makes these paintings different from watercolors?
Unexpected - interesting texture
Unusual lively color movement because the paint has been poured
No glass covering up the painting

I had been doing butterfly paintings and it was getting tiresome doing all the detail.
So to jazz it up, I decided to do some awesome paintings of butterflies.

The butterfly is painted fairly realistic. Around the outside there is lot of color and Penta flowers that are loved by butterflies.

Lots of color and texture made this a lively butterfly painting.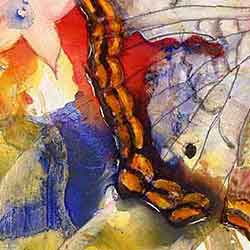 White Peacock detail-1
Sometimes when you are pouring the paint, it flows into unexpected areas.
The red and blue flowed into the butterfly's wing. That is not its natural wing color. But it certainly adds interest to the painting.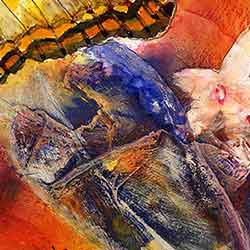 White Peacock detail-2
The acrylic texture sometimes grabs the paint colors and other times it blocks the paint from flowing.
This adds a lot of interest and variety to the awesome paintings. So I made it to simulate a leaf.

---
another awe-inspiring painting
On the way to a show I stopped to show my neighbor the paintings I was taking to the show.
When I pulled "Freedom's Light" out of the travel bag, she exclaimed, "What an awesome painting!"
She could feel the heart of the painting. That's what inspires me to paint.
When the viewer feels the painting, you know you did a good job.
Freedom's Light
A new window will open in my site on Fine Art America.
how-to create your awesome paintings

Do a pencil drawing on Claybord to give you a better idea of where to apply and not to apply the acrylic texture.

Put some acrylic paint on the board with a palette knife. Move it around to make texture.
Leave parts of the board smooth without any acrylic.

Normally I use white, but on Freedom's Light I used a combination of white and yellow paints.
When the acrylic is completely dry, pour on the watercolor paint colors.

The watercolor moves normally on the areas without the acrylic texture.

The textured areas make the paint do interesting things.
When the paint is dry do the detail painting on your subject.

When painting is completely dry, spray it with two or three coats of acrylic fixative. Because it can be framed without glass the texture and colors display beautifully.
Ampersand Claybord has a smooth surface without texture.
I prefer to use Ampersand's Claybord for this technique because the poured paint flows better on Aquabord.
---
Here are a couple more examples of this fantastic painting technique.

This technique creates texture
not normally possible with watercolor.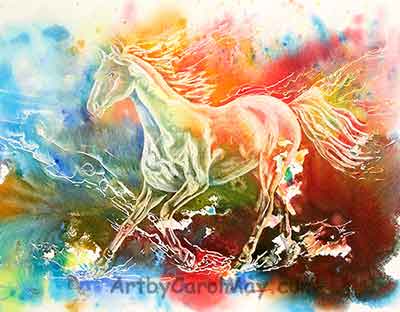 This technique will give you
a new freedom in your paintings.

You can have so much fun doing your own awesome paintings!