doing beautiful paintings with oils

Oil paintings are the highly respected traditional type of artwork. They have an unsurpassed brilliance and richness.
My mother took up painting after she retired. It's never too late to dive into new things. She taught me what she learned and got me started painting. Plus, we went to some hands-on painting workshops together.
It's natural to paint the things we see around us. So we normally painted landscapes. Today I still enjoy doing landscape and seascape paintings.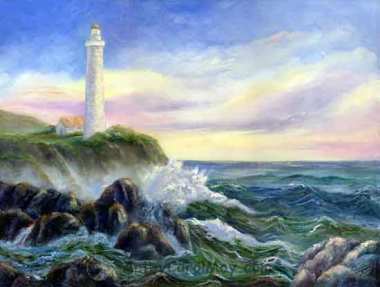 God's Lighthouse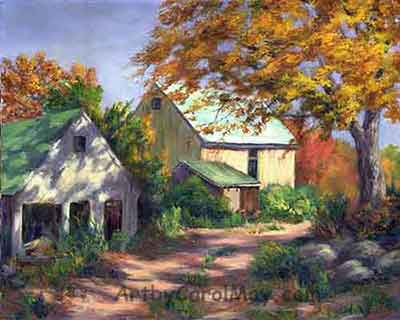 Country Barns
When I started painting on my own, I started painting lots of different critters.
Even today birds and butterflies and other wildlife critters are one of my favorite subjects to paint.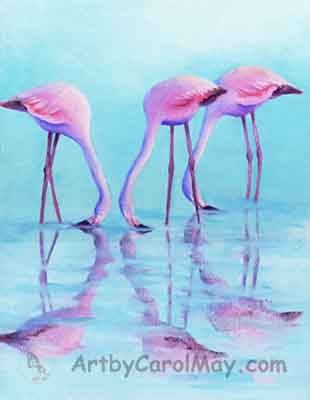 Flamingos Feeding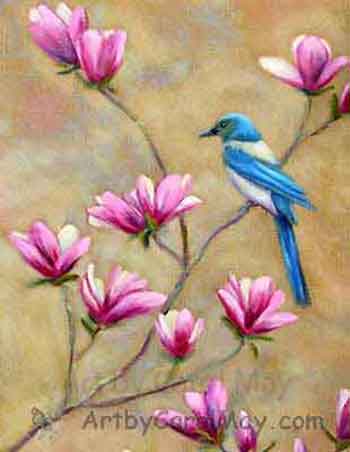 Scrub Jay
Flower paintings were my next subject. Flowers are one the most challenging things to paint.
And I am still working on flowers. During the warm months of the year, I spend many hours outside working my flower garden. In the winter, I spend hours in the studio working on flower paintings.
It's worth it. It is such a joy to see beautiful painting coming forth on the easel!

lovely watercolor paintings
One year my sister gave me a calendar with beautiful paintings done with watercolor. They looked very intriguing. This opened up a whole new area of painting for me.
Using the basic concepts that apply to all types of painting, I learned by trial and error how to use watercolor. I still have not had any instruction on watercolor painting, but it is fun.
Some of my first watercolor paintings were butterfly paintings. Later I tried my hand at hummingbird paintings.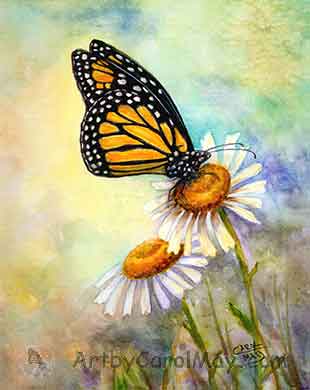 Monarch Butterfly
Costa's Hummingbird
Watercolor painting has a spontaneity and freshness. That makes it very enjoyable to use, even though sometimes it is unpredictable.

It is so much fun to do the watercolor backgrounds in a free, flowing manner.
Many times it is so unpredictable, but that's what makes it fun to me.
Born Free
Anna's Hummingbird
Sometimes I paint in a free manner like the painting "Spots".
Other times my paintings have more detail like the "Northern Flicker" painting.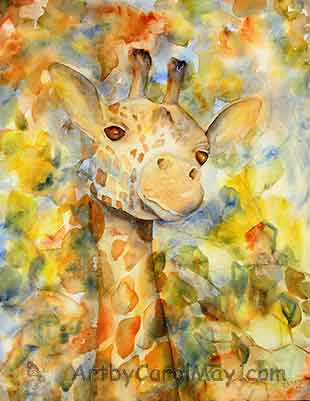 Spots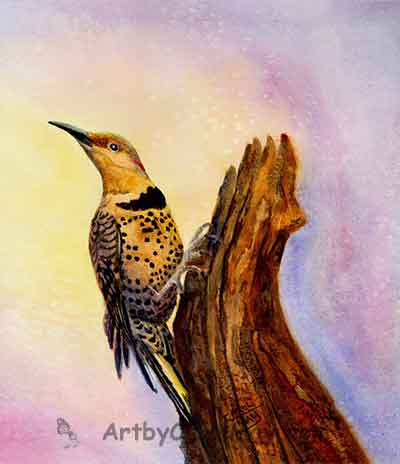 Northern Flicker
Painting is such a joy! Sometimes you get intriguing and beautiful paintings like the "Leafy Sea Dragon".
Or you can just let everything flow free like the prophetic painting of "Freedom".
Leafy Portrait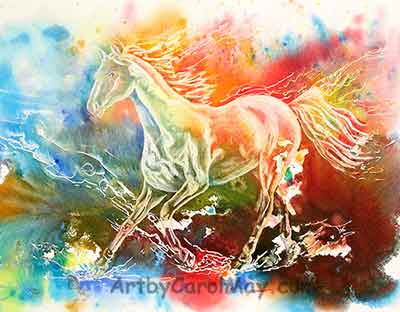 Freedom
Nowadays I switch back and forth between oil and watercolor paintings. I admire the richness of oils and the freedom of watercolors. Both mediums make beautiful paintings.


It is a joy being your online artist, Carol May.
There are plenty more paintings on the individual painting pages.

enjoy!