Why do i paint?
Spring Beauty
My goal as an artist is to share the beauty and wonder of God's beautiful creations.
I have always had a love for nature. My first paintings were landscape paintings.

Then some of my favorite subjects were birds, butterflies, hummingbirds and other critters like giraffes and dolphins.
Now I am doing more flower paintings.

My paintings are signed with my first and middle name - Carol May.
I hope you enjoy my work, as much as I enjoy doing it.
where did my art journey begin?
It all started with an art class in Junior High School. Then I minored in art at college.
The art classes were so much fun, but my horticulture major took most of my time. After graduation I had to spend most of my time earning a living. You know what I mean.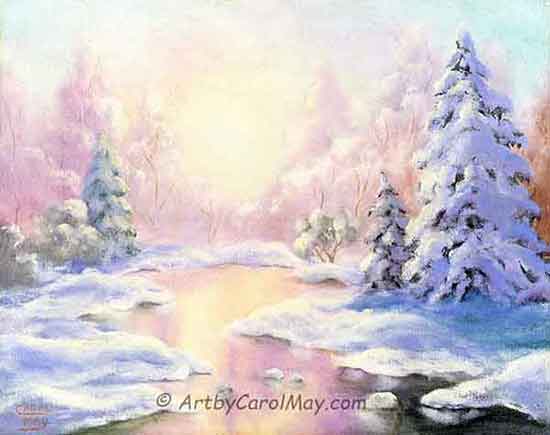 One of my first
mountain paintings
Art was set aside until my mother retired. She took up painting and studied under various art teachers. One of the teachers she studied under was Bill Alexander.
Bill Alexander was Bob Ross's mentor and teacher. My mother became a certified teacher under Bill Alexander just like Bob Ross.
She started teaching art and gave me some painting lessons.
My beginning paintings were in the Bill Alexander (Bob Ross) method. Mountains were the main subject, so that's what I painted.

ribbons and awards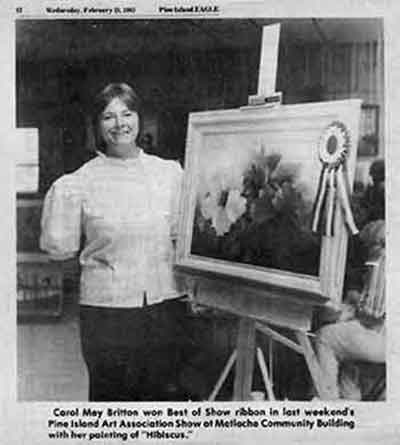 Honored with a
Best of Show
My husband and I moved to Florida where we had our own business. The business kept us quite busy, but when there was time, I painted.
The flora and fauna of Florida put me in awe. The pelicans and all the other birds and flowers amazed me. So they were the subject of my paintings.
I did so many pelican paintings that after a while I vowed, "No more pelican paintings!" Well that lasted for a while.
But in the meantime I started painting the flowers and seascapes of Florida. It was a privilege to get a best of show ribbon.
Since my mom and I lived in different states, I rarely got to paint with her any more.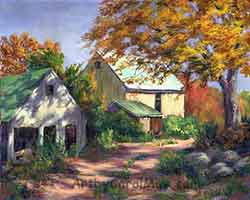 "Country Barns"
But one time we went to the New England area and painted on location for two weeks.
It was the first time I had ever seen the beautiful fall colors of New England. We didn't see many fall colors in Florida.

After I got home I continued working on the paintings.
When "Country Barns" was complete, I entered it in a local show.
It was privileged to win a best of show award.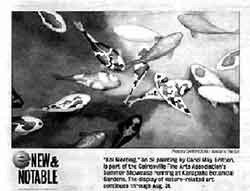 More Awards
"Koi Meeting"
As time permitted, I continued to paint and enter local shows.
The painting "Koi Meeting" won a best of the class award.
It was the largest painting I had ever done to date, four foot wide. A real estate company bought it to hang in their new office.
Lots of fun!
My paintings are smaller now-a-days, but it's still just as much fun.
Art by Carol May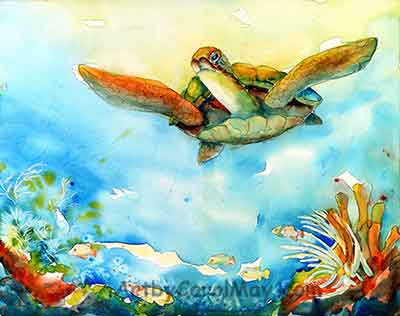 My favorite Florida painting
When the paintings started running out of the spare bedroom, Art by Carol May was born.
In the beginning I put my paintings in galleries. Then I joined a wonderful art co-op Island Arts in Cedar Key, Florida. It was fun working with the other artists.
My husband suggested we do some of the street art festivals in Florida.  We did that for a few years.
It was such a joy meeting people and sharing art by Carol May with them.

teaching painting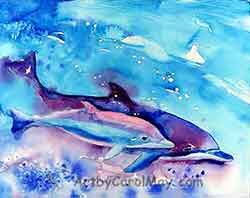 "Born Free"
I taught the Bob Ross (Bill Alexander) method of oil painting to students in Florida.
About the turn of the century I started painting with watercolor. I taught myself watercolor using the basic principles of art painting.
The basic principles of art apply to all types of paintings no matter what medium you use.

People started asking me to teach my watercolor methods, so I taught aspiring students.
what am i painting now?
A quick, fun painting
In the past I would only paint when there was a full day or maybe a week to devote to painting.
It takes discipline to make painting a regular habit. Now my goal is to make painting a regular habit.
I am working on this situation by painting smaller. I am doing a series of small 8"x8" paintings.
You will find some of these paintings on the Painting Daily page.
it's time to pass it on
There have been some large gaps in my painting journey, sometimes for years. Actually one time I laid down painting for 15 years.
Hydrangea Lesson
Now after retirement, I moved to a small town in Missouri. I am back to painting again and I doing an on-line course with Nancy Medina, see the Hydrangea painting lesson.

I keep learning and growing but, it's time to pass it on.
Budding artists can learn from my years of experience and advance their artistic journey.

When I moved here I had the aspirations of selling paintings like I did in Florida and giving painting lessons.
But the painting market is not as lively here, as it was in Florida. And my house is not big enough for many students.
what could i do?
The internet reaches the world thru the World Wide Web. I figured it was worth the plunge. So I jumped in and built a website for my art. But it hardly went anywhere.
Then friend showed me her website hosted by SBI, Site Build It.

She had lots of web visitors. And they were from different countries all around the world.
I moved my website to the web host she used. I took the plunge and I am glad I did! What a difference it made!

can a website boost your business?
SBI, my new web host way outperformed my expectations

Now, Art by Carol May paintings and prints go into the nations around the world.
Plus, I get to share my experiences and knowledge with budding artists wherever they live.
It wasn't necessary to jump in feet first with a big commitment.
They have a full guarantee with 90 day test drive period.