Artists have been using it to improve our paintings ever since. It is the basis for understanding color.
Today the color wheel is based on twelve colors.

We use it to select the paint colors for our palette.
We use it to choose colors for a painting.
We use it for mixing colors while we are painting.
Color gives life to our paintings.
As an Amazon Associate I earn from qualifying purchases. There is no additional cost to you.
let's delve into color
what are the primary colors?

Today artists use the primary color wheel based on the three primary colors; red, yellow and blue.
The paint colors closest to the primary colors are Lemon Yellow, Permanent Rose and Thalo Blue.
All other colors can be mixed from these primary colors.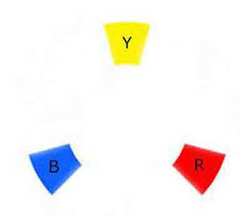 Primary Colors
what are the secondary colors?
When we mix two of the primary colors together, we get a secondary color.
Yellow and red make orange.
Yellow and blue make green.
Blue and red make purple or violet.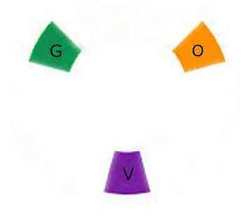 Secondary Colors
how do you make a tertiary color?
When we mix a primary color with a secondary color, we get intermediate colors called tertiary colors.
The primary color yellow mixed with the secondary green gives us yellow-green.
If we go to the other side of yellow and mix it with the secondary orange, we get yellow-orange.

The tertiary colors are; yellow-green, yellow-orange, red-orange, violet-red, blue-violet and blue-green.

use the color wheel to boost your painting skills
create distance in your paintings
We normally do our paintings on a two dimensional surface of canvas or paper.
When we look into the distance colors get lighter. They also get cooler.
Suppose we have a field of yellow flowers. Even though yellow is a warm color, it will get cooler when it goes into the distance.
We create the illusion of distance and depth in our two dimensional paintings by using warm colors up close and using cool colors for the distance.
In the painting "Springtime" warm colors show that sunlight is shining on the mountains.
The addition of blue moves the mountains into the distance.
show the multi-dimensional form of objects
limited palette
Using a limited palette of the primary colors (yellow, red and blue) is a great way to learn about color.

Beginning oil painters could use Cadmium Yellow Light, Permanent Rose and Ultramarine Blue.
It's great to have a warm and cool version of each primary. With the addition of white and you can mix all other colors.
There is no need for black on your palette. It is easy to mix black or grey from complimentary colors.


Understanding of the color wheel enables us to mix our own colors for beautiful paintings.
Plus we save money because we don't have to buy all the colors in the art store.
Click Here to get your Color Mixing Guide with a Color Wheel.
Enjoy your colors and have fun painting!



more color