grandmother's common garden flowers are tough and easy flowers to grow

Many garden flowers are easy flowers to grow. Pretty flowers we don't have to fuss with, grow these hardy annuals and perennials.
Want some pretty flowers in your yard? Grow the common garden flowers from generations ago. 
These flowers are tried and true and will brighten up your yard.
Geraniums were one grandmother's easy flowers.
geraniums are easy flowers to grow

Geraniaceae, pelargonium - Geraniums are perennials that grow best from zones 15 and warmer. In the northern zones they are grown as an annual or a house plant.
Pelargonium domestica - There are various types of pelargoniums, but the Martha Washington type of geraniums are the summer flowering ones our grandmothers grew. It was a standard in their gardens.
They grow up to 3 feet tall with clusters of flowers in pinks, reds, lavender, purple, white and some bi-colors. It blooms during the spring and summer. Prune off the old flowers to keep it blooming.
The standard Martha Washington geranium has scented leaves. But there are other geraniums that have been bred specifically for scented leaves.
Most all geraniums do well in the ground, pots or a hanging basket. The ivy geranium is particularly handsome flowing over the edges of a hanging basket.
Grow geraniums in full sun in the cooler climates and in partial shade in hot climates.
They prefer a fast draining soil.

Water them slightly on the dry side. In the ground water deeply once every week to 10 days. Geraniums in pots will require more frequent watering.

Geraniums appreciate fertilizer a couple of times during its growing season.
petunias
Petunia hybrids - Petunia is a tender perennial. It will overwinter and or reseed itself in mild climates. In other areas of the country, it is grown as an annual.
Petunias make wonderful hanging baskets.
They are fragrant and have a distinctive trumpet shaped flower. You may find many lovely pastel, dark deep colors and bi-colors in single or double flowers that have ruffles.
They bloom all summer, up until frost.
They may be grown in your garden and flowerbeds. They make a stunning display in hanging pots that attract hummingbirds.
They like regular garden soil and watering. They need good drainage.

Petunias appreciate a monthly feeding of fertilizer.
Hostas

Hosta funkia - Hostas also known as the plantain lily are an easy flower to grow. They are grown not so much for their flowers, but for their large decorative leaves.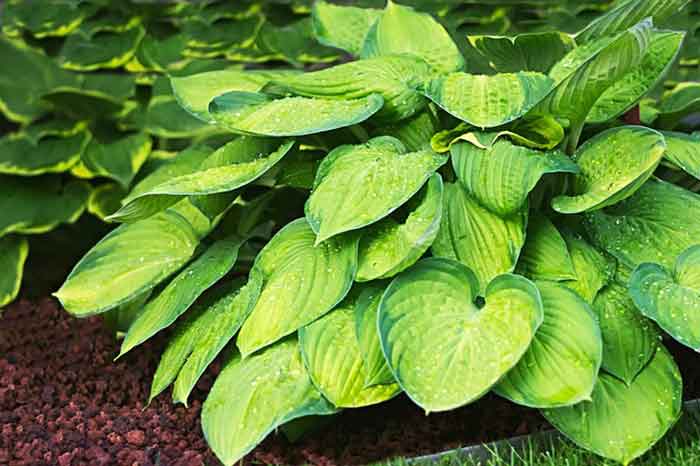 Hostas are normally grown for their foliage.
They do however bloom in the mid-summer with a tall spike a trumpet shaped flowers that open over several weeks.
There are over 300 different varieties of hostas ranging in size from 6 inches up to 5 feet in height. So when you purchase hostas make sure they will fit into your landscape.
They are hearty down to zone 3 and prefer to grow in partial to full shade. They don't appreciate a full day of sun.

They do appreciate good garden soil and regular watering. They will also grow in poor soil and survive dry times without water.

They are a tough easy flower to grow. They will multiply and grow into large clumps of their lovely leaves that in time will shade and crowd out the weeds.
Roses

Rosaceae - The modern bush varieties of roses are easy flowers to grow.
Roses deserve a place in every garden.
Everyone can grow roses. The modern roses are easy to take care of.

One criteria for rose growing is they need six hours of sunlight. It takes the sun to enable rose bushes to produce all their beautiful flowers.
There are varieties that will bloom in the shade, but they are rare.
Roses like a good garden soil. Add compost or other organic matter into the hole when you are planting your roses.

They flourish under regular watering. However after they are established they will be drought tolerant. They just won't grow and flower as well.
If they are bothered by pests get a rose fertilizer that includes a systemic pesticide. The pesticide will be taken up by the roots into the plant system. Then when the pest bites the rose, it gets a bite of pesticide.
You may chose various types of roses for your landscape, specimen roses, miniature roses, climbing roses, etc.
The modern Knockout Rose is fast becoming one of the common garden flowers. They are easy flowers to grow, practically a no-care rose. They just some water and possibly an occasional fertilization.
phlox
Phlox, Polemoniaceae are annuals or perennials depending on the species. Many phlox are native throughout the United States
Two of the popular species in the United States are the summer phlox and the moss pink, also called a prairie phlox.
Phlox paniculata - Summer phlox, also called garden phlox is a perennial. It is long lived and it grows in almost all zones. It likes full sun.

It grows from 3 to 5 feet tall with fragrant flowers that bloom during the summer in pink, rose, red, white and lavender shades.

They grow in most garden soils and require average watering.
They like mulch around the base of the plants to keep their roots cool.

The plants will multiply and you may divide them every few years and share them with your neighbors.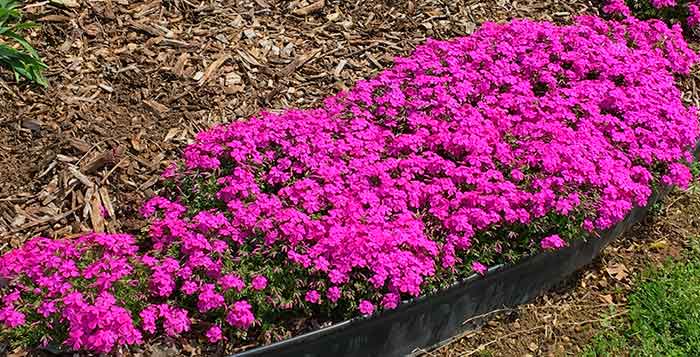 Prairie Phlox, Moss Pink growing in my yard.
Phlox subulata - The moss pink or prairie phlox is a perennial native in the prairie areas of the United States. It also grows in most all zones.
It is used as a ground cover the blooms in the late spring in a stunning pink color, lavender or white.
It has small evergreen leaves and it creeps and spreads. It does well in a rock garden. It is moderately drought tolerant and does not require rich soil.
This was a new plant for me when I moved from Florida to Missouri. The hot pink spring flowers caught my eye when not much else was blooming.
Once it is established it is virtually a no-care plant. Many of our native plants are easy flowers to grow.
daylillies
Hemerocallis - Daylilies are hardy perennials grown in all zones. There are evergreen and deciduous varieties.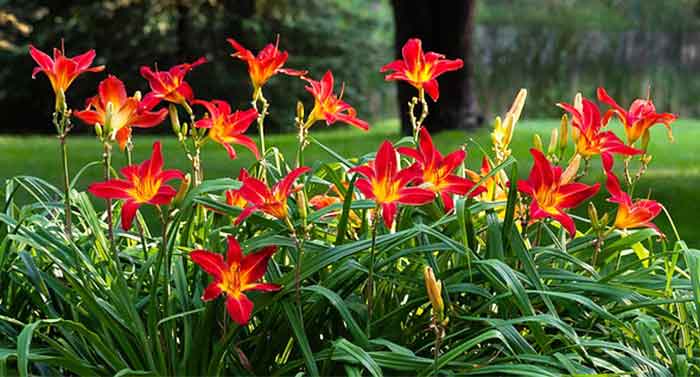 Daylilies are very dependable.
They bloom on branched stems held above their grass-like leaves. A daylily flower opens and lasts just for the day. But more buds on the same flower stem will open the next day and so on.
Daylilies are the dream of the novice gardener. These are absolutely a no-fail flower.

They grow in all types of soil, in sun or shade. In hot areas they appreciate some afternoon shade.
These are tough, hardy, easy flowers to grow. They grow all across the nation. They are even seen growing wild, naturalized in the road side ditches in the eastern United States.
They appreciate some fertilizer twice during the growing season and regular garden watering. However they are drought tolerant after their first season.
There are early, mid and late summer varieties of daylilies. So choose several varieties to have an extended flower season during the summer.
The most common colors of daylilies are orange, yellow, white, pink and red. Daylilies make cut flowers. Cut the entire flower stem for a vase of water. When one flower fades, snap it off and buds farther down the stem well open the next day, etc.
Daylilies grow from tuberous roots that multiply. When they plants stop producing as many flowers, they are ready to be divided.
Divide them in the early spring or late fall.
Dig the large clump of daylilies and divide it into sections with several lilies in each section. Dig a hole 12 inches wide and 12 inches deep. Mix the soil from the hole with organic matter.
Then make a pyramid of soil in the bottom of the hole. Place the daylily on top of the pyramid and spread their roots down over the sides of the mound of soil.

Put your remaining soil mixture around the daylily and firm it with your hands. Water it thoroughly.
They will grow and flower well for more years. Daylilies generally need to be divided every four or five years.
iris
Iris were common garden flowers in generations past. And they are still popular today for good reasons.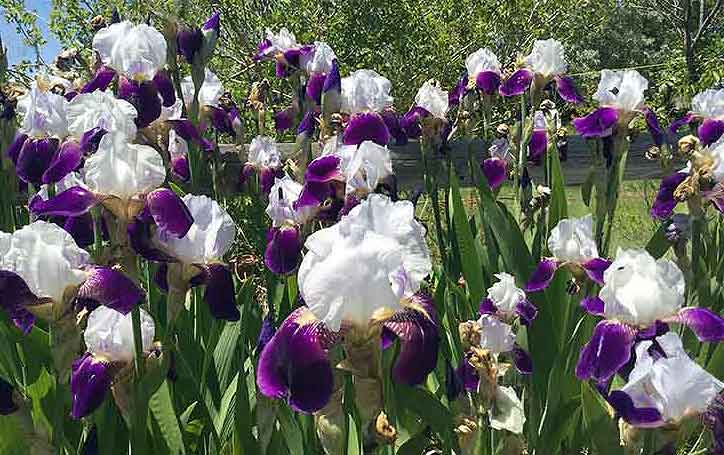 The popular Bearded Iris
Irises grow in all zones from bulbs or rhizomes depending on the type.
The most well-known iris is the bearded iris. There are also Dutch iris, Japanese iris and Siberian iris.
They all come in a variety of colors and sizes. They bloom at different times, but generally during the spring or early summer.
Iris iridaceae - The Bearded iris is a common garden flower and the most recognized type of iris.
Nowadays there are also some varieties of bearded iris that re-bloom in the fall. Give this type of iris a second fertilization in the middle of the summer to promote the fall flowers.
They need good drainage. They like full sun in the cool areas of the country, but appreciate light shade in the hot climates.

Iris will grow in most all types of soil. Fertilize them in the early spring.
Plant your iris in the fall. Place their rhizomes just barely under the soil. If they are planted too deep they will not flower.
Don't over-water, too much water will encourage the rhizomes to rot.
The iris will multiply and you may divide them every four or five years in the fall. Cut the rhizomes apart with a sharp knife and re-plant them.
Other easy flowers to grow are the annual marigolds, the perennial chrysanthemums and the annual zinnias. They are all easy to grow daisy type flowers.
Many of your garden flowers will feed and attract butterflies. Identify what butterflies are coming to your flowers.
try some easy flowers in your landscape