plant some flowers for butterflies so they have plenty to eat
Great flowers for butterflies are butterfly weeds and the butterfly bush.
Both of these plants are a staple in my garden. It is a delight to see the butterflies flitting from flower to flower.
Another favorite of butterflies is any daisy type of flowers. Daisies are God's gift to butterflies. They provide a landing pad, so the butterflies can sit down while they eat.
White flowers may attract butterflies. But they are more attracted to bright colors like yellow, orange, red and purple.
The Butterfly Bush is a favorite butterfly flower.
flowers for butterflies

Daisies make a wonderful landing pad for butterflies. The added bonus of daisy flowers is that daisies are composite flowers.
Composite flowers have multiple containers of butterfly food. The butterflies can land on a daisy and have a great feast.
How awesome is that!   Grow some Daisy Flowers for the butterflies.
Asters

Asters
Aster is a perennial that grows from 6 inches to 3 foot plants, depending on the variety.
They flower in shades of blue, lavender, purple, pink and red during the summer and fall.
They like full sun and most soils.
Blackeyed Susan, Gloriosa Daisy

Black-eyed Susan
Rudbeckia hirta is a biennial or short lived perennial. It can be used as an annual.
It has daisy flowers that are 2 to 7 inches in size. They may be yellow, orange or mahogany with dark centers. There are also solid colors with the dark center. 
It flowers in the summer to fall with full sun.
It's an easy flower to grow and makes good cut flowers.
Butterfly Bush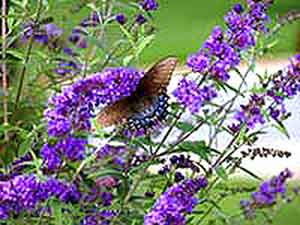 Butterfly Bush
Buddleia davidii is a deciduous or semi-evergreen shrub. It grows fast from 3 to 10 feet. It has 6 to 12 inch spikes of small fragrant flowers in mid-summer. They are white, pink, lilac or purple with an orange center.
It freezes to the ground in the winter and grows from its roots in the spring. It needs good drainage.
Butterfly Bush and Butterfly Milkweed are the best flowers for butterflies.
See the Butterfly Bush flower close up at the Top of Page.
Butterfly Milkweed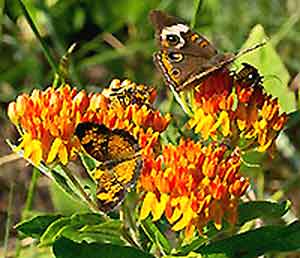 Butterfly Milkweed
Asclepias tuberosa, called Butterfly Weed is a perennial. It has clusters of bright orange flowers midsummer to frost.
It may grow up to 3 feet.
It requires good drainage and very little water.
Milkweeds are favorite butterfly flowers for Monarchs and many other butterflies.
There are different varieties of butterfly milkweeds native throughout the United States.
Tropical Milkweed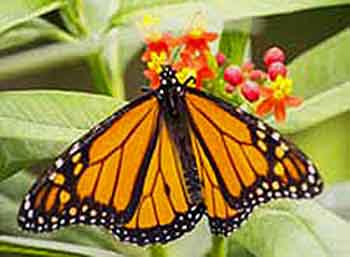 Tropical Milkweed
Asclepias curassavica is readily available in the nurseries. It grows from 30" to 48" tall.
It likes full sun. The bi-color flowers are orange and yellow or a solid yellow.
Milkweeds are host plants for the caterpillar of the Monarch Butterfly. They lay their eggs on the milkweed, so the caterpillars can eat the leaves of the plant.
The flowers are also food for the adult butterflies.
Coneflower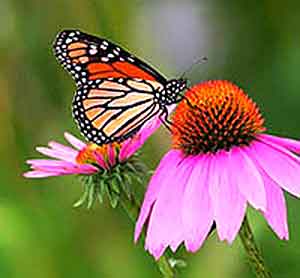 Coneflower
Echinacea purpurea is a perennial. It grows 2 to 4 feet with 2 to 4 inch daisy-like flowers. They are normally pink, but white, yellow, coral, and crimson varieties exist.
The new Cheyenne and Pow Wow varieties are wonderful plants with repeat flowering throughout the summer.
It likes full sun and most soils, but it prefers well drained soils. Give average watering and it is drought tolerant after it is established.  Divide the clumps in spring or fall.
These are super easy flowers for butterflies. Once they are established, they literally take care of themselves.
This is the plant that the Echinacea herb is derived from. God has gifted the butterflies with the Echinacea growing wild in the Midwest.

Coreopsis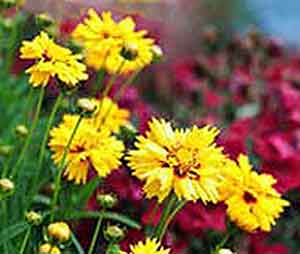 Coreopsis
Coreopsis lanceolata is a perennial. It grows from 1 to 2 feet. It has golden yellow, red or bi-color daisy flowers. They are 1 ½ to 2 inches. They may be single or double.
This is an excellent cut flower.
Remove the spent flowers and it will bloom all summer until frost.
Once established they are drought tolerant, dependable and one of the Easy Flowers to Grow.
I love their cheery yellow flowers that provide what butterflies eat.
Cosmos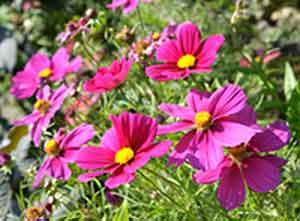 Cosmos
Cosmos is an annual growing from 2 to 8 feet depending on the variety.
It blooms summer to fall with single, double or crested flowers in white, pinks, rose, lavender, purple or crimson. 
Last summer I had an brilliant variety the showed off all summer.

They are a resilient, easy flower and a good butterfly flower.
They are drought tolerant once established. They prefer to not have rich soil.
Daisy type flowers are God's gift of flowers for butterflies.
Lantana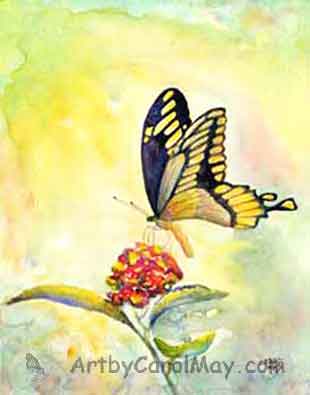 Swallowtail on Lantana
Lantana is a perennial in warm areas. It is used as an annual in cooler areas.
It grows from 1 to 3 feet. It flowers all summer until frost.
The flowers are white, yellow, orange, pinks, red, lavender and some bi-colors.
Lantana is one of my favorite flowers for butterflies.
It is fast growing and so easy to grow.
It is drought tolerant and there is no need to dead head the flowers.
The hummingbirds like Lantana, too. How else can we attract hummingbirds?

Marigolds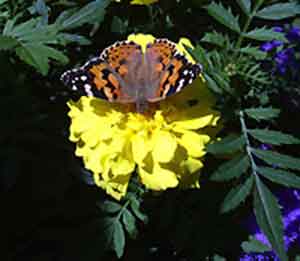 Marigold
Tagetes of various species is an annual. It grows from 6 inches to 4 feet depending the species. 
It likes full sun and it is easy to grow from seed. The flowers may be white, yellow, gold, orange or maroon. They are from 1 ½ to 5 inches.
They are good cut flowers and bloom all summer until frost. Marigolds are an easy butterfly flower to grow.
Marigolds are not only good flowers for butterflies, but they also are good planted next to your tomato plants to repel nematodes. More about growing tomatoes

Mexican Sunflower

Mexican Sunflower
Tithonia rotundifolia is a perennial grown as an annual. It is husky and rapid growing to 6 feet, some varieties to 4 feet.
It has striking 3 to 4 inch flowers that are orange-red with yellow centers. It flowers July until frost it is an excellent flower to provide butterfly food for fall migrating butterflies.
It likes full sun and average soil. It is heat and drought tolerant once established.
It is recommended as a fall blooming flower for the migrating Monarchs.
Pentas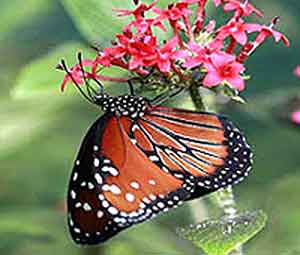 Pentas
Pentas lanceolata is a perennial grown as an annual. It grows 2 to 3 feet tall with 4 inch wide clusters of star-shaped flowers in white, pink, lilac, or red.
It likes full sun and good water. Remove their spent flowers to encourage it to bloom all summer.
Many flowers for butterflies are readily available at garden centers. They provide butterfly food and good color for your summer garden.
Hummingbirds like Pentas, too.
Phlox

Phlox
Beautiful Phlox are annuals and perennials. There are various forms and sizes ranging from one half to four feet depending on the type. Many are native to North America.
They have showy flowers in white, pinks, rose, red, lavenders and blue. They bloom spring or summer depending on type.
They like sun, average soil and water.
Verbena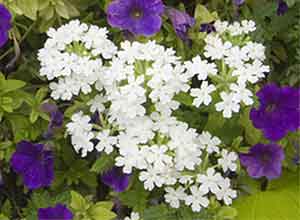 Verbena
Verbena hybrida or peruviana are short lived perennials. They are many times used as an annual ground cover. They grow 6 to 12 inches tall.
Their flower clusters are 2 to 3 inches with white, pink, red, lavender or purple flowers.
They like sun with good air circulation. They are a fast, easy flower that blooms summer until frost.
I have red ones near my bird bath in Florida. They come back every year.
They are an easy, no care plant. They overwinter in mild climates.
Zinnias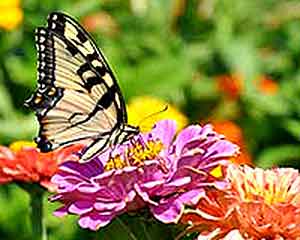 Zinnias
Zinnia has several species and varieties. They are an annual that grow from 8 inches to 3 feet depending on the type. 
The flowers are bright colors in yellow, pink, coral, red, salmon, and white.
It is a hot weather plant and it needs sun. It blooms summer to fall. Its flowers are 1 to 5 inches depending on variety.
Water at the base of plant to prevent mildew.
Zinnia is an easy flower to grow from seed. Zinnias were the first flowers I grew as a child. Back then, I didn't know about planting flowers for butterflies, but I liked the big colorful flowers.
Even today I see the senior lady across the street from me, planting the large Zinnias every year. They put on quite a show, they feed the butterflies and they are food for the hummingbirds.
our flowers feed the butterflies
Growing flowers for butterflies is so rewarding. We get to enjoy the flowers, while we are providing food for the gift of beautiful butterflies!
Include some native plants in your landscape.
The butterflies appreciate it!