flowers for hummingbirds invite god's flying jewels to our yards

Twenty or more flowers for hummingbirds that bring the joy of hummingbirds into our yards.
Hummingbird flowers can be anything from columbines to cactus. We may grow fuchsias in San Francisco, hibiscus in Miami or cactus in the Southwest. They all invite the hummingbirds.
Hummingbirds eat about half of their weight every day. They have been seen eating sap, but their main diet is flower nectar.

They prefer natural nectar to sugar water. So we can help them by planting lots of flowers.
Hummingbirds enjoy many of our garden flowers.
What kind of flowers do hummingbirds like?
Tubular flowers are popular with the hummingbirds because they have a large supply of nectar.
Hummingbirds require a lot of fuel to maintain their high metabolism. They need the carbs to keep going.
The main requirement for hummingbird flowers is that they contain plenty of nectar.
What flower colors do hummingbirds like?
Hummingbirds are attracted by red colors. Start out by planting some red flowers to attract them.
But, hummingbirds also feed from other flower colors like orange, pink, purple, lavender, yellow, white and even blue.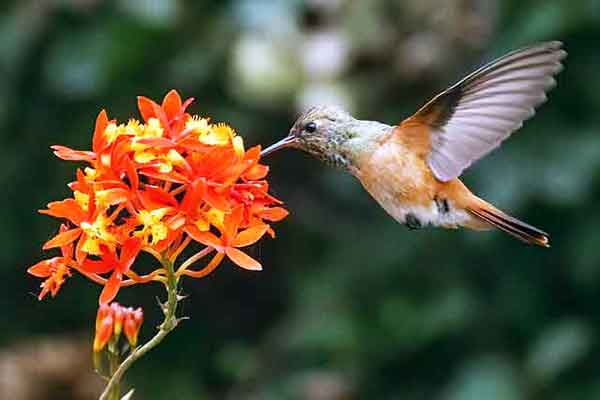 Hummingbird feeding from an Epidendrum orchid.
Find out what hummingbird plants grow well in your area.
Visit local nurseries, ask your neighbors and the local Audubon Society what hummingbird flowers are popular in your area. 
Hummingbirds prefer natural flower nectar. If there are not enough flowers, we can put out a hummingbird feeder.
agapanthus
Even though these flowers are white, they are tubular and provide plenty of nectar for the hummingbirds.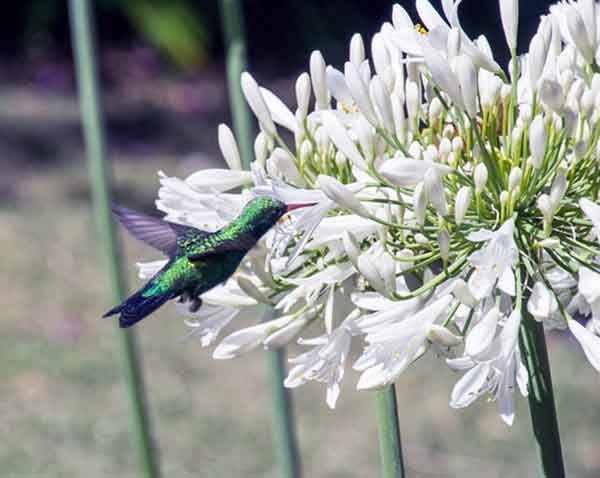 Agapanthus
Agapanthus, also called Lily of the Nile or African Lily is a perennial that grows in the warm areas of the country.
The flowers normally are lavender, but they also come in white.

It normally grows to about 2' tall. There are smaller varieties that get about 1' tall.
It likes full sun, but it will grow in partial shade.

Agapanthus likes plenty of water during the summer. However, it is drought tolerant once it is established.
It is a bulb that should be divided every 5 to 6 years.

Bee Balm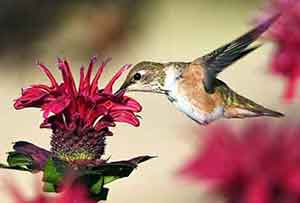 Bee Balm
Bee Balm or Horsemint, Monarda is a perennial with clusters of tubular flowers.
This is a native American flower that comes in various shades of red, pink, lavender plus white.

It is a summer blooming flower that grows to around 2 feet tall. 

They are not long lived where winters are warm and summers are long and hot.
They needs lots of water.
Butterfly Bush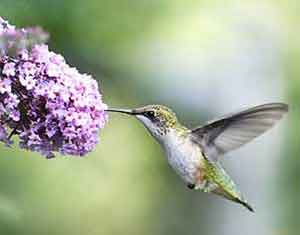 Butterfly Bush
Butterfly Bush, Buddleia davidii is a deciduous or semi-evergreen shrub. It is fast growing to 3 to 10 feet.
It has 6 to 12 inch spikes of small fragrant flowers in mid-summer thru fall.
The flowers may be white, pink, lilac and purple with an orange center.
It freezes to the ground in the winter and grows back from roots in the spring.
Chinese Hibiscus

Chinese Hibiscus
Chinese Hibiscus, Malvaceae rosa-sinensis is an evergreen shrub in warm areas. It may be grown as a house plant or as an annual in colder areas.
The flowers are 4-8 inches wide in white, pink, apricot and red or orange. It blooms in the summer until frost.
It requires good drainage and considerable sun and heat to do well.

Protect it the temperature will be below 30 degrees.
Cigar Plant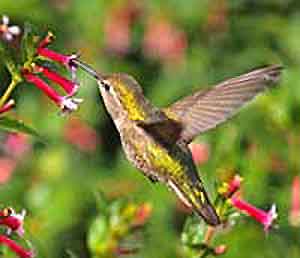 Cigar Plant
Cigar Plant or Firecracker Plant, Cuphea ignea is a perennial in warm areas. 
It flowers with inch long tubular flowers that are scarlet red or reddish orange with a white tip.
It flowers summer to fall.
It prefers sun or part shade, ordinary soil and grows about 1 foot tall.
These are popular flowers for hummingbirds in south Florida.
daylilies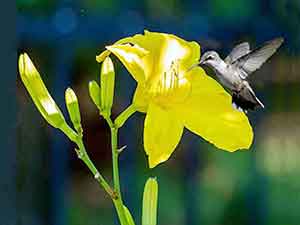 Daylily
Daylilies, Hemerocallis are tuberous perennials. They grow all throughout the United States.
The leaves stay green all year in warm climates. In cold areas the leaves die to the ground, but faithfully come back from their tuberous roots each spring.
I can't think of any flower that is easier to grow than daylilies. They are drought tolerant once established.
They grow from full sun to partial shade. The flower colors range from red, pinks, yellow, salmon, bi-colors and everything in-between.
Plant early, mid and late season varieties for a long flowering season.
dianthus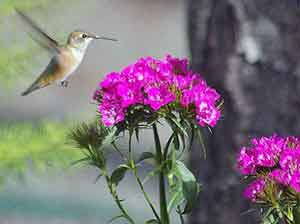 Dianthus
Dianthus is a large group of ornamental flowers with over 300 species and many hybrids. They include annuals, biennials and perennials.
Some of the well-known Dianthus include Sweet Williams, Carnations, Cottage Pinks and several other Pinks. The various types range from 6-30" tall.

They grow in sun to partial shade. They enjoy good drainage.
Many of the various flowers in reds, pinks, white and bi-colors have a spicy fragrance.

Fuchsias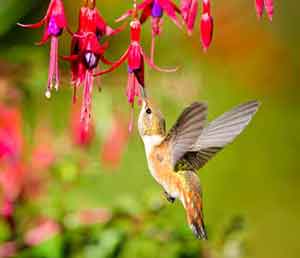 Fuchsias
Fuchsias, Fuchsia hybrida normally are a summer annual. In temperate areas the landscape fuchsia is a perennial.
They are best grown in cool summer temperatures and partial shade.
They have showy red, pink to purplish flowers many times with white. They bloom from early summer until first frost.
They need plenty of moisture. The trailing types are commonly grown in baskets.
Fuchsias are probably the best known flowers for hummingbirds.
Geranium

Geranium
Geranium, Pelargonium is an evergreen perennial. They may grow up to 3 feet.
They flower spring to summer with 2" flowers in loose clusters of red, pink, orange, lavender, purple and even white.
They like sun in cooler climates and partial shade in very hot climates.
They prefer good draining soil. They may be grown in the ground or in pots.
Honeysuckle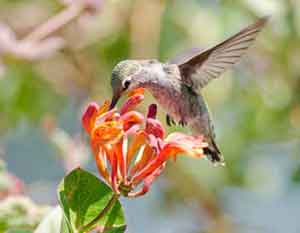 Honeysuckle
Honeysuckle, Lonicera may be evergreen or deciduous shrubs or vines.
The have tubular flowers in white, coral or red with abundant nectar during the summer.
It is easy to grow in sun to light shade. It takes average summer water.
It has a very pleasing fragrance and sweet nectar.
Honeysuckle is not fussy. It is an easy flower to grow.
Lantana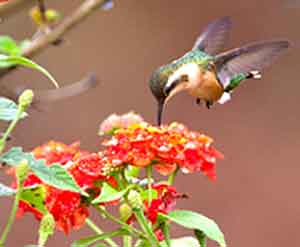 Lantana
Lantana, Lantana is a perennial in warm areas or an annual in cooler areas.
It grows 1-3 feet and flowers all summer until frost with white, yellow, orange, pinks, red or lavender flowers. The orange and lavender ones overwinter in mild climates.
Lantana is one of my favorite flowers for wildlife. It is visited by both butterflies and hummingbirds.
It is drought tolerant and there is no need to dead head the flowers.
Mandevilla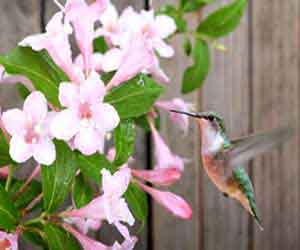 Mandevilla
Mandevilla, Mandevilla splendens, M. amabilis are evergreen vines growing to 20-30 feet in subtropical areas.
They have clusters of 2-4 inch white, pink or red tubular flowers from April to November.

In moderate climates they may be grown in pots outdoors during the summer.
Buy Mandevilla already blooming. They are ready-made hummingbird flowers.

Their tubular flowers hold lots of nectar that the hummingbirds enjoy.

Penstemon

Penstemon
Penstemon, Penstemon species are perennial, evergreen shrubs with long blooming flowers. The plants range in size from 1 to 10 feet, depending on the species.
They have tubular flowers in various colors from red to blue and purple, white to yellow and other soft colors.
These are Native American plants but, the cultivated species do better in backyards.
They do best in sun and require good drainage. Do not over water them.

Pentas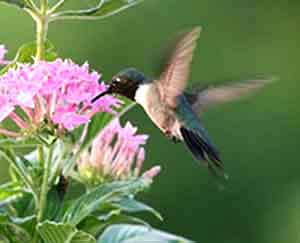 Pentas
Pentas, Pentas lanceolata are a perennial treated as an annual.
They grow 1 to 3 feet. They require sun and good watering.

They have clusters of small star-shaped flowers in red, pink, lilac or white.
Deadhead the spent flowers to encourage more flowers.
Pentas are good flowers for hummingbirds and they are also, Butterfly Flowers.
Petunia

Petunia
Petunia, Petunia hybrids are perennials used as an annual. The plants are from 1 to 2 feet tall.
They have fragrant flowers in a wide range of colors from white to pinks, reds, yellows, lavender, purple and bi-colors.
They flower all summer. They prefer sun and regular watering.
Grow them in your flower beds or they are nice in hanging baskets.
Phlox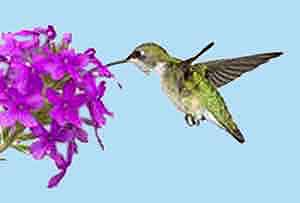 Phlox
Phlox, Phlox species are native to North America. They may be annuals or perennials of various forms and sizes.
They have showy flowers in white, pinks, rose, red, shades of lavenders and blue.
They bloom in the spring or summer depending on the type.

They like sun, average soil and water.
red-hot poker
Red-Hot Poker
Red-Hot Poker, Kniphofia uvaria is an unusual flowering plant originally from South Africa.
It is a perennial with clumps of grass-like leaves. Depending on the variety, they may grow from 2-6 feet in height.
The summer blooming flower spike has variations of red, orange or yellow tubular flowers. The hummingbirds enjoy feasting on all the tubular flowers.
They prefer full sun, but will still bloom in partial shade.
Rose of Sharon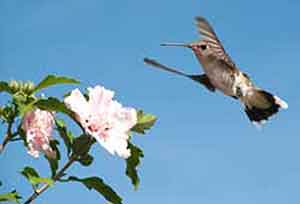 Rose of Sharon
Rose of Sharon, Hibiscus syriacus is a hibiscus type of flower that may be grown in colder temperatures. It is a tough, deciduous shrub that grows to 10 to 12'.
The flowers are single or double in white, pinks, lavender, some have a dark crimson center.
They bloom during the summer. They are easy to grow in the sun or part shade.
They are drought tolerant once established.
Sage

Sage
Sage, Salvia can be annuals, biennials or perennials. They range in size from 1 foot border plants up to 6 foot shrubs.
They have tubular flowers in white, pink, lavender, scarlet or blue. The flowers are one half to two inches in whorls around the stem depending on species.
They are a dependable hummingbird flower that blooms summer to fall.
Sage requires average care and they are also deer resistant.
Trumpet Creeper Vine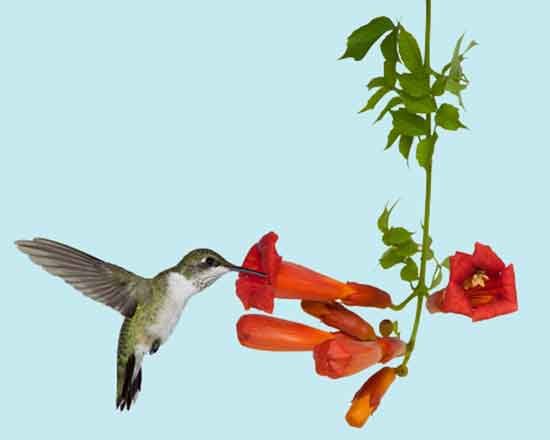 Trumpet Creeper Vine
Trumpet Creeper Vine, Campsis radicans is a deciduous, fast growing vine to 40 feet. It may trained as a shrub.
It is native in parts of United States. It is known as the Hummingbird Vine.
It has clusters of trumpet shaped 3 inch tubular flowers that are orange-red or yellow.
It is easy to grow, but be sure you want it before you plant it. Caution, it does creep and it may move into areas where you don't want it growing.
Zinnia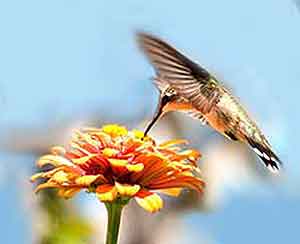 Zinnia
Zinnias, Zinnia are annuals. They have single or double daisy type flowers.
They come in a variety of colors, pinks, yellows, salmon, white and bi-color flowers. 
Double flowers have more than one row of petals. Single flowers just have one row or layer of petals.
Zinnias also make good cut flowers. They are very easy to grow and may be started from seed.
They provide lots of food for the hummingbirds.
Start Simple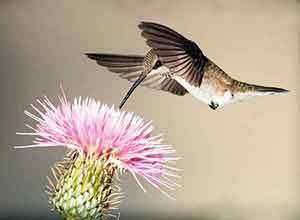 Hummer enjoying a native thistle
Start with a planter or a hanging basket with flowers for hummingbirds. Baskets are great for apartment living.
When you start seeing God's living jewels coming in and flitting from flower to flower, you will want to add more flowers to your garden.
The flowers don't have to be red. They just need to have enough nectar to feed the hummingbirds.
Plant and water them and remove the spent flowers to encourage more flowers to grow.
You may want to hang up a hummingbird feeder. Hummers have voracious appetites.
When the hummingbirds find a good spot, they will return year after year for our flowers and feeders.
what joy the hummingbirds will bring!