Answers to some of your most frequently asked questions.
frequently asked questions
What is alkyd paint? How is it different from oil paint and watercolor paint?
Alkyd paints are made with the same high quality pigments used in oil paints and watercolor paints.
The pigments in alkyd paints are combined with alkyd resin.
The pigments in oil paints are combined with oils, such as linseed oil.
The pigments in watercolor paints are combined with gum Arabic.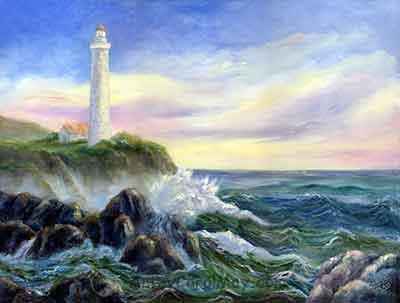 An Alkyd Painting
What are tube watercolors?
Tube watercolors and pan watercolor paints both have the same paint pigments combined with gum Arabic.
Tube watercolors have glycerin and other additives that keep the paint flexible in the tube. Tube watercolors produce more brilliant colors because you don't have to add so much water when you use them.

Pan watercolors are in a dry cube placed in a pan. Pan watercolors are portable and they are the favored watercolor for painting outside in the field. Only small brushes may be used to get the paint out of the pan. If you use large brushes, paint will be picked up out of the adjoining pan colors.

Can watercolor be painted on canvas?
Yes, you may purchase canvas made specifically for watercolors. Make sure the label says it can be used for watercolor.
Brush on a good amount of water to the entire face of the canvas to break the surface tension. Let it soak in before you start painting.


What is Aquabord or Claybord?
Aquabord and Claybord are made by Ampersand. They apply ph neutral Kaolin clay to one side of Masonite panels.
Aquabord is textured like cold pressed watercolor paper. Claybord is smooth.
Either one may be used for watercolor paintings. Spray the dried painting with a fixative to seal it and frame it without a mat.
How much is the shipping of original paintings?
Original paintings are shipped free of charge in the United States.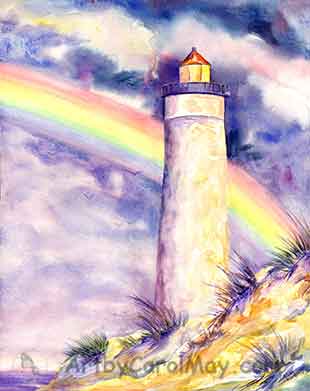 God's Promise
How will the originals be shipped?
Small original paintings will be shipped thru the United States Postal Service.
Larger paintings will be shipped thru United Parcel Service.
What reference images should you use for your paintings?
Look for free public domain images or CCO images.
Public domain images have expired copyrights or no copyrights. CCO creative commons images have zero copyrights attached. The person who originally produced the images have given up their copyrights to the image.   
Pixabay is a website with public domain and CCO images.
if you have any other frequently asked questions  contact me