, Welcome to the Painting Art Ezine!


What Every Artist Needs to Know: Setting Up Your Home Art Studio
Setup your home art studio for convenience and efficiency.
Art is exciting and we are anxious to get started. But where will we paint?
A Space for Your Home Art Studio
How much space do we need for painting?
A dedicated space where your supplies are available, puts us into an artistic mindset whenever we go there. That makes it easier to get the creative juices flowing.
While visiting a fellow artist I saw her art supplies out on the short part of her ell shaped eating bar (approximately 3 feet). She said that she paints there every evening.
I was amazed that she turned out so many lovely watercolor paintings from such a small space. She said that she enjoys being by the rest of the household, instead of in a separate room.
Actually, we don't have to have a whole big art studio for creative painting. If you have an extra bedroom, dining room, a basement or any other unused room, go for it. Even a walk-in closet will make a great home art studio.
We can paint on a desk, a fold-up table, a roll-away cart, an easel in the living room or even part of your eating bar.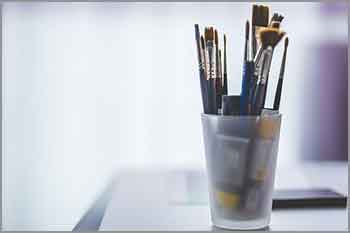 Light and Ventilation
Good light and adequate ventilation are imperative for your home art studio.
Make sure your painting area has good ventilation.
The ultimate lighting for a studio is north light windows. Most of us don't have that luxury. After 40 years, I finally have north windows in my studio.
There is still a need for artificial lighting on overcast days and at night. Artificial lights need to be a balanced light. Use daylight bulbs so you can get your colors right.
Florescent bulbs are too cool for painting; they skew your colors. Then when the painting is viewed in daylight, the colors are off. One the other hand, regular incandescent bulbs are too warm. Then the painting colors look dull in the daylight.
Look for daylight bulbs at your local art and lumber supply stores.
Do You Paint on an Easel, Table or Counter
What you paint on depends on your media.
Oils and acrylics are usually painted on an easel. If you sit to paint, use a table easel. The first few years of painting, I just set up a portable easel in the middle of the living room floor.
Watercolors can easily be done on a desk, counter or table. My watercolor paintings are done on a drafting table my husband got me years ago.
Stay Organized
Keep your painting supplies organized, handy and ready to use.
A clean organized space makes is pleasant and more inspiring. You probably have heard of a writer's block, there also can be an artist's block.
The easiest way to prevent an artist's painting block is to keep the area organized. That way there are no distractions and your creativity can just flow.
---
New artists can find more answers to frequently asked questions by clicking the link below.
Art by Carol May-Begin-Painting
Enjoy the Art of Painting
Next month "The Biggest Mistake Artist Make"