Have you always wanted to learn how to do oil painting? It's easy!

Get your supplies together and follow me step by step.

We will be painting a brilliant Baltimore Oriole with Dogwood flowers.

when i started oil painting i had questions
Let me answer some of the common questions about oil painting.


what do you need to paint with oils?

You will need paint, brushes, something to paint on and clean-up supplies.


what is the best oil paint for artists?
There are many good brands of oil paints. My recommendation is when you are learning how to do oil painting, choose professional artist paints. Why you may ask?
Student grade paints has less pigments in them. That is why they are less expensive. Less pigment means the paint doesn't cover as well, so you have to use more of it.
The artist quality paints have more pigment are easier to paint with. It is much easier to produce good quality paintings with high quality paint. They actually are a better buy after the initial investment. They cover better, so you will use less paint per painting.
what brushes should you use?
Oil painting brushes generally fall into one of two categories: soft of stiff.
Soft brushes made from either real animal hair or synthetic hair are good for smoother types of work, such as portraits and possibly still life paintings.
Stiff brushes for oil painting are generally made from hog hair bristles. They are good for expressive work where you may want the brush strokes to show in the finished work.

Stiff brushes move the paint around better and make it easier when you are learning how to do oil painting.
what do you paint on?
When you are learning how to do oil painting there are three painting supports to choose from; stretched canvas, panels or canvas boards.
Stretched canvas is the traditional oil painting support. The canvas is stretched over and around wood bars. Stretched canvas has a give to it when you are applying paint. The canvas may be made from either cotton or linen. Cotton canvas is best for everyday oil painting. Linen is many times used for portraits and is more expensive.

Panels may be made from wood or synthetic woods such as Masonite. They need to be primed with gesso in preparation for painting. Prepared panels are readily available for purchase.
Canvas boards are the third option. They are suitable for student work and practice.


how to do oil painting on canvas?
Ready-made stretched canvases from the art stores are primed with gesso. The gesso keeps the paint from sinking into the cloth canvas. Panels are also primed with several coats of gesso.

Normally I start an oil painting by putting a line drawing on the canvas with thinned paint.
I use odorless mineral spirits to thin my paint. Gamsol made by Gamblin is considered the best for studio painting.

This time I did the drawing on paper first. Then I transferred it to the canvas with graphite paper.


what do you use for clean-up?
'Oil Paints' are oil based and you will need a solvent to clean your brushes.
Odorless mineral spirits or odorless turpentine are used by many artists.
Have rags or paper towels available for clean-up. Baby oil is noted for taking fresh paint off your clothes. An apron or dedicated paint clothes are a good option when you are learning how to do oil painting.

The Oil Painting Art Supplies I use


learn more about oil painting

how do you use oil paints?
Various oil colors dry at different rates and with a different sheen to the dry paint. Artists use many different oil painting mediums to make the paint flow and/or to speed up the drying time.
All this is unnecessary with alkyd paints. Alkyds have a good painting consistency out of the tube. I use them straight out of the tube without adding any other mediums. They can be made a little thinner by mixing in some odorless mineral spirits.

All you need is the paint and some odorless mineral spirits to wash your brushes.
This greatly simplifies learning how to do oil painting.
I have enjoyed using Alkyd Paints since the 1980s.


how long does it take an oil painting to dry?

Oil paintings may take a few days, up to a week or two (depending on the weather) to dry for safe handling. It may take months for an oil painting to thoroughly dry.
Alkyd paints dry overnight or 24 hours at the most.
Alkyds are made with the same pigments as oil paints. The pigments are carried by an alkyd resin instead of oils.
Alkyds handle and look exactly like oil paints. If nobody told you, you wouldn't know the difference. I thoroughly enjoy painting with alkyds.

oil painting ideas
Artists may paint out of their memory, their imagination, from life or photographs.
In preparation for this painting I took photographs of the spring blooming Dogwood flowers. I also used a photo my sister took of a Baltimore Oriole hanging on her bird feeder.
It is my common practice to combine two or more photos for a new painting. Many artists do the same thing.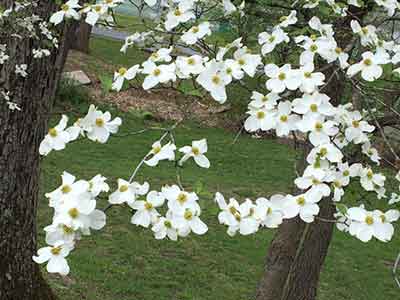 Dogwood Flowers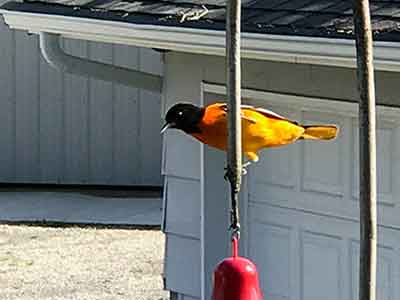 Baltimore Oriole
what i used for this painting
This painting uses an analogous discord color scheme. i used colors next to each other on the color wheel; a cool yellow, a warm yellow and orange. A warm and cool blue made their discord.
I used a 14"x14" gallery wrap canvas. The canvas is stapled onto the back of the stretcher bars. The sides of the canvas going around the stretcher bars may be painted, so the painting can be displayed without a frame.
I used three Winsor Newton "Galeria" brushes, #4, #8 and #12 flats.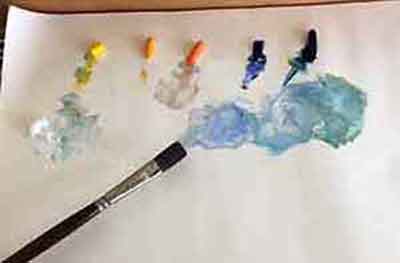 I put my colors on a paper palette.
Let's get started.....
how to do oil painting

painting the background
Mix your colors lightly on the palette, more mixing occurs on the canvas while you are painting.
Paint the background and the sides of the canvas with the #12 flat brush.
Carry the colors from the face of the canvas down over the sides of the canvas.
Use a variation of your warm and cool blues mixed with white.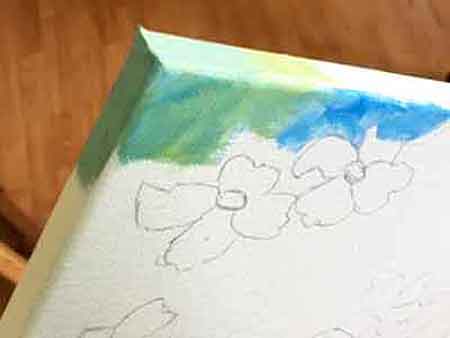 Start painting the background.
Integrate in some greens you mix from blue and yellow.
Occasionally put in some orange or yellow to indicate light and warmth.
It is a good idea to repeat colors throughout the painting.
The orange and yellow help warm up the cool background and tie it together with the warm colored bird.
The background colors are softly blended together.
The various background colors suggest things in the distance without having to paint any detail.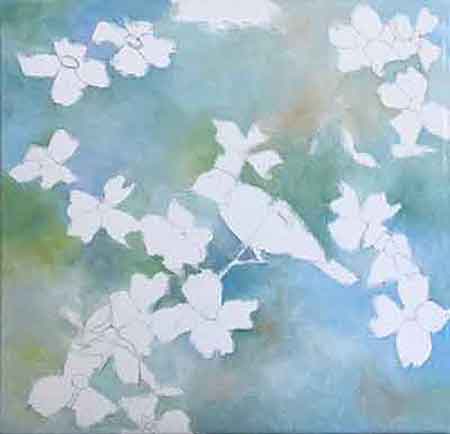 Paint all around the bird and flowers.
---
painting the Baltimore oriole
Use a #8 flat brush to paint the bird except for its left leg and eye.
We will let the paint set a bit before doing these.
The bird is painted with various yellows and oranges. Make the colors brighter and warmer on the sunlight side.
Mix a black from your blue and orange and paint the head and beak. Use the #4 brush to paint the beak and toenails.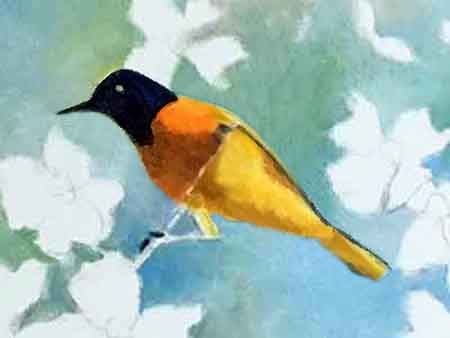 A close-up of the Baltimore Oriole
---
painting the flowers
Mix a brown from Ultramarine Blue and orange for the flower centers.
Use the #8 brush to dab in the centers.
When you are learning how to do oil painting always use the largest brush possible. This keeps your painting loose.
Highlight the centers with yellow. (Next photo)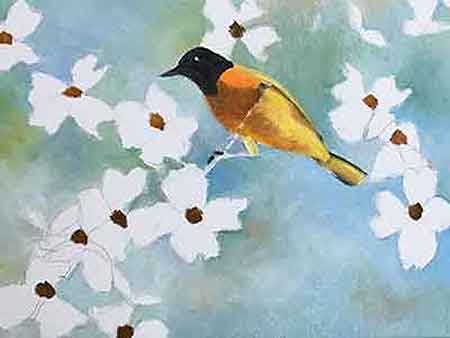 Paint the flower centers
Paint the petals with a soft grey. Mix the grey by adding white to the brown you used for the flower centers.

Add more blue if necessary to keep the grey on the cool side. 
Add yellow or orange to white to make a warm white for the parts of the petals that would be catching the light.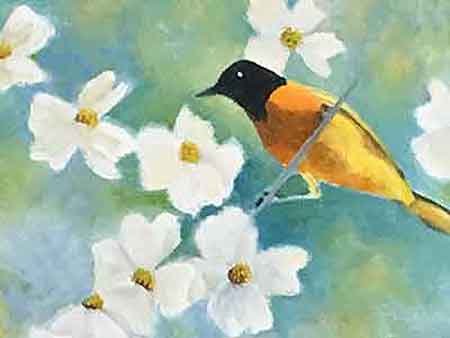 Then move onto the petals
Mix some green and paint a few leaves with light and dark areas.
Spot out where you will paint the branches and leaf stems.

Use the old trick of how to do oil painting; look at your painting upside down.
It will give you a fresh look to see any mistakes.
The background was a bit light, so I darkened it for more value contrast.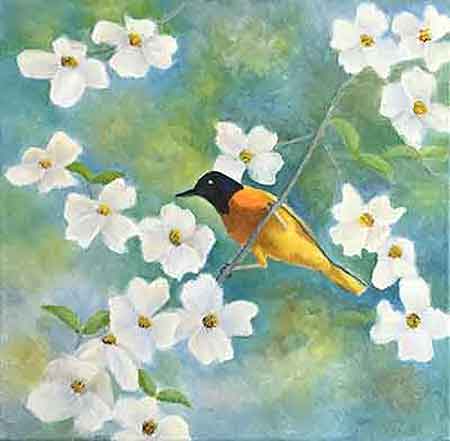 Start the leaves and stems.
---
finishing touches
Paint the Dogwood branches and stems.
Mix light and dark greys. Give the branches a light and a dark side to make them look rounded.
Finish the Oriole.
Paint his legs with a light grey. Mix blue and orange with white to lighten it. Make sure to do his black toenails hanging over the branch.
The yellow belly behind his left leg (on the right in the painting) is brighter yellow on the sunlit side and shadowed on the other side.
Touch a bit of color in the eye. Use a very pale yellow white on the top of the eye. Put a bit of pale blue-white on the bottom of the eye.


Check out the flowers.
Have both cool and warm white on the flower petals to help separate them from each other and show where light is hitting them.
it's your turn to paint!

Now that you know how to do oil painting, get your oil painting supplies and start painting.
When you are learning how to do oil painting, relax and enjoy yourself. You don't have to paint like a photograph. Paint from your heart and express yourself - that is a lot more fun!
Try some of the other how-to paint pages. The more you paint the more fun it is and the faster you will progress.


Have fun and I wish you many successful paintings!