create beautiful paintings using the basics
These are the basics to learn painting.

Oil, watercolor and acrylic paintings all use the same painting basics.
They will soon become second nature to you.

You will confidently enjoy your painting adventure!
The art in junior high and college were fun. As a matter of fact I actually minored in art in college.

When my mother retired she took up painting. She and I enjoyed going to various hands-on painting classes together. That is when I actually began to learn painting.

My mother said if you teach yourself painting, it is like walking across the United States. If you learn painting with a good teacher, it is like flying across the United States.
what helped me to learn painting?

paint regularly

If someone is learning to play the piano, they practice every day.
Many professional artists paint every day. I am not saying you should paint every day.
But do paint regularly. Whether you paint daily, weekly or monthly, paint regularly.
When you do a small painting often will put your learning into overdrive!
share your paintings

Share your paintings with your family and art-oriented people.
Join a local art association. Paint with other artists. Go to classes. Go to art shows. Get feedback.
Sharing and seeing other artwork will encourage you and stimulate you with new ideas.
paint familiar things

One of the first things I learned was that you can't do a good job of painting subjects you don't understand.
The best place the start painting is to paint the things you see around you.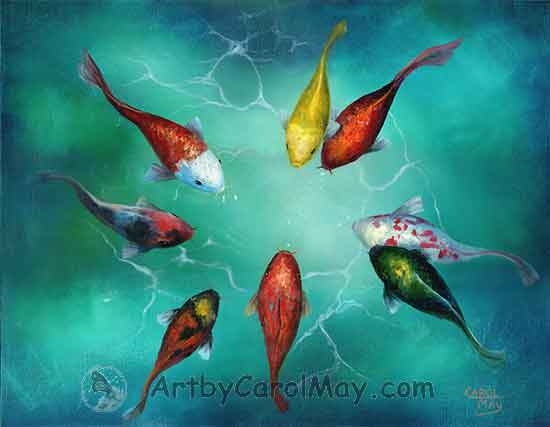 Koi Feeding
My parents had a wholesale tropical fish business. We had numerous outdoor ponds for the fish.
When we fed the fish, they would all swarm around the food. So "Koi Feeding" was a natural for me to paint.
get your idea

Ask yourself - Why do I want to paint? What is the purpose of the painting? What do I want to portray?
Your painting will go more smoothly when you get the idea firmly fixed in your mind.

Freedom
drawing

It is not necessary to become proficient in drawing before you start painting.
However, your drawing skills will improve the more you draw.
When you start a new painting, you need to get your ideas down on paper.
It is a good idea to do a thumbnail sketch of what you are going to paint.

paint often to speed your learning

As you learn painting, you are going to want to do some of the how-to-paintings.
I snap pictures when I am doing a painting. I carefully document all the steps I do. I fully explain the why and how of each step. Follow the steps to practice your painting basics.
Then use the methods with your own subjects to create your individual paintings.

Follow me step-by-step as I paint some daisies with oils.

Painting three different watercolor flowers.

Five easy steps for painting a wave with oil paints.


Most importantly - Have fun learning to paint!