what helped me learn painting?

paint regularly

If someone is learning to play the piano, they practice daily. Many professional artists paint every day.
Paint regularly, no matter whether you paint daily, weekly or monthly - paint regularly.
share your paintings

Share with your family and art-oriented people.
Join a local art association. Paint with other artists. Go to classes. Go to art shows. Get feedback.
Sharing and seeing other artwork will encourage you and stimulate you with new ideas.
paint familiar things

The best place the start painting is to paint the things you see around you. You do the best job of painting subjects you understand.
My parents had a wholesale tropical fish business with numerous outdoor fish ponds. When we fed the fish, they would all swarm around the food. So "Koi Feeding" was a natural for me.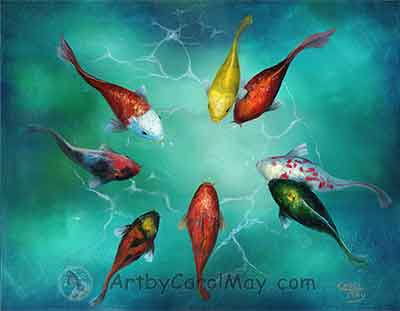 Paint what is familiar.
---
the basics of successful paintings

Use the basics to create beautiful paintings.
composition

Composition comes naturally to some people, but it can also be learned.
It's easy to make your paintings draw the viewer in.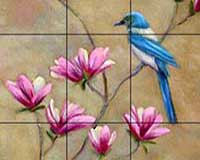 Easy Composition
focal point

What is the main subject of your painting? 
The main subject will be the focal point of your painting.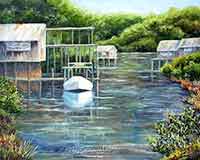 Focal Point
values
Values are the backbone of good paintings.

Color is fun, but paintings fall flat without the use of contrasting values.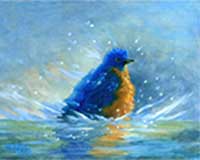 Values
Color Wheel
what colors should you buy?

Single pigment colors mix beautiful additional colors.
The paint colors on my palette (both watercolor and oil paints) are based on the color wheel.
Choosing Colors
mix paint colors

Color is what makes a painting sing.
We don't have to buy all the beautiful colors from the paint store. We can mix any color from a basic palette.
Mix Paint Colors
select the colors for your individual paintings

Plan out your colors before you start painting.
A color scheme with a limited number of colors makes a harmonious painting.
Color Schemes
paint often to speed your learning

While you learn painting, you are going to want to do some of the how-to-paintings.
I snap pictures when I am doing a painting and carefully document all the steps.
The why and how of each step is fully explained. Follow the steps and practice to learn painting.
Use the methods with your own subjects and create your individual paintings.
most importantly - have fun learning to paint!