What did I learn that helped me along the way?
These are the basics that got me started on the painting road.
paint regularly

If someone is learning to play the piano, they practice every day.
Many professional artists paint every day. I am not saying you should paint every day.
But do paint regularly. Whether you paint daily, weekly or monthly, paint regularly.
When you do a small painting often will put your learning into overdrive!

share your paintings

Share your paintings with your family and art-oriented people.
Join a local art association. Paint with other artists. Go to classes. Go to art shows. Get feedback.
Sharing and seeing other artwork will encourage you and stimulate you with new ideas.


paint familiar things

One of the first things I learned was that you can't do a good job of painting subjects you don't understand.
The best place the start painting is to paint the things you see around you.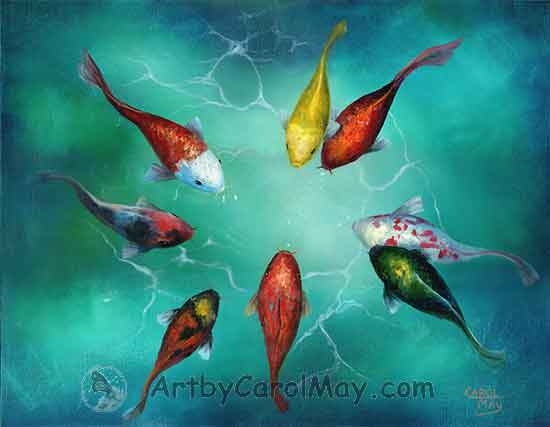 Koi Feeding
My parents had a wholesale tropical fish business. We had numerous outdoor ponds for the fish.
When we fed the fish, they would all swarm around the food. So "Koi Feeding" was a natural for me to paint.