when you know how to mix colors
you save money at the paint store

Mix paint colors, buy fewer tubes of paint and make your paintings sing.
Color is the joy and excitement of painting. Color makes a painting sing!
Color mixing will be second nature for you. Painting will become a fun adventure!
"Mister Pelican" sings with complimentary colors and value contrast.
As an affiliate of Amazon I earn from purchases. There is no additional cost to you. Learn More

what is a color?
When light hits an object, some light rays bounce off. The other rays are absorbed by the object. The light that bounces off is its color. So, a green object bounces green light and absorbs all the other colors.
how many colors are there?
When light passes thru a prism it divides into 7 colors. They are the colors of a rainbow: red, orange, yellow, green, blue, indigo and purple.
what are shades, tones and tints?

We make shades by adding black to any color. It becomes darker and duller than the original color.
Tones are made by mixing grey with any color.
We make tints by mixing white with a color.

However, adding white to a color will give it a chalky appearance.
Professional Tip - The artistic way to lighten a color is to add the lighter color next to it from the color wheel.
For example, add yellow to orange to lighten it or add orange to red, etc. The colors will remain bright and lively without a chalky appearance.
what is a color wheel?
The color wheel is the favorite tool of modern artists. It shows how colors relate to each other. We use it when we choose paint colors for our art palettes. We also use it to select colors for our paintings.
Today we will use the color wheel when we mix paint colors.
how to mix paint colors

can we mix primary colors?
Primary colors cannot be mixed from other colors.
The primary colors, yellow, blue and red are equally spaced around the color wheel.
All the other colors are a combination of the primaries. We can mix the other colors from the three primaries.
We save money at the paint store because we know how to mix paint colors.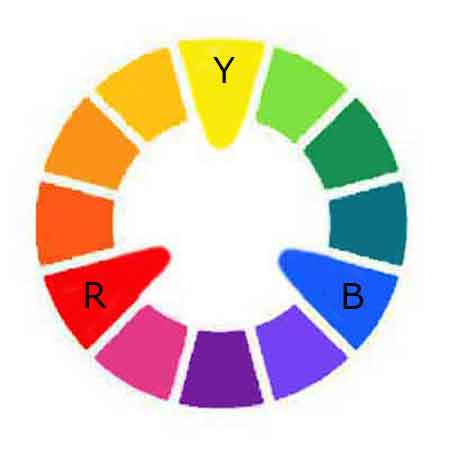 The Primary Colors
Professional Tip - Single pigment paint mixtures produce clean colors. Look at the list of ingredients on an artist's paint tube.