what are the best oil paints?
Artists' professional paints are the top of the line in oil painting materials. They are highly pigmented paints that produce the rich, beautiful colors like the old masters.


Winsor & Newton
Artists' Oil set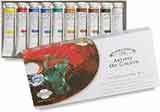 Winsor & Newton paints from England are the classic standard for oil painting materials.
Gamblin Oil
Paint set

Gamblin paints are considered the safest paints available today for health conscious people.
are artists paints better than student paints?
Student paints have less pigment than the artists' paints, so they are less expensive. They may not produce the good color of the artist's paints.
They certainly are good for student learning and practice.


the best oil paint for beginners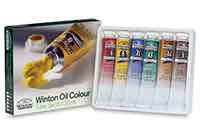 Winton Oil Set
Winsor & Newton's - Winton paint has the highest pigment load of the student paints.

Winton oil paints are considered the best of all the student paints available.
And it is reasonably priced.
---
what are the ingredients of oil paints?
Oil paints combine the colored pigments with linseed oil. They have a long drying time. They dry at various speeds depending on the colors and the weather.


what are alkyd paints?
Alkyd paints use the same pigments as other paints. Their pigments are combined with alkyd resin.
The colors all dry at the same rate with a lovely soft sheen. They dry completely over night or within 24 hours maximum.

They look like and handle just like oil paints.

Alkyds may be used for underpainting or for an entire painting.

An article about - "Paint for the Impatient"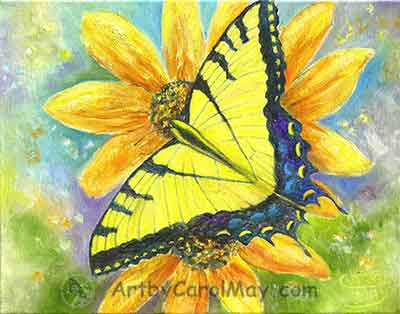 Alkyd Painting
Griffin Alkyds
Alkyds have been my "oil paints" for many years now instead of the traditional slow drying oil paints.
Griffin Alkyds made by Winsor & Newton have been my favorites since the 1980s.
Winsor Newton makes great paints!
---
what are the basic colors for oil painting?
A good place to start choosing colors is with the three primary colors; red, yellow and blue.
A warm and cool version of the three primary colors will give you mixing capabilities for any color you want in your paintings.
Red - Cadmium Red Light and Alizarin Crimson
Yellow - Cadmium Yellow Light and Yellow Ochre
Blue - Ultramarine Blue and Thalo Blue
You will also need to add a large tube of white to your oil painting art supplies.
Titanium White is the recommended white for mixing and general painting.

---
what do you paint on?
canvas
Stretched cotton canvas has a wonderful give and feel when you are painting on it. Canvases come primed with gesso and ready for painting. Check the label to make sure it says they are suitable for oil painting.

The last few years the gallery-wrap canvases have become popular. You paint the edges of the canvas that wrap around the stretcher bars. Then the painting can be displayed without a frame.


panels
Hardboard panels don't take up as much space in storage. Ampersand Gessobord panels have been archivally prepared and are ready to paint on.


canvas boards and paper
Canvas boards (canvas panels) are inexpensive and good for practice and student work. The boards may warp after a period of time.
Paper may be used for sketches and student work. Use a heavy paper like watercolor paper and prime with gesso to keep the paint from soaking into the paper.
It makes good sense to use the traditional oil painting materials.
Paintings done with either canvas or hardboard panels will last for years. You can hand them down to your children and grandchildren.
---
what brushes are best for oil painting?
hog hair brushes
Oil painting materials should include the traditional hog hair brushes. They are sturdy enough to move the oil paint around.
They are good for expressive paintings where you want the brush strokes to show.


soft brushes
Soft synthetic brushes or animal hair brushes are good for smoother paintings like portraits.
Their soft brush strokes don't leave ridges that show.

Acrylic brushes
Many acrylic brushes are suitable for oil painting.

Galeria brushes are acrylic brushes made by Winsor & Newton. They work well with oils and they keep a good edge for details.


---
additional oil painting materials
You will need a solvent to thin your paints for painting and to clean the brushes between colors. Gamsol, an odorless mineral spirits made by Gamblin is considered the safest for painting indoors.
Keep your painting solvent in a covered container and keep it covered when you are not using it.

When the day is done, Master's Brush Cleaner will thoroughly clean and preserve your brushes.

Disposable paper palettes are very handy, no cleaning after painting. Just roll up the used palette and dispose it.

Graphite transfer paper is handy for transferring your drawings to the painting surface.
---
what do i need to do an oil painting?

A good quality oil paint

Stretched canvas or

hardboard panels

Brushes

Palette

Drawing materials and graphite transfer paper

Solvent in a covered container

A brush cleaner

Rags or paper towels for clean-up

Good light and ventilation in your painting area
These oil painting materials have produced a lot of good paintings over the years.

they will work for you, too!


---