Trying to paint like a photograph was tiresome, so I did some original nature paintings. I love nature, but striving to paint like a photo was getting old. Painting is supposed to be fun.
I wanted some freedom! So, I decided to change it up a bit.

My dolphin paintings were always painted with the dolphin's natural grey color.
I decided to let it loose and do this painting with the fun colors of pink and purple with turquoise water.
These dolphins are happy because they are "Born Free".
Fine Art America does all the printing and shipping of my archival reproductions made from my original paintings. They do very good work.

Click on one of the images below to see what they have for your home. There is a lot to look at.


original nature paintings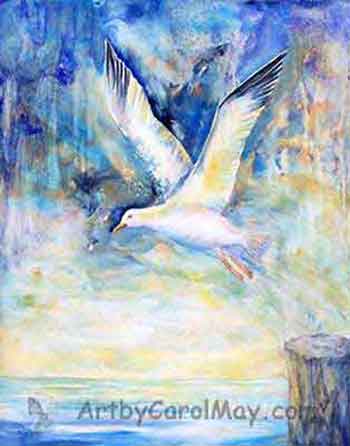 Flying Free

my freedom series began
I let my artistic imagination fly free. No more trying to paint like a photograph.

The result was "Flying Free".
The seagull is realistic, but the background is breaking loose into freedom.

Egret and Lilies
After I did the dolphin's painting in pink and purple, I thought it was so much fun, I used the color combination again.
In Florida it is quite common to see the egrets out walking among the lily-pads looking for something to eat.

This time because the egret had a yellow-orange beak, I made some of the lily-pads yellow-orange.
What fun to paint these original nature paintings in a free style! "Egret and Lilies"

The "Broad-billed Hummingbird" has a natural freedom with its iridescent greens and blues.
They also have an orange bill. Most other hummers have dark bills.
I did this painting on watercolor canvas. It is more difficult to get detail on the canvas.
The colors slide around on the canvas, so I did the delphinium flowers in a free style.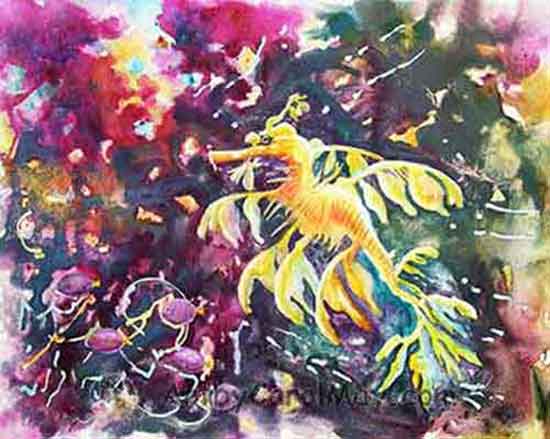 Leafy Sea Dragon 'n' Purple Tangs

It was fun doing this "Leafy Sea Dragon 'n' Purple Tangs". The leafy is yellow, a complimentary color to the Purple Tangs. Leafies can actually change colors to camouflage themselves.
You see a group of five tangs swimming in front of the leafy. Purple Tangs actually are purple with yellow tails - amazing.
Dragonfly and Lilies
I just let it fly free in this original nature painting.
Bright yellow-green with the reddish-violet made a very colorful painting.
Do dragonflies come in pink? They do in this painting.
"Dragonfly and Lilies" was lots of fun!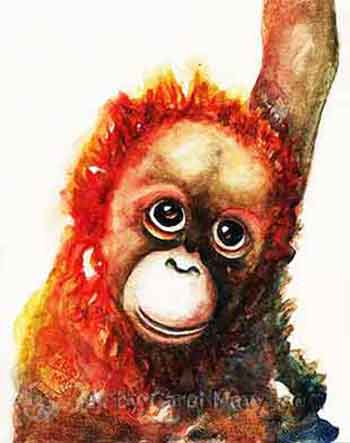 Baby Orangutan
Babies are always cute, no matter what kind of baby they are.
Here is a "Baby Orangutan".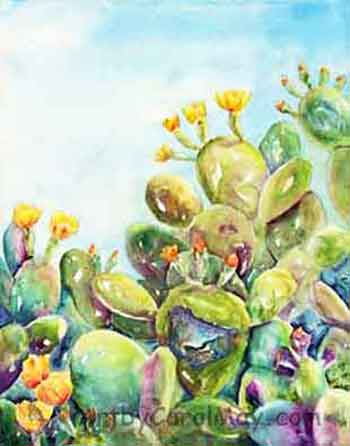 Hummer's Refuge
The style of this painting is not out of the ordinary. The subject is what is extraordinary.
I noticed some Prickly Pear cactus plants with leaves that are hollow inside.

My mind ran free and I thought that would be a perfect place for a "Hummer's Refuge".
The large cactus thorns would certainly keep the hummer's nest safe from predators.

Clown Triggerfish
Some animals are naturally so amazing, they don't need anything to enhance them.
They are an original like this "Clown Triggerfish".


I certainly enjoyed doing this original nature paintings series.


Enjoy some nature paintings in your own home.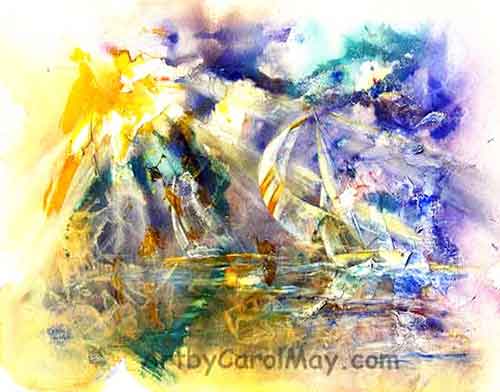 Freedoms Light
Another painting from my freedom series is these sailboats heading out of the storm toward "Freedom's Light".
The painting is done with mixed media. It's an easy painting method. You can learn to do it.