Fine art prints for sale by the artist; birds, butterflies, flowers, landscapes & more

Fine art prints for sale by the artist Carol May.
The original paintings usually sell pretty fast, so I have reproductions made of my more popular paintings. Enjoy!
Where do you need a painting?
Do you want to stun your visitors with a large painting in your entry way? 
You may need a new painting for your game room.
Are you looking for a small painting to tuck in a corner of your office?
Or maybe a soothing painting for your dressing room?
beautify your home with fine art

Bring the beauty of nature into your home with fine art prints for sale by the artist.
Oil Painting Art Prints for Sale
These art prints are from my colorful, original paintings.
They are museum-quality art prints produced for you by Fine Art America.
Fine Art America does the printing and shipping of all my art prints. They have over 40 years of experience.
They use archival inks on acid-free paper and canvas. The prints are guaranteed to last a lifetime for many years of enjoyment.
Fine Art America ships artwork throughout the world. Prints are usually shipped within 3-4 business days.

what size do you want?
These fine art prints are available in the 5" note card size.
They also come as large as 4 feet or more, for a stunning painting for your living room or your entry way.
Fine Art America has partnered with Acanvas.com to enable you to digitally stream many of my images on your TV or your smart phone.
choose your support
Fine Art America will reproduce my paintings on paper, canvas, wood or metal supports.
They also have a variety of mats and frames to choose.
some modern paintings don't need a frame
You may want the sleek modern look of a painting on metal.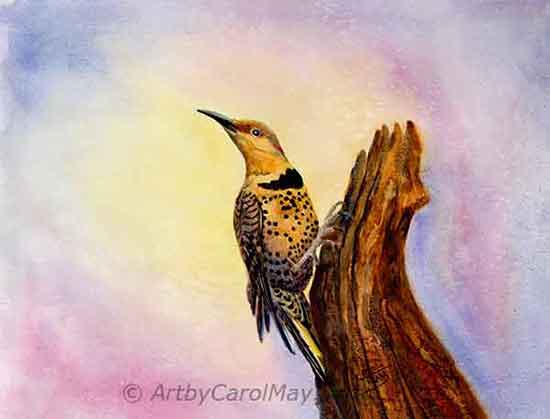 Watercolor Art Prints for Sale
Gallery-wrapped paintings display wonderfully without a frame.
The painting is wrapped around the sides of the stretcher bars. Then the painting may be viewed from the front and also from the side.

You may prefer an earthy look with a painting on wood.
Your children may want a poster or two for their room. They can pin it on the wall and move it where ever they want.

fine art prints for sale
Click on the images to see close-up views and options.
what's your desire?

There more than one hundred paintings displayed on this website. A few original paintings are available.

If you see a painting that you can't find here in the Art Store, contact me with the name of the painting. It may be available.