Join artist Carol May and learn how to paint a wave step by step in five easy steps for the beginner.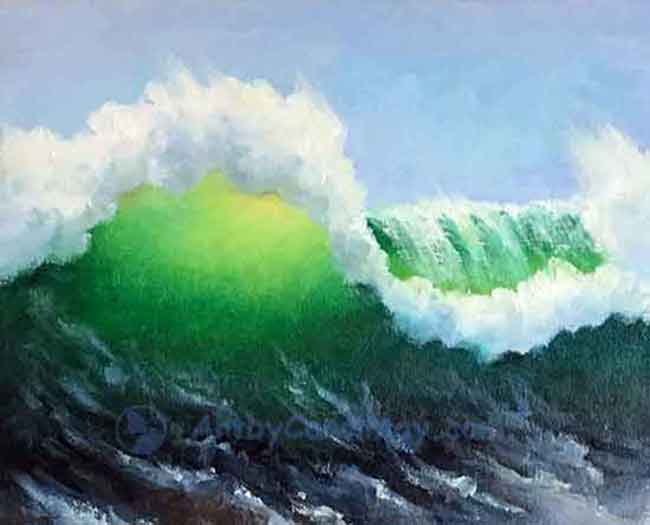 art paint supplies
We will be doing this wave painting with oil paints. You could use much the same methods for acrylic.
Water is transparent, so it makes sense to use transparent colors if possible.


paint colors
Blue - Ultramarine Blue or Thalo Blue
Green - Viridian Green or Thalo Green
Yellow - Cad. Yellow Light or Winsor Yellow

Burnt Sienna
White - Titanium White
Optional - Dioxazine Purple
brushes
Natural hog hair bristle brushes are great for seascapes. I personally don't find any use for brights. They don't seem to carry much paint. I prefer filbert or flat brushes. After using flats for a while their square edges wear off and make a filbert.

Flats leave brush stokes and filberts make a smoother painting. Its all a matter of preference. You may use synthetic brushes of your choice. However I don't find sable or other soft brushes are not suitable for seascapes.
Use the size brush appropriate for the size of the canvas you will be using.


canvas
I normally use stretched canvas for my oil painting.
Gesso hardboard panels by Ampersand are also an excellent choice.