you can Learn how to paint a wave
with five easy steps for the beginner

Learn how to paint a wave with oil paints.

As an affiliate of Amazon I earn from purchases. There is no additional cost to you. Learn More
When you go to the ocean, there is nothing as beautiful and mesmerizing as a transparent wave.
So let's learn how to paint a wave.
First thing it's good to have some reference photos. Here are a couple of shots from Pixabay.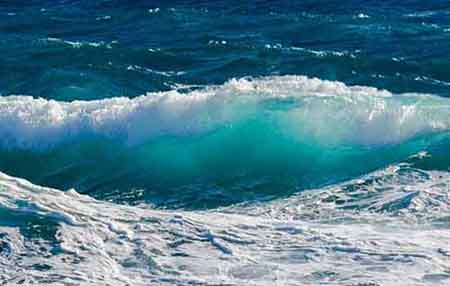 Transparent Wave Reference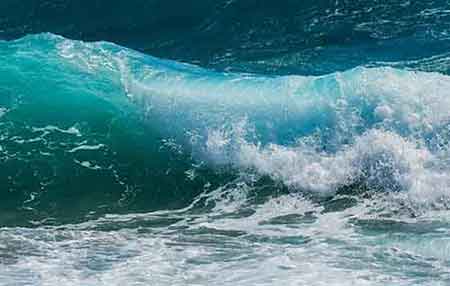 Wave Spilling Over
painting seascapes takes practice
You can take any part of a reference photo and do a practice piece.

what makes a wave?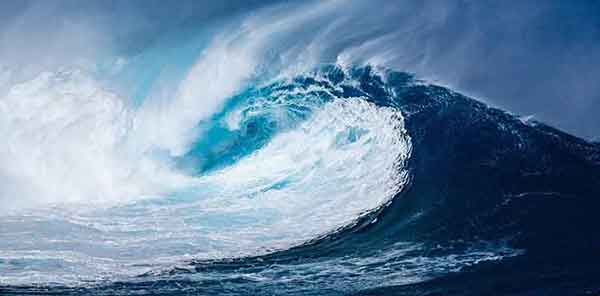 The Wave
Out in the ocean, energy movement under the surface of the water makes waves. The energy is the result of winds and currents. This energy under the water causes the waves to go up and down.
The top of the water stays basically in the same place. This is why a surfer can sit out on the ocean in the same place going up and down on the waves until he decides to catch a big one.
The front of the waves are concave. Their backs are rounded. The base of the waves is level. No matter how windy it is or how rough the sea is, the baseline of the waves remains level with the horizon.
When waves approach the shore, they appear to be growing. Actually they are the same size. They just rise up taller because the ocean bottom is closer to the surface. So the volume of water in a wave has less space.
As a wave builds higher, more water is sucked into the wave. The front of the wave becomes more concave and creates a trough in front of the wave. When a wave gets so large it can no longer support itself, it falls forward.
Waves make the awesome subject of seascape paintings. Understanding how waves form will help you learn how to paint a wave.
so let's paint a wave...


---