will touch your heart, your mind,
and spirit with peace and joy

The purpose of this prophetic art is to share God's love, peace and glory.
Prophetic paintings come from the inspiration of the Holy Spirit. Traditional Christian paintings are derived from God's written word, the holy Bible.
This horse painting represents the 'Freedom' we have when we trust fully in Christ.
Many times the Lord has allowed me to see Him on His white horse. This horse is a little sleeker than the one I have seen. His horse is more muscular like war-horses.
All of us will have our own horse when we return with the Lord one day. One time during praise and worship the Lord allowed me to see my horse by me dancing while we were worshiping.
Our war-horses gain strength from our praise and worship.
I was sharing with a Christian acquaintance that I felt that this would bring healing to my city which still celebrates the battle every year. She said, "Oh my, it is not only healing to your city, but to the entire nation.
This was one of the most difficult paintings I have ever done because of the spiritual warfare. I can't say what was accomplished in the spirit, but I can say this prophetic art was from God.
Jesus our anchor holds us steady thru all the weather of our lives.


how god showed me I was a prophetic artist

"Born Free" shows mother and baby dolphin enjoying the fact that they were born free. We can have that freedom when we accept Jesus Christ as our Savior. He sets us free!
My pastor had been telling me that I was a prophetic painter. He explained it to me and I still was not sure that I could do prophetic art, or that there was any anointing on my paintings. I didn't really understand what painting prophetic art meant.
My husband and I were doing some outdoor art festivals. At one festival there was a young girl that came by with her grandmother. She really wanted a print of the 'Born Free' dolphins, but grandmother did not want to get it.
About two hours later, after they had been through the entire show, they came back. The grandmother got her a small print of the dolphins.
A couple of nights later the Lord gave me a powerful dream. I saw this same young girl in the dream; she was now about 12 years old. She looked directly at me and said, "Thank you very much."
I knew by the Spirit that because of having the dolphins with God's anointing on the painting in her bedroom that she had accepted Jesus Christ as her savior. Praise God!
Now I knew that there were reasons why the Lord had me painting certain things. I understand now that prophetic paintings are not only pleasing to the eye, but they accomplish things in the spirit realm.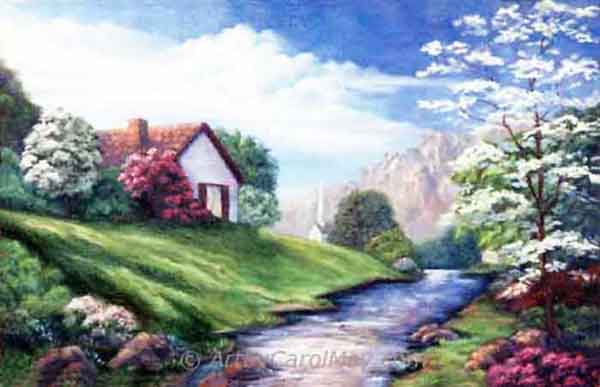 Springtime
I put this painting "Springtime" on this page, not because I considered it a prophetic painting, but because it has special meaning to me.
When I was painting it, I imagined that I was painting the river of life that we all travel. The road of life we travel while here on earth. I thought a river was prettier to paint, than a road. Also, I was thinking about the river that comes from heaven.
We live in a house by our river. I put sparkles on the water and beautiful springtime flowers by the river to signify new life. The river curves around through our life and if we make the right choices, we choose God. Hence the river leads to the church in the background. And far in the background are the mountains of the Lord.
I had this painting for sale at an outdoor art festival. A gentleman came by and asked me where the place was that I had put into the painting? I told him that it was not an actual place, but that I had painted it out of my head. He said, "I sure would like to be in your head."
Wow! That was the greatest compliment anyone had ever paid me for my paintings.
When the man viewed the painting, he felt the peace I felt, when I was painting it. God's peace and love can be felt through prophetic art.

That's what prophetic painting is all about! You can do it, too!