painting watercolor flowers



Watercolor painting is fun!


painting is fun!
And painting watercolor flowers is even more fun! I never tire of the beauty and suspense of the watercolors flowing and moving during the painting process.
Watercolors can be controlled to a certain extent, but I enjoy letting them do their own thing. There is always an element of surprise and wonder.
The watercolors mingle and flow together to create their own beautiful paintings.


painting watercolor flowers
It's springtime and after a long winter my flowers are breaking ground. While I am waiting for them to grow and bloom, I decided to paint some.
The Bradford Pear trees have bloomed. Redbuds and Dogwoods are taking their turn. Poppies are blooming. The Iris is starting to open.
In the joy of springtime, I painted three different watercolor flowers.

watercolor **you are here

**Painting Watercolor Flowers

First I painted some Echanesea, then poppies and finally a couple of Bearded Iris.
echanesea flowers on paper
The leaves of my Coneflowers (Echanesea) are about two inches out of the ground. Daisies have been my favorite flowers ever since I was a child. So I enjoyed painting one of my favorites.
The Purple Coneflowers (They look pink to me, but they are called purple.) are native here in the Midwest. They did not grow well for me in Florida, but they do great here in Missouri. I have some of the Pow Wow varieties and they bloom all summer and come back faithfully each spring.

draw and transfer
Drawing them probably took more time than I spent on painting them. I drew them in my sketchbook and then transferred the drawing to the watercolor paper with graphite transfer paper. Erasures can damage watercolor paper, so I did all my erasing on the sketch paper.

Notice neither of the flowers is centered and they each tilt a different direction. This helps give life to the painting.


colors and painting surface
Normally my watercolors go onto Aquabord or Claybord, but this time I used paper for a fun, quick painting. I was breaking out of the winter doldrums and I wanted to have some fun painting watercolor flowers. So I grabbed a block of 300# watercolor paper for this quick painting.
I used a semi-triad color scheme with pink (red), yellow and blue. I slipped a bit of orange into the center cone. The yellow and blue colors mixed for the green. Normally I paint with a limited number of paints. It simplifies the painting process and makes a more restful painting for the viewer.


painting process
Relax while painting your watercolor flowers and the painting will go smoothly for you.

Paint the pink petals first. Wet the petal and start painting near the center of the coneflower. Then pull the paint lighter and lighter as you go out to the tip of the petals.
Yellow goes on the top of the cone which is closest to the light source. Add blue to the bottom, shadow side of the cone. Then I went to lunch while the flowers dried.
When the flowers are thoroughly dry, wet the entire background. Float in variations of yellow and blue and a mixture of green. Keep the colors lighter toward the light source and darker at the bottom of the painting.
I came back with a second wash of darker blue between the two flowers to highlight the focal flower.
There you have it a quick, fun flower painting. Try it!

colorful poppies
The idea for this painting came from an oil painting I saw by Nancy Medina. The painting is changed significantly from the original to make it my own, but I want to give Nancy credit for the idea.

Colorful Poppies
This was a carefree painting that I did in my favorite free painting style. I didn't try to produce a photocopy. I just had fun painting. Painting watercolor flowers is such a joy with its unpredictable results.


draw and transfer
The painting was drawn in my sketchbook and transferred to the painting surface with graphite transfer paper. This time I used an 8x10 inch Aquabord by Ampersand.
That way I may spray the dry painting with a fisative and frame it without glass. This is my favorite way of painting watercolor flowers and for that matter all of my watercolor paintings.


colors
I used the analogous colors of yellow, pink and orange with their compliments of blue and purple.

This painting breaks the rules of good composition because the focal flower is dead-centered in the painting. But I painted it with my love of color. And it was fun! Just let it flow!


painting the flowers
The main subject, the flowers were painted first. While I am painting, I like to leave specks of white paper to give spark and light to the painting.
Then when the flowers were dry, I floated in dark colors for the background. This my normal painting process for portraits of close-up subjects. Paint the main subject first and then paint the background around the main subject.
When the main subject is painted first, it gives you a better idea of what value to paint the background. The dark background sets off the light colored flowers.
I carefully painted around some areas for leaves. And I also put some yellow above the right-hand flower. It is a good idea to repeat colors throughout the painting to give it cohesiveness. I dropped yellow into the white spots that were left while I was painting the background. And I spattered some yellow into the wet background.
Then the stems and leaves were painted in a carefree manner with yellow and a mixed green. Painting watercolor flowers is so much fun!

bearded iris
Next I turned my attention to another flower that was starting to bloom, the bearded German Iris. They were just opening in my sister's yard. She gave me a couple along with some phlox. I brought them home, put them in a vase and worked on drawing them.


drawing and transfer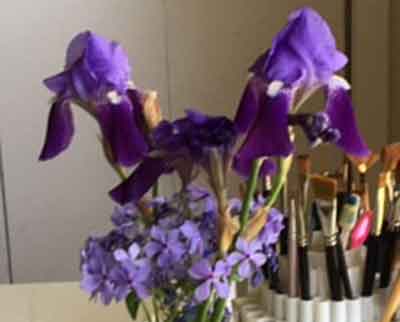 Iris photo
The Iris has three petals drooping down (the falls).
In between each fall there is a petal going up (the standards) for a total of three upright petals.

Transfer drawing and mask highlights.
The drawing was transferred to an 8x10 Aquabord.
Apply masking fluid to preserve some of the highlight areas.

painting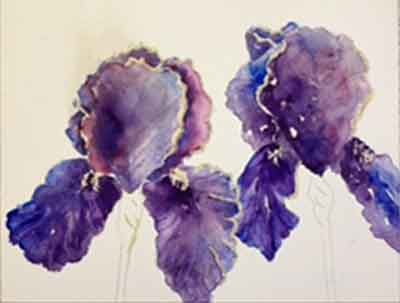 Paint the flowers first
The color scheme was compliment plus left one half using the colors of blue, purple and yellow.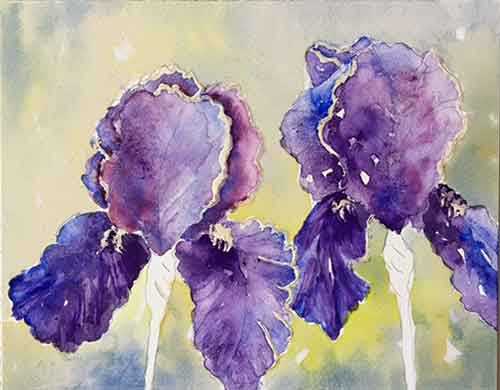 Then float in a soft background
Float in a light background of blue and yellow. Yellow makes its complimentary color (purple) stand out.

complete the painting
When the paint is thoroughly dry remove the masking fluid to expose the highlight areas. Soften the edges of the highlight areas to make a smooth transition where they move into the main color of the petals.

Paint in the stems with a combination of blue and yellow. Put a bit of yellow on the beards.

Lift out some highlighted veins with a damp brush or a fiberglass brush. This is the beauty of Aquabord, colors may be lifted off after they are dry.
This watercolor flower painting is complete.

painting your own flowers
Are ready to start painting watercolor flowers out of your yard? It's easy, just follow these simple steps.
Select Your Subject - Get some good photos or live flowers to draw from. Adjust your drawing and do any erasures on your sketch paper.
Transfer Your Drawing - Put your drawing onto your painting surface. Choose watercolor canvas, watercolor paper or Aquabord. Mask any highlight areas you want to preserve as white. Let the masking fluid dry completely before you start painting.
Choose Your Colors - For simplicity and beauty use a limited number of colors in each painting.

Doing The Painting - Paint the main subject first. Then when you put in the background you have a better idea of whether to use light or dark values to contrast with the main subject.

Most Important! - Have fun painting watercolor flowers - that's what it is all about.