Butterflies are so awesome! When I see them I snap photos for more paintings
One of my great joys is doing butterfly paintings!
Let your imagination fly away as you enjoy the paintings of butterflies.

Butterfly Paintings by carol may

See the leaves flying in the background of this painting!
These "Large Tree Nymphs" are from SE Asia and they were feeding on False Hydrangea.
I saw them" at the Butterfly Rainforest in Gainesville, Florida.
Its lots of fun as well as educational to go to butterfly gardens. If you have a public butterfly garden near you, go for a visit.
The Monarch Butterfly is the most well-known and the favorite butterfly in the United States.
Daisies are my favorite flowers. What a joy putting these two favorites together in "Monarch on Daisies".
Last year I had lots of them come to the Butterfly Weeds in my flower garden. The caterpillars ate their fill, metamorphosed and took off on their amazing journey.
It was a privilege to see large numbers of Monarchs in Mexico while they were migrating. How awesome!
More about Monarch Butterflies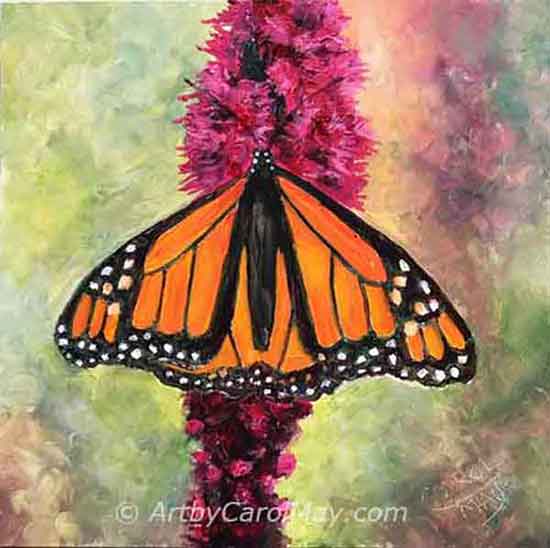 Monarch on Liatris
The flowers in my garden attract butterflies. The butterflies and I both enjoy them.
This butterfly painting is a "Monarch on Liatris" a native wildflower also known as Blazing Stars or Gayfeather.
Include native flowers in your flower garden whenever it's possible.
Here in the Midwest I include the colorful native Coneflowers (Echinacea) and Liatris.

Spicebrush Swallowtails
Butterfly paintings keep me on the lookout for new butterflies.
One day my husband and I saw a bunch of these butterflies on the Pickerel flowers beside the boat ramp.
They were "Spicebrush Swallowtail" butterflies.
Do you see the image of another butterfly in the background?

It's a joy doing butterfly paintings. Sharing them with you is a special joy!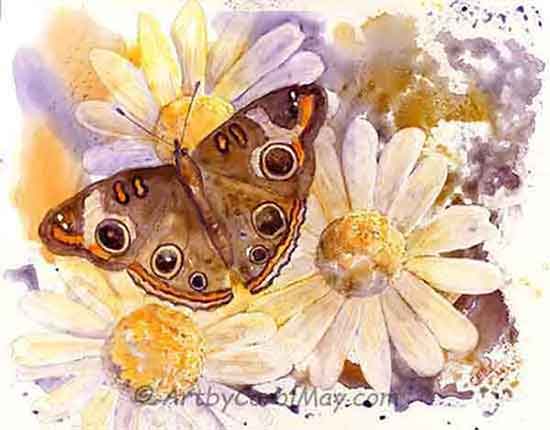 Buckeye Butterfly
The "Buckeye Butterfly" is a dark colored butterfly with its big eye-spots. It is a frequent visitor to many yards.
There were some on my white daisy Chrysanthemums. They made such a beautiful contrast that I wanted to do this butterfly painting.
Using my photos as reference I painted it with the mixed media method explained on the Awesome Paintings how-to page.
This painting is on a sturdy 11x14" archival Aquabord. After the painting was thoroughly dry it was sprayed with a UV resistant coating that seals the watercolor paint.
Traditional watercolor paintings on paper have to be matted and framed under glass. This painting can be framed without any glass.
It is painted with the freedom of expression we feel when we see butterflies. This one of my favorite butterfly paintings!
Tiger Swallowtail Butterfly
The "Tiger Swallowtail Butterfly" is quite large. You can't miss it.
It is painted here on one of its favorite flowers, the butterfly bush.

It flies so softly, it looks like it is floating when it's flying.

The eastern version is larger and a western version is a bit smaller, but just as beautiful.
Sometimes the females are brown.
Swallowtails are one of the Types of Butterflies we often see in our yards.

Longwing Butterfly on a Butterfly Bush
"Longwing Butterfly on a Butterfly Bush" is one of those paintings that turned out absolutely beautiful.
You may see the painting process of this painting on a how-to tutorial page.
The page teaches how to preserve the white of the paper in watercolor paintings.

This beautiful original painting is still available for purchase.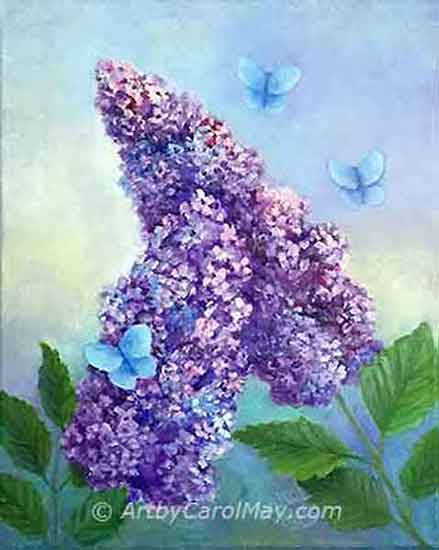 Little Blue Butterflies
We all enjoy the springtime after a long winter.
My lilacs were blooming and when I walked across the lawn I saw these lovely little Azure Blue Butterflies.
The "Little Blue Butterflies" are only about three-quarter to one inch wide.

Since the lilacs and the butterflies both showed up at the same time, I put them together in the same painting.
Its lots of fun doing butterfly paintings!

Red Admiral Butterfly
I always keep my eyes out for butterflies.
I only had the privilege of seeing the "Red Admiral Butterfly" a couple of times.
Their color is stunning.
Both times I saw them on the ground among the leaves and grass.

So this one is painted with some fall leaves on the ground.
The colors of the fall leaves complement its beautiful red bands.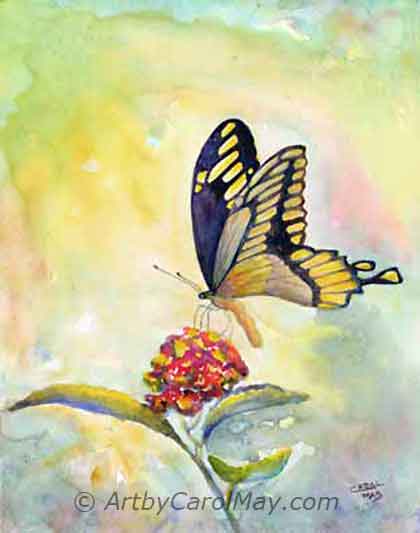 Giant Swallowtail
The "Giant Swallowtail Butterfly" is amazing to me not only because it is such a large butterfly, but because of the color change from the top side of the wings to the underside.

If you see the different sides of its wings at different times, it is hard to realize it is the same butterfly.
The underside of the wings are mostly pale yellow with black markings.
The wing's topside is a stunning brilliant black and yellow.
This watercolor butterfly painting has him sitting on a Lantana flower.
Southern White
It was a cold January day in Florida. It was surprising to see these lovely little "Southern White Butterflies" flitting around on roadside daisies in the cold weather.
The Spanish Nettle is sometimes called the Beggar's Weed because it makes seeds that stick to your socks.
Daisies are one of my favorite flowers. They are a butterfly favorite, too.

They provide lots of food for the butterflies. They also provide a landing pad for the butterflies to sit down while they are eating.

White Peacock Butterfly
Black-viened Butterflies
These "Black-veined Butterflies" are native in Europe. We don't see them in the United States.
However, when I saw some photos of them, they took my breath away!
They were so light and airy and beautiful. I just had to paint them.
There is a step-by-step tutorial of me painting them on thistle flowers.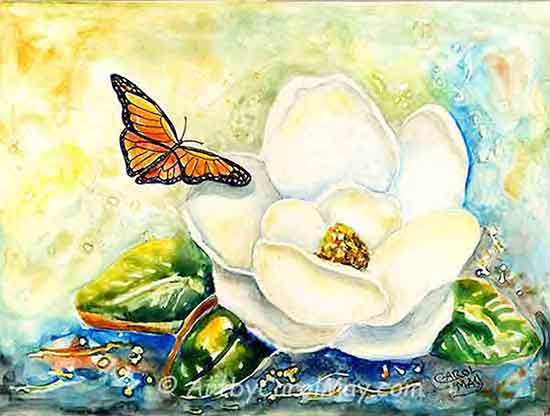 Pretties - Magnolia and Monarch
Fine Art America makes prints from my original paintings. You may get prints on paper, wood, canvas or even metal.
They also have a variety of phone cases, notebooks, beach towels, etc. with my paintings printed on them.
Check it out. You are sure to find something you would love in your home.