Beautiful Nature Paintings
enjoy beautiful nature paintings: birds to sea dragons, sunsets to seascapes

There are so many beautiful nature paintings to do.
Some of my favorite things to paint are butterflies and flowers. Then I have to do some of God's other critters like dragonflies and birds.
The wonders of nature are so inspiring, what about a sunset or a seascape - yes!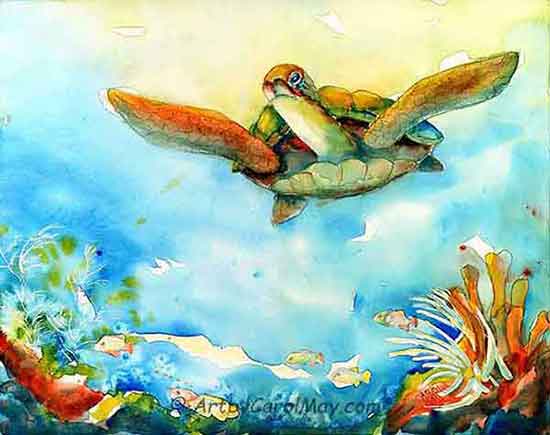 "Bold Freedom"
One time my husband accidentally caught a sea turtle. He brought him home for me to see.
We took him to the water to let him and go his flippers started going. I saw a tear coming out of his eye. I said, "Look he is crying." We turned him loose and now he is now swimming in his "Bold Freedom".
If that doesn't make you want to paint, I don't know what does?
beautiful nature paintings

Leafy sea-dragons are native on the coral reef of Australia. They are a quiet animal related to the Sea Horse.
They camouflage themselves in leafy appendages and wait for small fish to come by to suck them up.
Do you see two "Leafies" in this painting?


Detail of "Leafy"
There are lots of little critters among the coral.
Click images to see the paintings in close-up views. These beautiful nature paintings will bring peace and beauty into your home.
more paintings of nature
I like to walk in the mornings when everything is clean and crisp.
One time I kept seeing a Downy on the pine trees where I walked by every morning.

Finally I told my husband, I think it means I am supposed to paint him.
So I did the "Downy On Pine" with Virginia Creeper climbing up the tree.
The red creeper leaves complimented the red on the Downy's head to make a beautiful nature painting.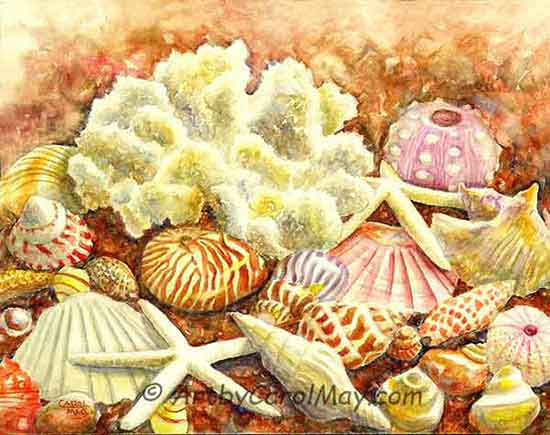 Sea Shells
While the weather was cool outside I was dreaming of going to the beach.
And you know what we all do when we go to the beach - collect "Sea Shells" to take home for memories.
This is a watercolor painting is full of lots of memories.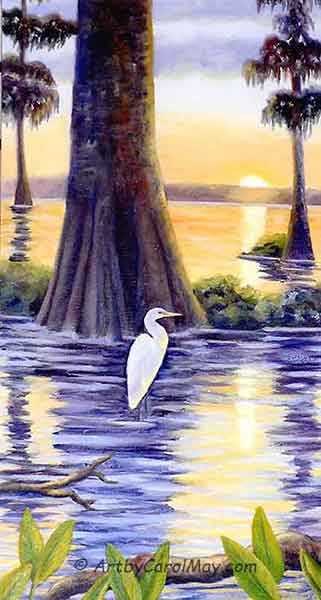 Cypress Sunset
There is nothing as inspiring to paint as a beautiful sunset.
Here is a Florida sunset behind the native cypress trees.
A great white egret is enjoying his peaceful surroundings.
The leaves of the native pickerel weed frame the foreground in "Cypress Sunset".

I went out and painted some of the wild Dogwood flowers while they were blooming.
After I came home I added a male Cardinal for "Cardinal 'n' Dogwood".
It made a wonderful nature painting.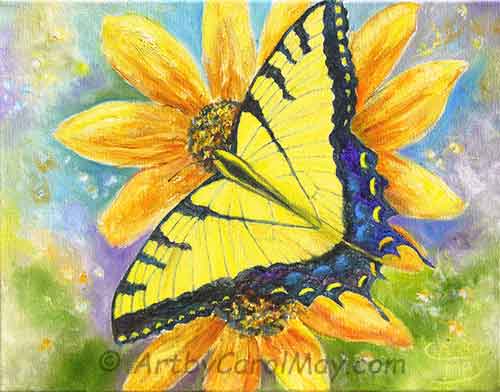 Beauty and Joy
One of the joys of working outside in the garden is seeing all the butterflies.
There are lots of butterflies in Florida enjoying the moderate climate.
One of the most stunning butterflies is the large Tiger Swallowtail butterfly. They softly float by on the tropical breezes.
What a fun it was doing this nature painting of "Beauty and Joy".
When we were living in a home with a tin roof, we started getting a "Northern Flicker" that came by every morning at the same time.
He would beat on our tin roof. He was staking out his territory.
We started calling him our alarm clock!
This painting of nature turned out gorgeous done with watercolors.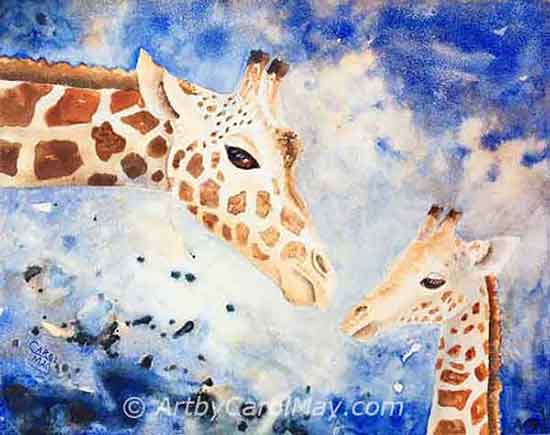 Mother's Love
Giraffes are such amazing animals. They have interested me for years.
I have put them in a number of beautiful nature paintings over the years.
Here is my newest painting of a mother giraffe showering love on her baby. "Mother's Love"

You can paint the Ocean
The beauty and wonder of the "Ocean" is mesmerizing.
Learn how to paint your own seascape with the step-by-step tutorial.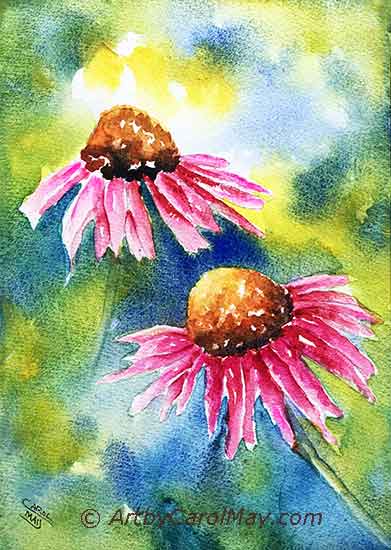 Purple Coneflowers
Flowers are one of my favorite things. And I am endeavoring to learn how to paint them better.
I did three watercolor paintings of flowers this spring while I was waiting for the flowers to grow in my garden.
Echinacea in the gardener's world is called Purple Coneflower. They look pink to me and that is how I painted them.
They are lovely to look at and if they are made into tea they supposedly improve the immune system.
I thoroughly enjoy doing nature paintings.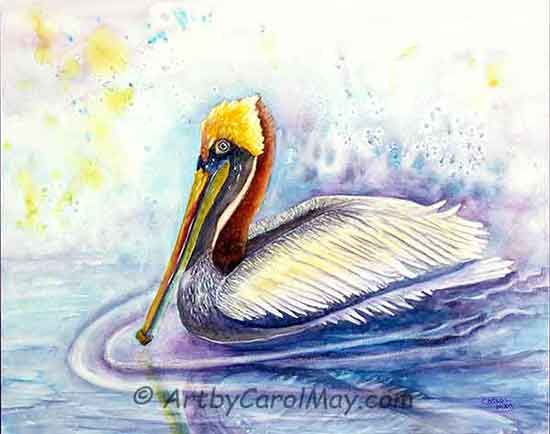 Paddlin' Pelican
Pelicans are amazing birds. We felt one when we accidentally caught him while we were fishing.
They look large, but they don't weigh very much.
We let him go and I did this beautiful nature painting of a "Paddlin' Pelican".
He was very thankful to get set free.