Beautiful Nature Paintings
birds to sea dragons, sunsets to seascapes all make beautiful nature paintings

There are so many beautiful nature paintings to do.
Some of my favorite things to paint are butterflies and flowers. Then I have to do some of God's other critters like dragonflies and birds.
The wonders of nature are so inspiring, what about a sunset or a seascape - yes!
One time my husband accidentally caught a sea turtle. He brought him home for me to see.
We took him to the water to let him and go his flippers started going. I saw a tear coming out of his eye. I said, "Look he is crying." We turned him loose and now he is now swimming in his "Bold Freedom".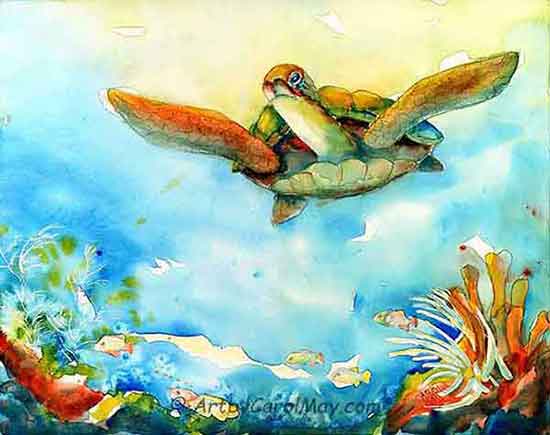 "Bold Freedom"
If that doesn't make you want to paint, I don't know what does?
beautiful nature paintings

There are so many beautiful things in nature.

We were living in a home with a tin roof. We started getting a "Northern Flicker" that came by every morning at the same time.
He would beat on our tin roof. He was staking out his territory to keep all the other flickers away. We started calling him our alarm clock!
This painting of nature turned out gorgeous done with watercolors.

Leafy
Leafy sea-dragons are native on the coral reef of Australia. They are a quiet animal related to the Sea Horse.
They camouflage themselves in leafy appendages and wait for small fish to come by to suck them up. Do you see two "Leafies" in this painting?


Detail of "Leafy" There are lots of little critters among the coral.
I like to walk in the mornings when everything is clean and crisp.
One time I kept seeing a Downy Woodpecker on the pine trees when I walked by every morning.

Finally I told my husband, I think it means I am supposed to add him to the paintings of nature. I'm going to paint him.
I took some photos to figure out how to paint the pine bark. And the Virginia Creeper was turning red.

So I did the "Downy On Pine" with Virginia Creeper climbing up the tree.
The red creeper leaves complimented the red on the Downy's head to make a beautiful nature painting.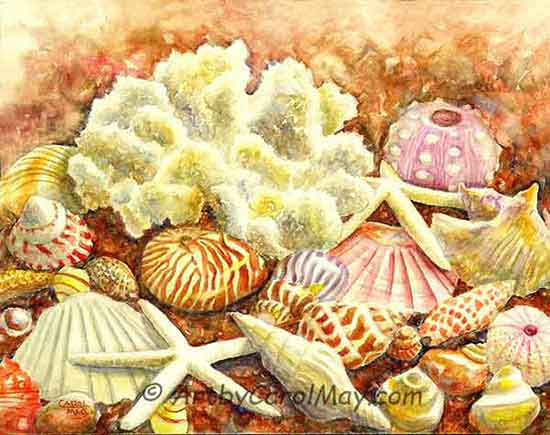 Sea Shells
While the weather was cool outside I was dreaming of going to the beach.
And you know what we all do when we go to the beach - collect "Sea Shells" to take home for memories.
This is a watercolor painting is full of lots of memories.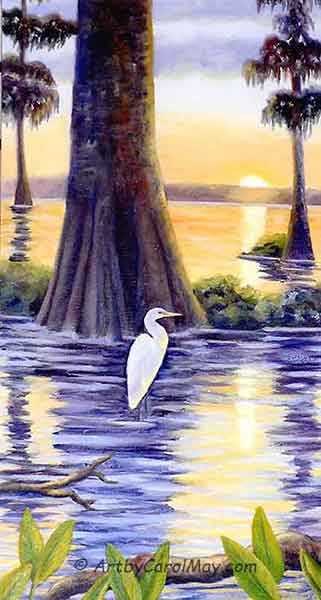 Cypress Sunset
There is nothing as inspiring to paint as a beautiful sunset.
Here is a Florida sunset behind the native cypress trees. A great white egret is enjoying his peaceful surroundings.
The leaves of the native pickerel weed frame the foreground in "Cypress Sunset".

I went out and painted some of the wild Dogwood flowers while they were blooming.
After I came home a male Cardinal made a good addition for "Cardinal 'n' Dogwood". It made a wonderful nature painting.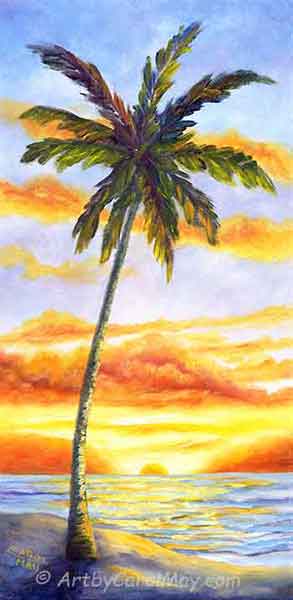 Coastal Colors
There is nothing like the beautiful colors of a sunset or a sunrise on the coast, especially looking through a coconut palm tree.
The "Coastal Colors" are especially wonderful. I never get tired of painting the water in its many moods.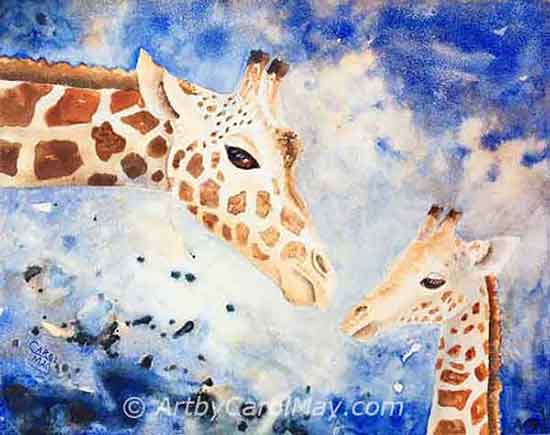 Mother's Love
Giraffes are such amazing animals. They have interested me for years. I have put them in a number of beautiful nature paintings over the years.
Here is my newest painting of a mother giraffe showering "Mother's Love" on her baby.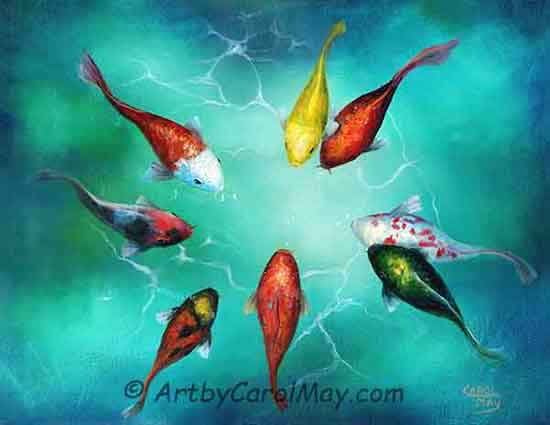 Koi Feeding
We had many outdoor ponds, as well as indoor aquariums for tropical fish. When we fed the fish they would all swarm around the food to feed.
My mom went to a Gary Jenkins class where they painted Koi in a circle. It was a good idea, so I did the "Koi Feeding" painting. That is just what they look like when they are eating.
My husband said the one with the white head is the ring leader. Lots of fun!

beautiful nature paintings will bring peace into your home.
Click images to see the paintings in close-up views.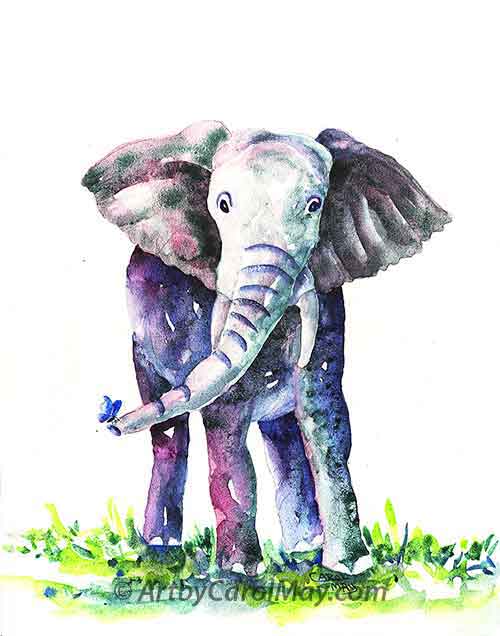 Baby Elephant 'n' Butterfly
The "Baby Elephant" is checking out a blue butterfly on its trunk.
Its lots of fun to let your imagination run while doing nature paintings.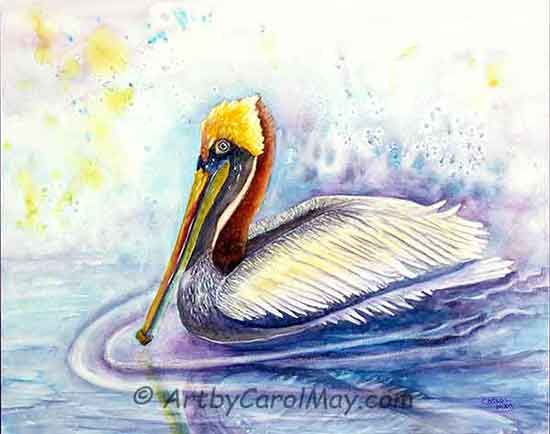 Paddlin' Pelican
Pelicans are amazing birds. We got to feel one when we accidentally caught him while we were fishing.
They look large, but they actually don't weigh very much. They are very light weight. When we let him go, he paddled around, as if to say thank you.
The "Paddlin' Pelican" made a beautiful nature painting.
Sign up for the Painting Art Ezine to stay up to date with the latest news, tips and techniques.
---
Get a free download of "Painting a Wave".
Dec 06, 21 01:00 PM

Recently the Lord showed me a vision of a bunch of balloons rising up in the air.
I asked him what it meant and he said, "Celebrating Victory".
Sometimes we just need to celebrate a victory before it ha…

Nov 26, 21 09:56 AM

Create a focal point that attracts the viewers into your paintings.
Use the painters tools of warm and cool colors, a contrast of values, certain objects, soft and hard edges and detail.
The viewers wo…
Dec 06, 21 01:00 PM

Recently the Lord showed me a vision of a bunch of balloons rising up in the air.
I asked him what it meant and he said, "Celebrating Victory".
Sometimes we just need to celebrate a victory before it ha…

Nov 26, 21 09:56 AM

Create a focal point that attracts the viewers into your paintings.
Use the painters tools of warm and cool colors, a contrast of values, certain objects, soft and hard edges and detail.
The viewers wo…