Paintings of flowers are both fun and very challenging!
When you have flower paintings, you can enjoy the beautiful blossoms all year long.
Working in the flower garden is such a joy. Flowers are one of my favorite things. That's one reason my college major was horticulture.

Since I love flowers so much, this year (2019) I have been working on doing more paintings of flowers.
Here is a rose painting that was such a "Joy" to paint. It was one of those paintings that just flowed. There was no need to labor over it.

Orange is such a happy color and the turquoise vase was its perfect compliment.
Painting is so much fun!
compare the orange roses-above, with the pink roses-below

Cologne Bottle
A few years ago after my older sister went to heaven, I found this cologne bottle in her greenhouse.
When we were girls, we each had our cologne bottles on the dresser. Mine had apple blossom and my sister's had rose cologne.
I don't know where my bottle went over the years, but my brother-in-law generously gave me my sister's bottle.

Cologne Bottle - detail
Drawing the bottle was a challenge. After the drawing was finished, painting it was a snap.
Shadow colors were added on the right side with some pink reflecting from the flower above. On the left some color pulled into the background made it glistening in the light.
However the roses were not well done. This year I have been working on more roses.


an improvement, don't you think?
more flower paintings with oils

Bloomin' Basket
Magnolias are the flower of "The" south.
They are beautiful with their pristine beauty. And their lemony fragrance is heavenly.

Here is a "Bloomin' Basket" full of them.


When my Tulip Magnolia was blooming, I went out and sat down on the edge of the front porch and painted it. Some people call them Japanese Magnolia.
Later I came in the house and added the blue Scrub Jay for the "Scrub Jay on Tulip Magnolia".
What a lovely compliment they are to each other.
Son Shine
These giant sunflowers grew in my garden one year.
When the seeds were ripe the birds would sit on the back of the flower.
Then they would lean over and peck the seeds from the front of the flower.
The Son's face is shining down on us. "Son Shine"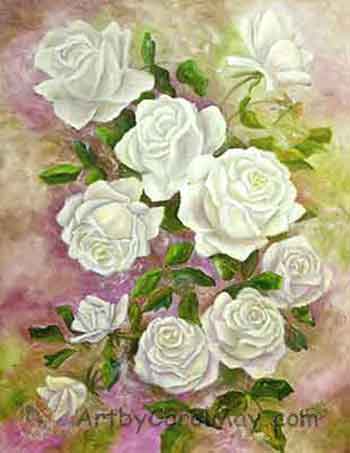 Peace
When I got a little older, like everybody else, I learned to love roses.
Here are ten white roses signifying "Peace".
What a lovely painting of flowers!

Daisy Painting
Here is another "Daisy Painting" of lovely white daisies.
Since daisies are my favorite flowers, I had to paint them again.
watercolor paintings of flowers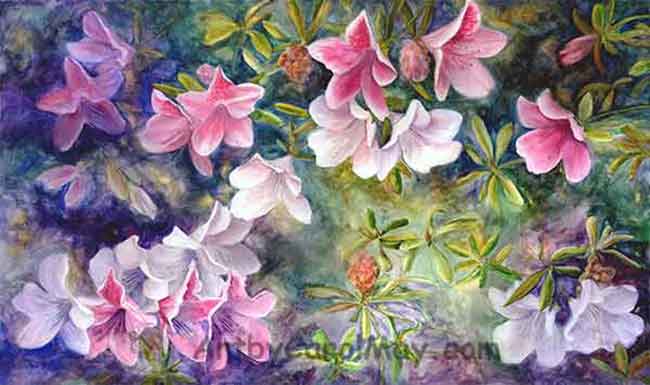 Azaleas
Springtime is a joyous time of the year with all the flowers blooming. We have an azalea plant that blooms every spring with white and pink flowers on the same plant.
So here it is recorded forever in "Azaleas".
Pretties
The southern magnolia tree has large flowers compared to many other flowers.
And they have a wonderful lemony fragrance.
Here is a butterfly visiting a Magnolia flower. 
"Pretties"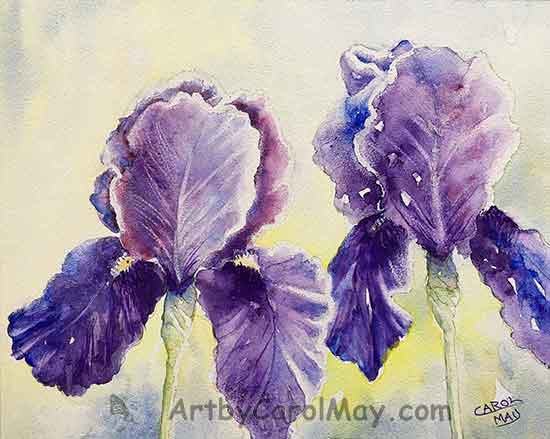 Bearded Iris
I painted these "Bearded Iris" plus some Coneflowers and Poppies all with watercolor paints.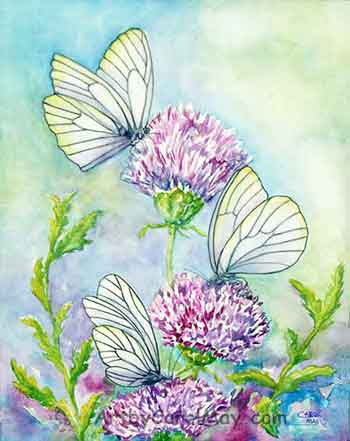 Black-veined-Butterflies
Thistle plants are often considered a weed.
But their flowers are an attraction to the butterflies.
Here is the lovely European "Black-veined Butterflies" on purple thistle flowers.
When I started teaching horticulture I found orchids in the class greenhouses. I quickly became infected with the orchid bug. They are so beautiful.
Orchids are found in every country of the world. Some of them like the Phalaenopsis have flowers that last for months.
When the wild Phalaenopsis orchid was first found in the jungles, they were seen at a distance and the explorers thought that they were a group of white moths flying.
Here are some phals in "White Flight".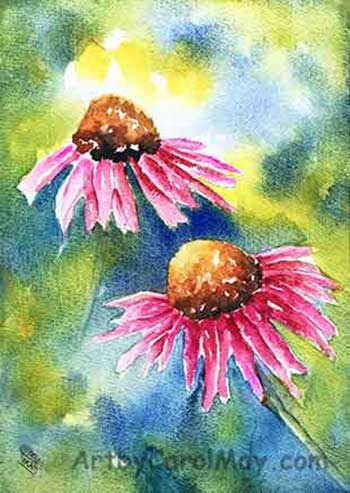 Echanesea
You can have fun painting "Echanesea" flowers with watercolors.
This flower is native in the Midwest. You see them blooming on the rolling hillsides in June.
They are also called Purple Coneflowers.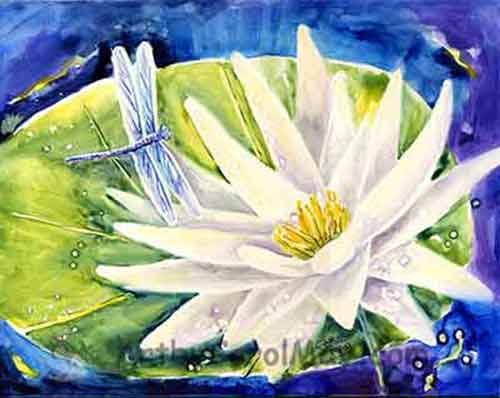 Lily 'n' Dragonfly
Who doesn't love water with all the flora and fauna?
This "Lily 'n' Dragonfly" made a perfect watercolor painting.
The contrast between the dark water and the bright plant and critter makes it a striking painting of flowers.

Doritenopsis
"Doritaenopsis" is a cross of a Phalaenopsis with a Doritis orchid which gives the flowers brilliant colors.
They are grown the same way as Phalaenopsis orchids.
Why don't you try some of your own paintings of flowers?

It is challenging and rewarding.
Then the flowers will last forever.
---