paintings of flowers are very challenging, but they are such a joy to paint!

If I'm not doing paintings of flowers, I'm working in the flower garden. That's one reason my college major was horticulture. Flowers are one of my favorite things, whether I am growing them or painting them.
Since I love flowers so much, I keep working on doing more flower paintings. My favorite garden flowers are daisies and roses. Daisies are not so hard to paint. See below
But, roses on the other hand are another scenario. I've been working on painting roses for several years.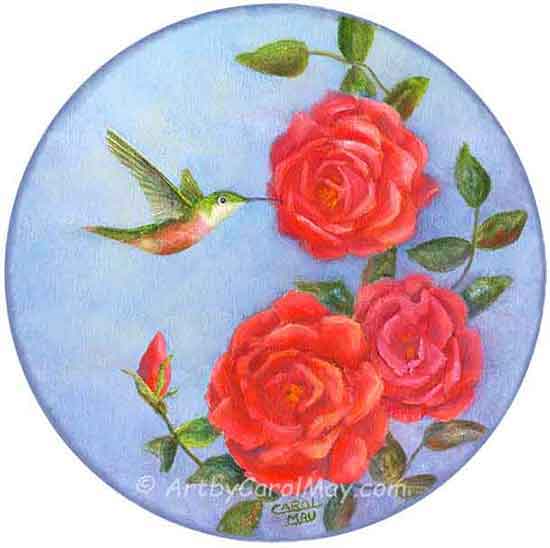 Tropical Beauty
It's nice to add some critters to your paintings of flowers. Roses and hummingbirds are both so pretty. This tropical hummingbird flew into a rose painting, a few years ago.

The rosy-chested "Tropical Beauty" is checking out the coral colored roses.

Here is one of my latest rose paintings that was such a "Joy" to paint. It was one of those paintings that just flowed. There was no need to labor over it.
Orange is such a happy color and the turquoise vase was a perfect compliment.
Painting is so much fun!
rose painting practice

First, I started working on painting red roses. Red is a challenging color to get the lights and darks and still have it look red. Using Cadmium Red light made it look too orange for my taste.
Then i worked on painting a bi-color rose. It turned out very pretty with the contrast of colors.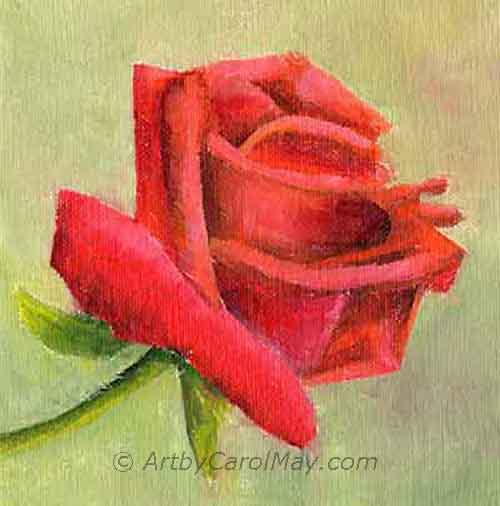 Rose painting practice
The casual orange roses (above) seem more appealing to me.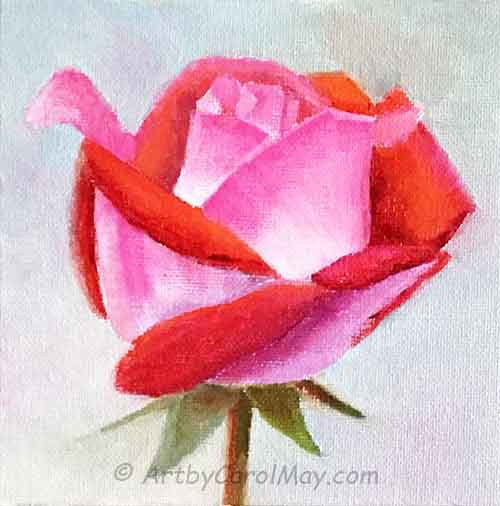 More rose practice
Enjoy painting roses by following the steps of How-to Paint a Rose.
compare the orange roses (above) with these pink roses
Cologne Bottle
A few years ago I found this cologne bottle in my sister's greenhouse.
When we were girls, we each had our cologne bottles on the dresser. Mine had apple blossom and my sister's had rose cologne.
I don't know where my bottle went over the years, but my brother-in-law generously gave me my sister's "Cologne Bottle". So i did the painting with pink roses.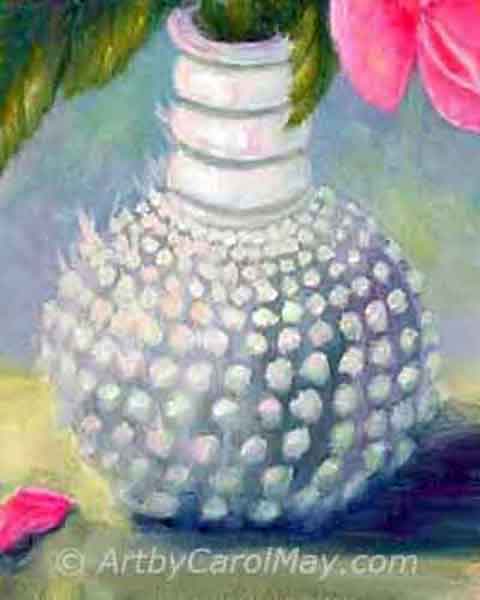 Cologne Bottle - detail
Drawing the bottle was a challenge. After the drawing was finished, painting it was a snap.
Shadow colors were added on the right side with some pink reflecting from the flower above. On the left some color was pulled into the background made it glistening in the light.
However the roses were not well done. This year I'm working on painting more roses.

the orange roses are an improvement, don't you think?
more paintings of flowers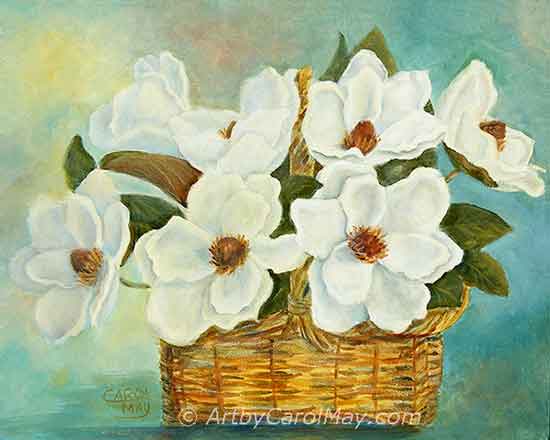 Bloomin' Basket
Magnolias are "the" flower of the south. They are beautiful with their pristine beauty. When we are doing paintings of flowers we can't leave out this beautiful flower. And their lemony fragrance is heavenly.

Here is a "Bloomin' Basket" full of Magnolia flowers.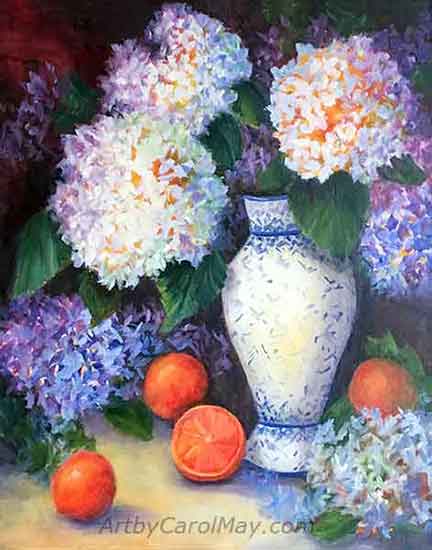 Hydrangeas
Learning to paint never ends. There is always more to learn. Here is a painting of "Hydrangeas" from a lesson by Nancy Medina.
Hydrangeas come in pink, blue or white. In this painting the oranges make a nice contrast with the blue Hydrangeas and the white one spark up the painting. Plus, the vase is very interesting.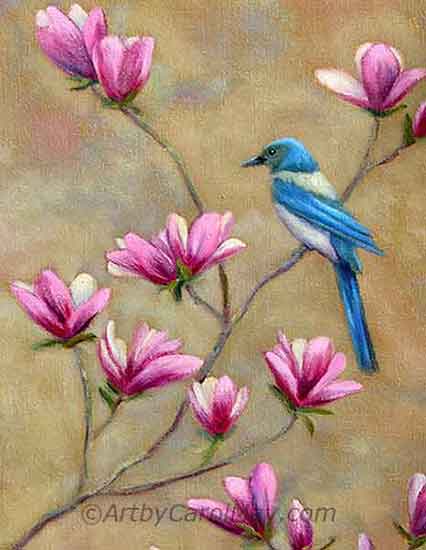 Scrub Jay on Tulip Magnolia
When my Tulip Magnolia tree was blooming, I went out and sat down on the edge of the front porch and painted it.
It's a beautiful spring blooming tree that some people call a Japanese Magnolia.
Later I came in the house and added the blue Scrub Jay for the "Scrub Jay on Tulip Magnolia".
What a lovely compliment they are to each other.
Adding a bird, a bee or a butterfly always makes the paintings of flowers more interesting.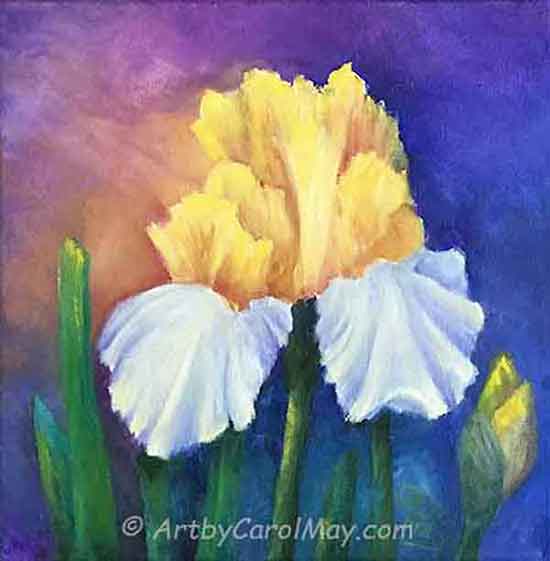 Gold-top Iris
Paintings of flowers are such a joy to paint. I can hardly wait for spring, so I can go out and enjoy the flowers in person.
Iris are faithful spring blooming flowers. They will grow and faithfully boom every spring. They take practically no care at all, like this "Gold-top Iris".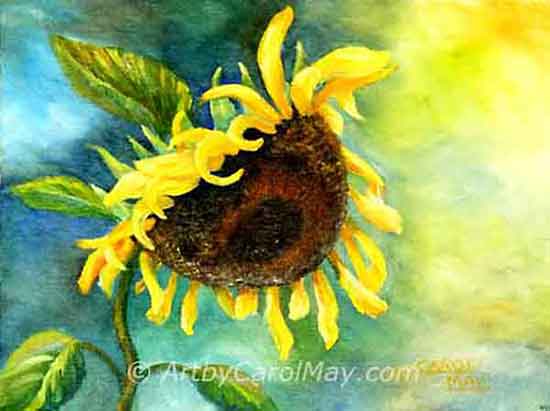 Son Shine
Daisies are one of my favorite flowers and that includes the giant sunflowers which botanically are daisies. These giant sunflowers grew in my garden one year. They grew fast from seed.
They delight our senses, as well as feed the birds who enjoy harvesting their seeds.

Sunflowers are such happy flowers, like the Son's face shining down on us in "Son Shine".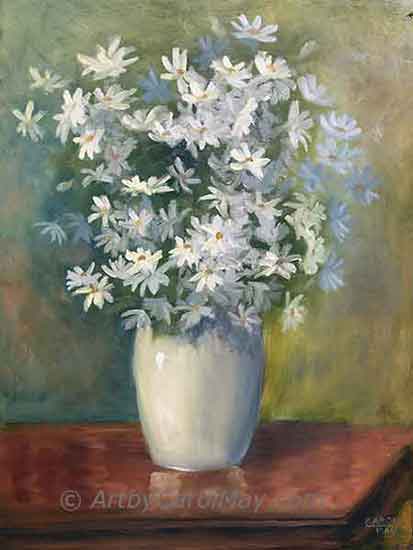 Daisies 'n' Porcelain
Daisies have been one of my favorite flowers ever since I was a child. So naturally, I had to paint some of these happy flowers.

These white daisies are in a porcelain vase on a classic mahogany table. "Daisies 'n' Porcelain".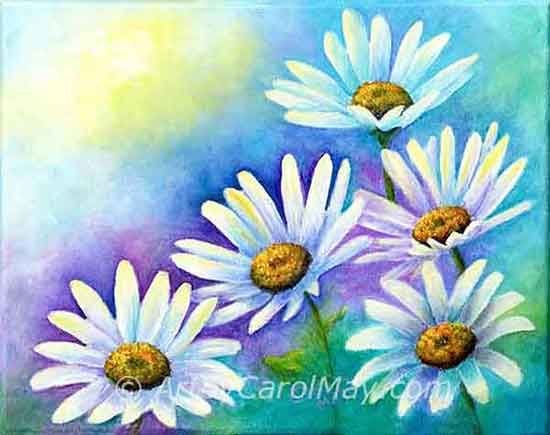 Fresh As a Daisy
Here is another painting of flowers with lovely white daisies in "Fresh as a Daisy".
If you want to do your own daisy painting and learn some about using oil paints, you can. Check out this tutorial of painting these daisies. Each step is explained, so you can do your own flower painting by following the steps.
You can paint your own daisies.
It's as much fun watching the birds, as growing the flowers. The little wrens are always fun to watch.

The blue Morning Glories made a lovely painting of flowers with a perky little wren. "Wren and Morning Glories"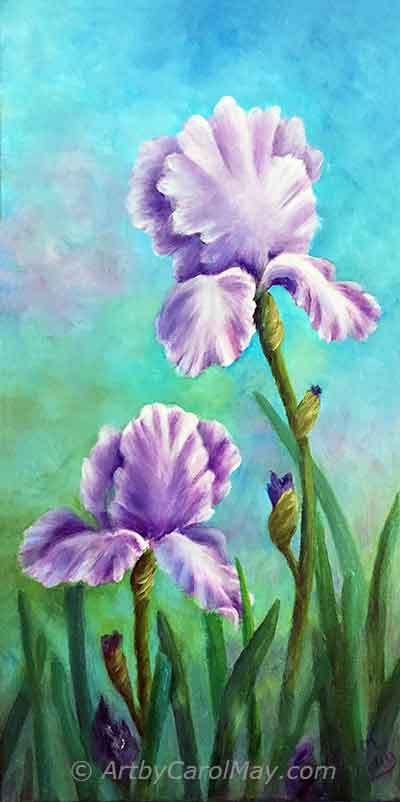 Two Sisters
Iris always bloom with buddies. They don't like being by themselves, just like sisters.
Here are "Two Sisters" standing up proud and pretty. There is such a variety of flowers and more paintings of flowers to do.

---
you can enjoy flower paintings in your home.
Oct 20, 21 09:05 AM

You can enjoy the flowers all year long with oil paintings of flowers.
Paintings of roses, daisies and more by Carol May, flower paintings are both fun and challenging!

Oct 05, 21 09:29 AM

The beautiful and awesome paintings of the old and modern masters inspire us to learn painting.
How do we get started leaning how to paint? What supplies should we get? What colors do we need? What is…

Sep 26, 21 09:23 AM

Learning the principles of good art made me a better painter.
All successful paintings use the same principle elements of art. Rev-up your art journey by using the elements of composition, values, foca…
Oct 20, 21 09:05 AM

You can enjoy the flowers all year long with oil paintings of flowers.
Paintings of roses, daisies and more by Carol May, flower paintings are both fun and challenging!

Oct 05, 21 09:29 AM

The beautiful and awesome paintings of the old and modern masters inspire us to learn painting.
How do we get started leaning how to paint? What supplies should we get? What colors do we need? What is…

Sep 26, 21 09:23 AM

Learning the principles of good art made me a better painter.
All successful paintings use the same principle elements of art. Rev-up your art journey by using the elements of composition, values, foca…