confidently do a daisy painting

The best thing about gardening is seeing all the flowers for a daisy painting or any type of flowers you may want to paint.
Today we are going to paint daisies. They are easy to draw and fun to paint. Daisies come in a variety of bright cheerful colors.

Painting is fun!
Here are some tips to speed you on your painting journey.


a sampling of daisy paintings
You may want to add a butterfly or a bee to give your painting added interest.

Sunflowers are daisies, too.
A mixed media painting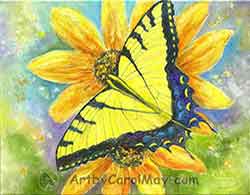 Tiger Swallowtail on daisies
Today we will paint five white daisies. However many you want to paint is fine.
But, odd numbers make the viewers feel more comfortable.


what do you need for your painting?

As an Amazon Associate I earn from qualifying purchases. There is no additional cost to you.
5 colors + white
Cadmium Yellow light, Burnt Sienna, Permanent Rose or Alizarin Crimson, Thalo Blue or Ultramarine Blue and Viridian 
You may do the painting with oil paint, water mixable oils or even acrylics. This painting is done with alkyd paints using a disposable paper palette.


what do you paint on?
The painting is on a 11x14 gallery-wrapped canvas.
Sketch the daisies on the canvas with an ordinary graphite pencil or thinned yellow paint.