you can learn how to paint; successful paintings all use the same art basics
When you learn how to paint by yourself, it's like walking across the United States.


Learning painting from a good teacher is like flying across the United States.


Let me share how i learned to paint....

These are a few things that helped me learn painting. These simple habits, plus learning four basic principles of art made me a painter.

We all admire great paintings like the painting below by famous artist Albert Bierstadt. He is well known for his grand paintings of the American west.
He spent most of his life painting. If we are just beginning to paint, how can we learn painting?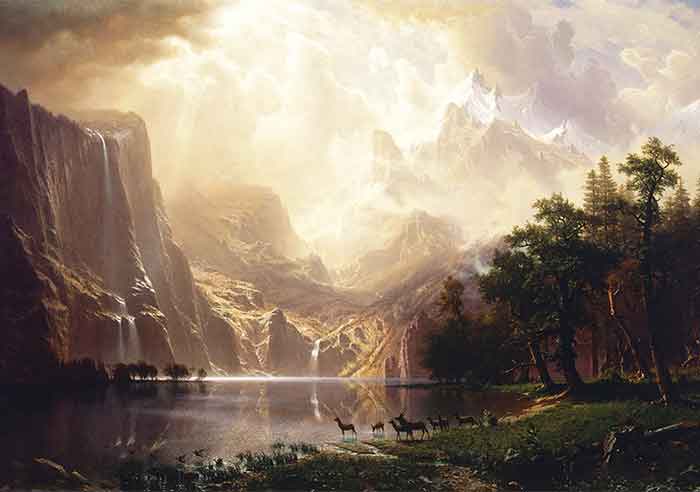 Among the Sierra Nevada Mountains
get ready to paint
What kind of paint appeals to you the most?
One type of paint is not better than the others. You may actually try different types of paint to decide which one you prefer.
Watercolor is an easy paint to use. All it takes is paint, water and two or three bushes.

Watercolors on paper require a mat and need to be framed under glass for protection.

Oil paints are also easy to use. They take a bit longer to dry, so you can change things around before the paint dries.
You may start painting oils with a couple of brushes and mineral spirits. A dried oil painting will last for centuries and it requires no mat or glass for framing.
Acrylic paints are popular with beginners. They dry very fast and are simple to frame.
The down side is they dry so fast that it's hard to blend the colors. However a dried acrylic painting is very durable.
Customers of an artist friend of mine had painting that went thru a hurricane in south Florida. They just rinsed the mud off of their canvas painting and they were just fine.


get your supplies
The artist paints (sometimes called professional paint) is a better buy than student paints.
They contain more pigment and produce prettier colors. It's up to you, student paints are less expensive.
Watercolor brushes; a round #7 or #8 and about a 1" flat
Oil brushes; #8 and #12 flat bristle brushes
Acrylic brushes; synthetic labeled acrylic #6 - #8 round and 3/4" - 1"flat

what colors do you need to start painting?
Begin with the primary colors: red, yellow and blue. You will also need large tube of white for oil and acrylic paints.
Learn to how to paint with these colors. How to use them in your paintings and how to mix more colors.


what do you paint on?
Learn to paint watercolors on watercolor paper. Later you may use aquaboard or canvas. Learn more about watercolor.
Oil and acrylic painting are normally painted on canvas or panels.
You will also need a palette to lay out your colors for painting. To begin with a styrofoam plate or an old kitchen plate will work just fine.
Frequently asked questions about oils and how to use them.
what helped me learn how to paint?

what will you paint?
Paint familiar things. You will do the best job of painting subjects you understand.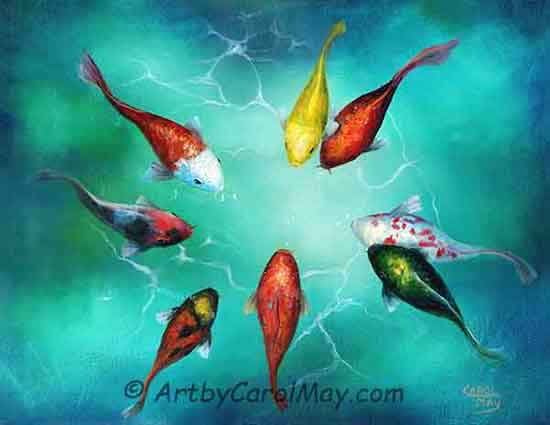 Paint what you know.
The best place the start painting is to paint the things you see around you.
My parents had a tropical fish business with outdoor ponds. When we fed the fish, they would all swarm around the food.
So "Koi Feeding" was a natural for me to paint.
You may want to paint your children, your pets, the tree in the backyard or your favorite fishing hole. Paint things you are familiar with.


paint regularly

Paint on a regular basis to put your art learning into overdrive!
Paint regularly, no matter whether you paint daily, weekly or monthly - paint regularly.
If you are learning how to play the piano, you probably practice daily. The same goes for painting. The more you paint, the faster you learn.
Many professional artists paint daily.
share your paintings

Share your art with family and other art-oriented people.
Join your local art association. Paint with other artists. Go to classes and art shows. Get feedback from your friends and family and other artists.
Seeing other's artwork and sharing your art will encourage you and stimulate you with new ideas.
learn the basic principles of art
All art paintings use the same basic principles of design. These basic principles are indispensable to the painting artist.
They are easy to learn. Take time to learn the basic elements used in all good paintings.


using values makes a good painting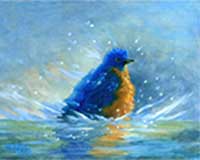 Values in Painting
Light and dark values are the backbone of every good painting.

learn how to create a focal point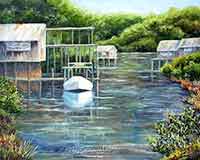 Create a Focal Point
Learn how to create a focal point that draws people to your art.

good composition is easy to learn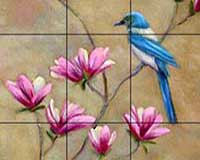 Using the rule of thirds
Composition is easy to learn when you use the rule of thirds.

paint often to speed your paint journey
While you learn how to paint, you are going to want to do the how-to-painting tutorials.
There are pictures throughout the process of each painting. Each step is fully explained. You can learn how to paint by following the tutorials.
Then you can use the same methods with your own subjects to create your individual paintings.


some popular painting tutorials (over 20 lessons)

painting daisies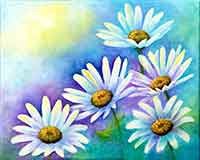 Painting Daisies
Learn how to paint white daisies step-by-step with oils.

glazing watercolor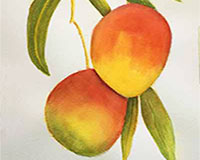 Glazing Watercolor
A tutorial of the watercolor technique of glazing.

paint a hummingbird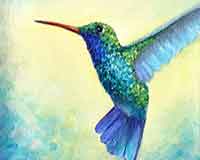 Paint a Hummingbird
Painting the colors of a hummingbird with oil paints.

paint often and have fun learning how to paint!