painting art brings beauty to our homes
Are you dreaming about painting art?
You may want to start painting, but you don't know where to start or how to do it? What are the basic techniques of painting watercolor? How do we use oil paints?

Are you looking for artwork? Art by Carol May paintings of butterflies, hummingbirds, animals and landscapes bring beauty and peace to our homes. You will find both watercolor and oil paintings.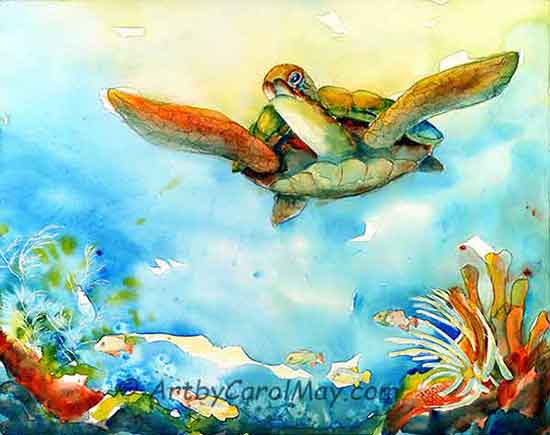 A sea turtle painted with an artist's interpretation.
experience the painting art by carol may

Artists paint what we see around us. God's gifts are everywhere for us to enjoy.
It's a pleasure painting and sharing them. There's lots to see on the painting pages.
Click to see art for your home
Is painting art a gift?
Some people believe painting is a gift. But I believe we can all learn to paint.
Painting is more of a discipline, than a gift from God. We can all create attractive paintings using the basic principles of good art.

Click down the page to see the four basics of creating good art.

Painting takes practice, just like learning to play the piano. Practice painting the tutorials.
Then you can use the same methods to paint your own individual creations.