Recently during a church service the Lord opened the eyes of a brother and he saw the Lord going around putting jewels into people's hands.
While I was praying I looked down and saw a jewel in my hand and then I saw some more of various colors and I wanted to do a prophetic painting of what the Lord allowed me to see.
The speaker said that the jewels we received are to be given away to others. They were not actual physical jewels like the Lord sometimes gives, but they were spiritual jewels, gifts and commissioning for building the kingdom of God.
Notice the jewels are uncut and untouched by man. They are perfect "Jewels from the Lord".
Beauty and Joy
At a recent conference in my home church the Lord released JOY. I was overwhelmed with holy laughter. What a privilege and what fun! No matter what our circumstances are at the present, the Lord wants us to rest in Him so our joy will be full.
After the conference I was so full of joy from the Lord.
I had been working on a Swallowtail Butterfly painting and I was struggling with it.  I put aside the unfinished painting and did "Beauty and Joy are from the Lord".
| | |
| --- | --- |
| Winds of Change | Son Rise |
A couple of weeks before tropical storm Faye the Lord gave me a vision of a coconut palm by the ocean, blowing in the wind.
I asked the Lord, "What is that?"  He said, "Winds of Change". This was the fall of 2008. I had no idea how much change was coming forth!
After tropical storm Faye I was praying and I saw the same coconut palm tree before a sun rising.

After the storms, God's Son, Jesus brings about a beautiful change, "Son Rise". We always have victory through Jesus Christ. Times are a changing. - Praise God!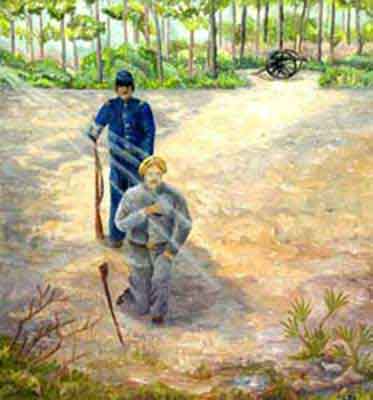 After The Battle Of Olustee
 The Lord gave me a vision, "After The Battle Of Olustee".
I saw a confederate soldier kneeling with his head bowed and his hat over his heart and his rifle lying on the ground. There was a union soldier standing back away from him with his head also bowed in prayer. I saw a cannon back across the battlefield by the pine trees. The afternoon sun streaming through the trees and the battle had ended. It was peaceful enough for a gopher tortoise (lower right corner) to come out of his hole to look around.

I also felt the light shining on the confederate soldier while they were in prayer was from God. They were thanking God that the battle was over and asking His forgiveness.
This was one of the most difficult paintings I have ever done. Partly because I don't normally do people, but mainly because of the spiritual warfare involved.
I was sharing with a Christian acquaintance of mine that I felt that this would bring healing to my city which still celebrates this battle every year.
She said, "Oh, my it is not only healing to your city, but to the entire nation. I can't say what was accomplished in the spirit, but I can say this prophetic painting was definitely from God.