Nature Painting of Bearded Iris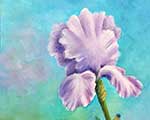 One of my favorite pass-times is working in the garden, especially the flowers. I have been working on some flower paintings with oils.
Years ago I did an oil painting of three purple iris. I had two sisters at that time. Now there are only two of us. So I called this new painting "Two Sisters".
Check out the new nature painting of two purple Bearded Iris.