when you paint on aquabord
your watercolors require no stretching, no frames
they shine with brilliant colors

Painting on Aquabord gives you all the beauty and freedom of watercolor without the hassle.
"Freedom" on Aquabord
As an affiliate of Amazon I earn from purchases. There is no additional cost to you. Learn More

---
today we have multiple choices for watercolor supplies.
In addition to paper and canvas, we have hard-boards made specifically for watercolors.
---
my watercolor story

When the paintings started running out of our extra bedroom, my husband suggested we start doing outdoor street festivals.
My paintings were on traditional watercolor paper. They were matted and framed under glass.

disaster struck

At an outdoor festival on the Gulf Coast of Florida the winds started gusting up to 60 MPH. Some of the artist's tents on the end of the row started blowing down.

We were afraid to allow customers into the tent. If the tent went down with people inside, there was a chance they would be injured by broken glass.
The paintings were in danger, too.
If paper watercolor paintings get moisture behind the glass, they could be water stained or grow mildew. The painting could be damaged permanently.

i had to find another way

After we came home from the festival I started searching catalogues and magazines for watercolor art supplies. I came across Ampersand's Claybord. It is hardboard covered with pH neutral kaolin clay. It is an archival support.
Claybord has a smooth surface like hot press watercolor paper.
Then Ampersand started making Aquabord. It has a texture similar to traditional cold press watercolor paper.
These panels may also be used for any water based media such as; gouache, acrylic or ink.
---
what are the advantages of aquabord?
you may frame without mat or glass
The paintings are much lighter weight because they don't need to framed with glass. They are resistant to dirt, moisture and mildew.

There is no glare from glass. And no danger of broken glass.

you may even display your paintings without frames
You may get the panels cradled on the front of a wood support. So you may hang and display the painting without a frame.

no stretching is necessary
Unlike watercolor paper, the Aquabord will not buckle or warp no matter how much water you apply.

paintings shine with brilliant color
You may paint without flooding the surface with water.
Less water makes your colors more intense.
The light reflects off the bright white clay surface and shines up thru your watercolors.  This creates bold, lively colors.
The color stays on top of the clay surface. 
Watercolors on paper sink into the paper and they lose their brilliance.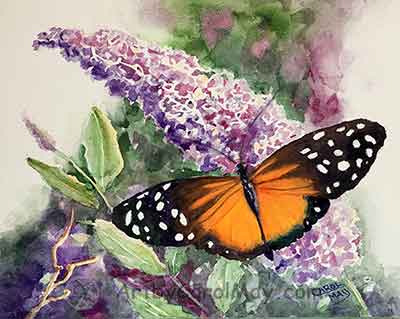 Aquabord painting
you may remove paint from aquabord or claybord
Lift wet paint off with a damp, soft brush. If the layer of paint underneath has dried, it will remain fixed when you take off the top layer.
Take dry paint off with a damp, stiff brush to remove paint all the way down to the surface.
You may also use a knife, claybord tools or sandpaper to make highlights and remove paint.
When the painting is thoroughly dry, apply 2-3 coats of Krylon UV resistant spray.
Aquabord is an awesome choice!
Today Aquabord is my go-to watercolor support. I have been using Ampersand products for over 15 years and I am very pleased with them!
aquabord
by ampersand


krylon UV
resistant spray


ampersand
took kit


Get your Aquabord today and paint your own lively, colorful watercolors!

Oh, the beauty and ease of modern watercolor supplies

aquabord is a great choice!