Learn how to choose paint colors to create beautiful, harmonious paintings

How do we choose paint colors for each painting? There are so many colors to choose from!

When I was learning to oil paint I didn't know what colors to use. So I just used the colors the instructor suggested.
About thirty years ago, one of my Christmas presents was a watercolor calendar. Up until then my main painting medium was oils.
The watercolor paintings were so intriguing and I wanted to try them. So, I jumped in full-force!
Someone gave me a rectangular watercolor palette and I filled with paints. But rectangle shape was a bit cumbersome. It was hard to locate the colors. I was always hunting for the colors.
So I got a palette that was round like the color wheel. It held thirty eight colors.
I started buying watercolor paints and filled the new palette with lots of beautiful colors. It was easy to organize and find the colors in the new palette.
But ... it was still confusing ... so many colors to choose from!

hmm... how do we choose colors for a painting?
Reading thru my painting library I started learning how to choose paint colors.
Studying the work of professional artists and reading everything I could get my hands on about color, gave me some revelations.
color harmony
Using too many different colors in one painting can cause confusion. All the variations of color don't give the eyes a place to rest.
Even if all the colors are all so pretty, they don't all work well together in one painting.
The viewer's eyes jump from one color to another in a disconcerting manner. Fewer colors in one painting create color harmony.
This is one of the way to Paint Good Art.
I came up with a plan ---
how to choose paint colors for a painting

Initially we need to have a selection of colors on our palette. The recommendation is for beginners to start painting with a limited palette of only the primary colors.
Cadmium Yellow Light
Cadmium Red Medium
Ultramarine Blue
That way we get used to the colors and how to mix any additional colors. Color mixing is easier with a warm and cool version of each primary color. That is called a double primary palette.
When I started painting I really didn't even know about the primary colors. All the beautiful colors at the paint store were so mesmerizing. I just bought everything that caught my eye.
If there was an artist's work that I admired, I would get their recommended colors. Looking back a lots of money was wasted, but it was all part of learning.
Hopefully, you can bypass a lot of these mistakes by gleaning from my knowledge.

#1 - make a color wheel

First, make a color wheel.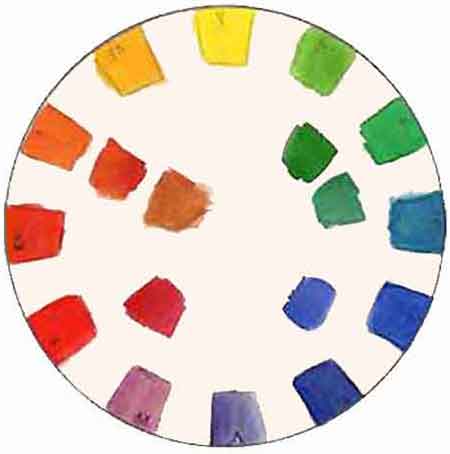 Make a color wheel from your paints.
Poster board or any heavy type of paper will work fine for making a color wheel.
Paint the colors you use the most on the color wheel.

There are twelve colors on the color wheel, a warm and cool version of each of the six basic rainbow colors.
There was still a debate in my mind about exactly which colors to use. The colors out in the middle of the wheel were some of the alternate colors still on my palette.

This is the color wheel I made over thirty years ago. It's a little worn, but I still use it today for choosing the colors for my watercolor and oil paintings.

#2 - make color scheme templates

Cut out color scheme templates the same size as the color wheel.

Professional artists often use these color schemes.

These are the templates I cut out of newsprint years ago. Today I still use these same templates to choose the paint colors for each individual painting.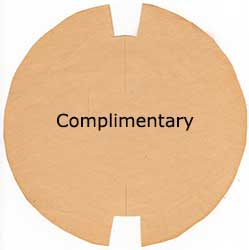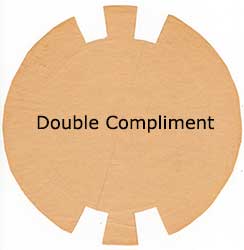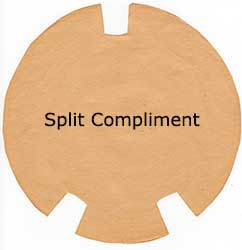 the following 2 schemes are the ones I use the most often.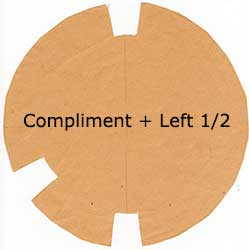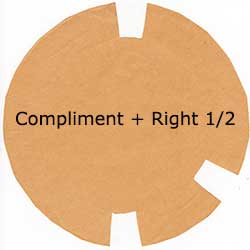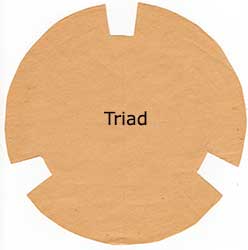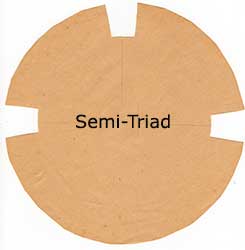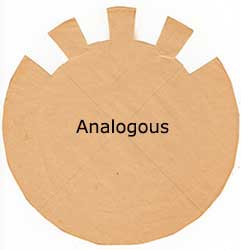 #3 - select your paint colors

Decide on the main color for the focal point of your proposed painting.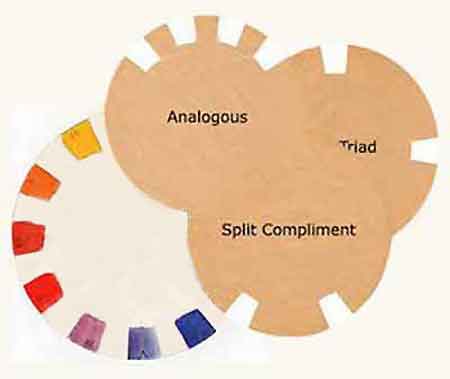 Choose a Color Scheme
Place the various color schemes over your color wheel. Always include the color of the painting's focal point.


Choose a color scheme with additional colors that suit the rest of your proposed painting.
A scheme with complimentary colors will make it easy to mix neutral, dark colors for the painting. They will always harmonize with the rest of the painting.
Always mix black, brown or grey from your selected 3-4 colors. Save some money and don't buy these colors.

#4 - paint using the selected colors

After the color scheme is selected, I paper clip it to my color wheel. Only my selected three or four colors will show.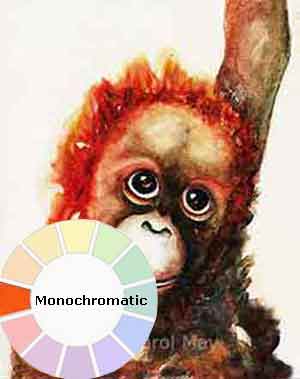 See painting examples of the templates
I keep the selection in front of me while I'm painting. Then I am not tempted to use all the other colors from my palette.
A limited number of colors in each painting will create cohesiveness and color harmony in the painting.

Today I still use the same color wheel and templates to choose the colors for my paintings.
If it works for me, it will work for you!
choose paint colors like the professionals.

Make a color wheel from your paints.
Make and use the templates to choose your color schemes.

you can create harmonious paintings!