critter paintings are lots of fun!  koi, dolphins, giraffes, sea dragons, + more

What a joy it is doing critter paintings! There are so many interesting critters to paint.


Leafy Sea Dragons are the most amazing critters from the coral reef of Australia. There are several different types of Leafies. The common type grows to about a foot in length.

Their leafy appendages camouflage them and keep them safe from predators. They can change colors to disguise themselves while they are looking for something to eat.
They are a peaceful critter that drifts around looking for small fish they can suck up with their long snout.

This leafy deserved to have his portrait painted. "Leafy Portrait"

more critter paintings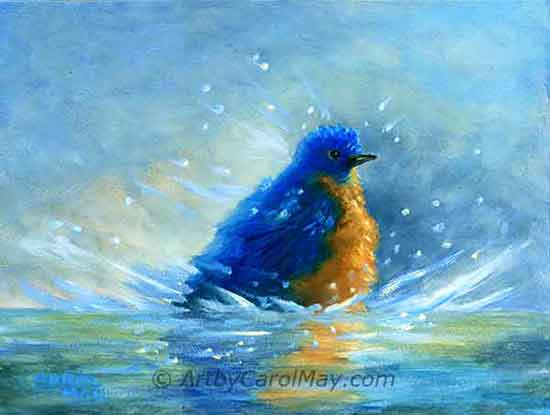 Cleaning Up
One of God's beautiful critters are bluebirds. We have a bluebird nest in the front yard. They raise two sets of babies each year.
They don't eat from the bird feeders, but they are regular visitors to the birdbath. We enjoy seeing them bring their youngsters to the birdbath.
I took a photo and painted this bluebird while he was "Cleaning Up".

Sometimes I just enjoy the critters for a long time before painting them. That's what happened with this giraffe painting.

God put spots on the giraffe to camouflage them up in the trees. The sun and shadows in the leaves are echoed by the markings on the giraffe.
This watercolor giraffe painting is in the sun and shadows under the trees.
He is named "Spots".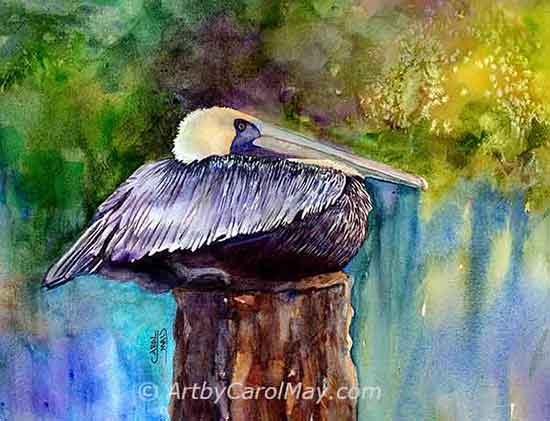 Pelican Resting
When we first moved to Florida I was amazed by all the large water birds, especially the pelicans. Pelicans were the subject of many of my critter paintings.
Here is a pelican on a post in one of their typical poses. He is a "Resting Pelican". My husband said "He" is trying to lay an egg!
Ha-ha Lots of fun!

My parents had a tropical fish business with numerous outdoor ponds. The fish would swarm around when we fed them.
"Koi Challenge" shows the golden koi claiming the food for himself while the others are challenging him.
Visit the tutorial of this painting a learn how-to pour watercolors.

Flamingos have a unique shaped bill made for scooping through the mud to filter out critters to eat.
This oil painting of the pink "Flamingos Feeding" was a challenge for me. I painted the upright ones just fine.
When I got to their reflections, it was confusing. I found myself painting the reflections the same direction as the upright birds.

So the problem was solved by turning the canvas upside down and then the painting went smoothly.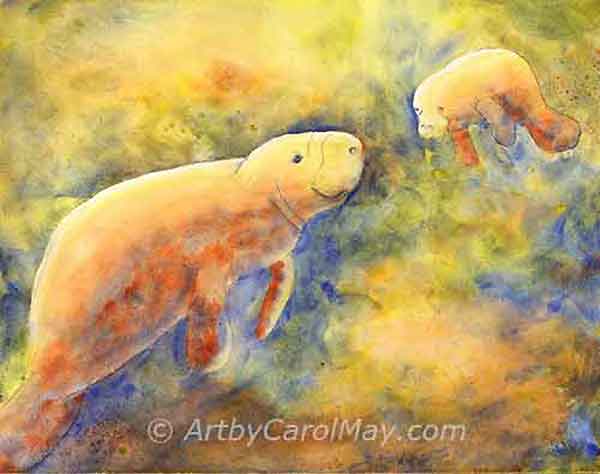 Happy Manatee
Manatees make great critter paintings. They are such interesting ancient critters. Here is a "Happy Manatee" enjoying her baby.
Manatees are actually related to elephants and they are sometimes called Sea Elephants. They are Florida's state marine animal and they are protected.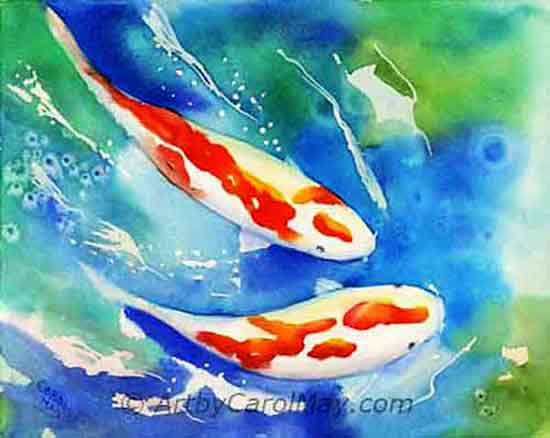 Koi Partners
These "Koi Partners" are in a hurry to get somewhere. The movement in the water shows their hurry.

This koi painting was fun to do with watercolors. The orange colors of the koi are a perfect complement to the blue-green water.
Learn more about complementary colors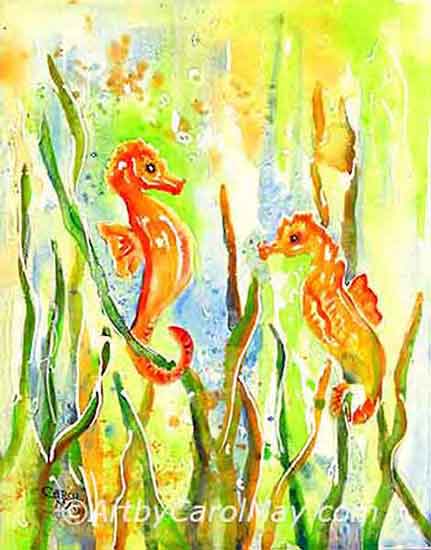 Sea Grass
While we were out snorkeling in south Florida, I was amazed to see our native seahorses in among the "Sea Grass".
They were quiet little animals just hanging on the grasses. They lean slightly forward when they swim. They go looking for something else to hang onto again.
What a treat it was to see them. They were a pale, light color, but I made them my artist orange to contrast with the green grasses.

This critter painting is called, "Two Stripies". While living in Florida I enjoyed doing underwater nature paintings.

I love color and had lots of fun doing these colorful Banded Butterfly fish. Do you see the starfish in the bottom left?
How do you choose the colors for your paintings?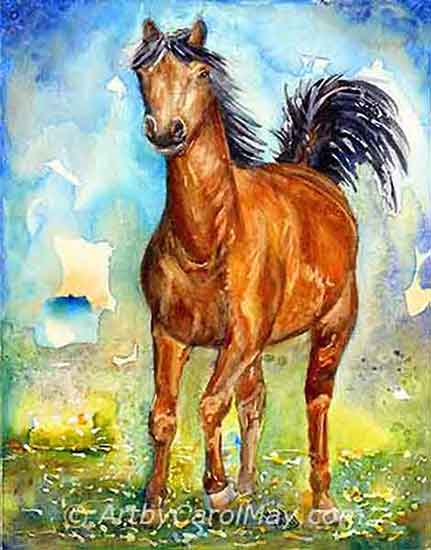 Easy Freedom
This lively, colorful horse painting was painted for a lady that was having a hard time.
The painting was done to encourage her that she was on her way to "Easy Freedom".
This sprightly horse looks like he is having fun prancing through the flowers.


Click on an image to see the options.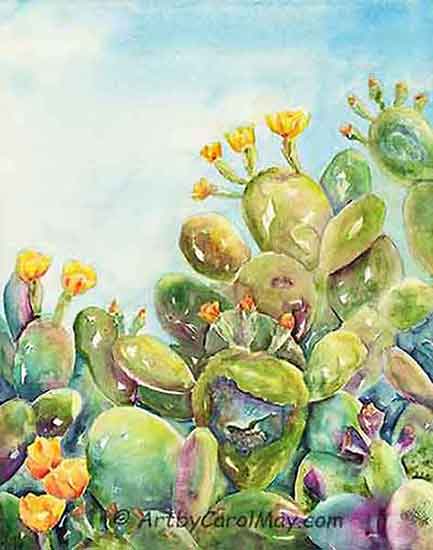 Hummer's Refuge
One day I saw a Prickly Pear Cactus with a big cavity in one of the large leaves. My artist mind got to running and I thought that would be a perfect place for a hummingbird to nest.
Predators would have a hard time getting past all the thorns of the cactus. It was a great place for a "Hummer's Refuge".
Critter paintings are fun!