the difference between a moth and a butterfly

Butterflies and moths both have scales on their wings, but the moth's scales stand up on their body and wings. This causes moths to look fuzzy or furry.
Butterflies usually are bright colored.
Moths usually have duller colors.
Moths sit and rest with their wings outstretched.
Butterflies generally hold their wings up after they land.
Butterflies are active during the day and rest at night.
Moths are mostly nocturnal. We see them flying around lights at night.
Butterflies make a chrysalis during metamorphosis.
Moths spin cocoons with silk.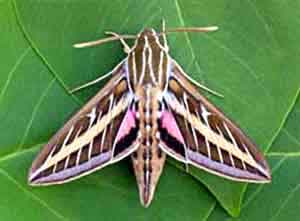 Sphinx Moth
The Sphinxs are a large group of moths. They are fast flyers and may range in size up to 4".

Luna Moth
The Luna Moth is a beautiful green color. It is seen across the United States and Canada. up to 5 1/2"

Peacock Moth
The Peacock Moth is a resident of Europe, rarely seen in the U.S.
2" to 2 1/2"

It is fun to learn the different butterflies in your yard. Whether you know the names of the types of butterflies is not as important as enjoying these beautiful gifts of God.
I enjoy photographing and painting beautiful butterflies. Check out some of my paintings.


There are about 192 different butterflies and moths in the state of Missouri.

Identify the Types of Hummingbirds seen in the United States.