watercolor flower paintings

Sunflowers
One year I grew some of those giant sunflowers. The birds enjoyed them as much as I did.
When the sunflowers were heavy with seeds their heads would bow over.
Then the birds would come and sit on the back of the sunflower, reach down over the edge and pick themselves some seeds. What Fun!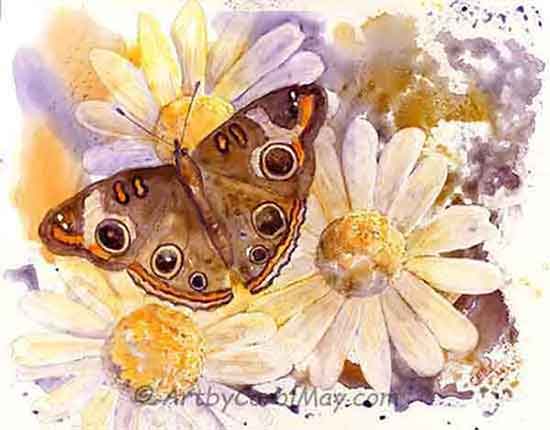 Buckeye Butterfly on Daisy Chrysanthemums
Some daisy chrysanthemums were growing by the end of our house. One day when I went out to get in the car, they were covered with buckeye butterflies. I ran and got my camera and snapped some pictures.
Later I did this mixed media painting of a "Buckeye Butterfly".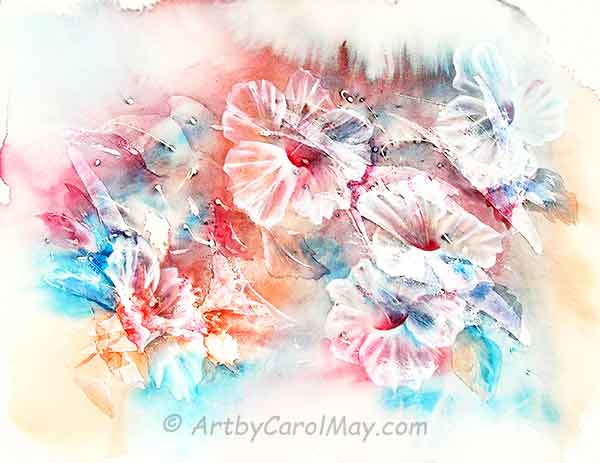 Hibiscus Freedom
Here is another mixed media painting "Hibiscus Freedom".
This painting is painted so it could be displayed either horizontal or vertical.
That makes it suitable for different positions in the room.
Fine art prints are available from many of my watercolor flower paintings.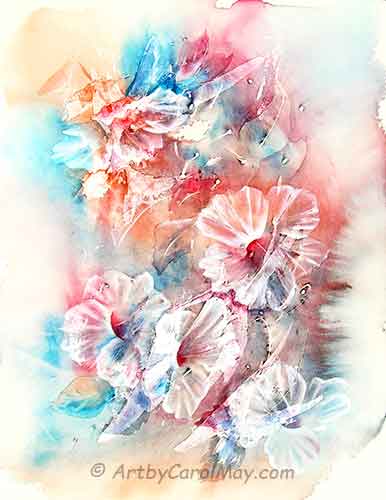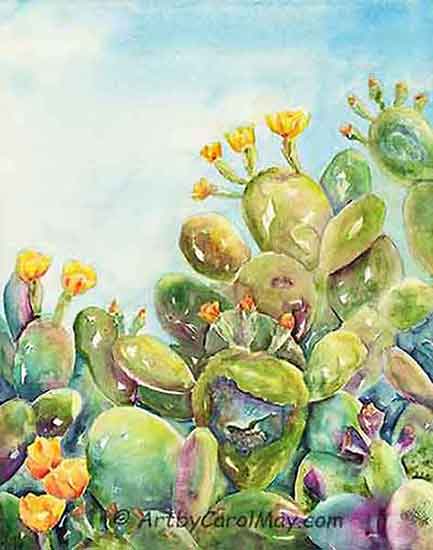 Hummer's Refuge
One day I saw a Prickly Pear Cactus with a hollowed-out leaf. I thought to myself, that would be a perfect place for a hummingbird to build a nest.
Nobody would bother the nest with all the cactus thorns. What a perfect place for a "Hummer's Refuge".
Bearded Iris
I painted these "Bearded Iris" plus some Coneflowers and Poppies. These flower paintings were all done with watercolor paints.
See how I did these flower paintings.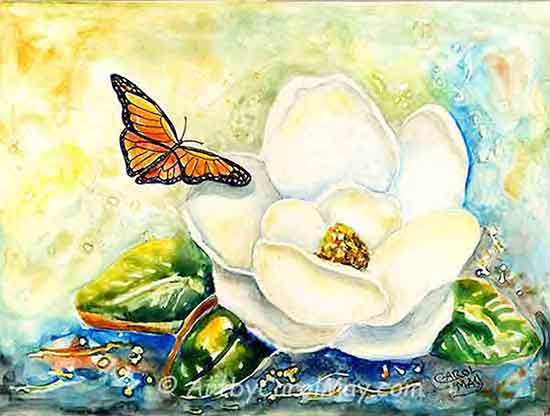 Pretties
The southern magnolia tree has large flowers compared to many other flowers. And they have a wonderful lemony fragrance.
Here is a butterfly visiting a Magnolia flower. "Pretties"
Black-veined-Butterflies
Thistle plants are often considered a weed. But their flowers attract the butterflies.
Here are lovely European "Black-veined Butterflies" on purple thistle flowers.
Learn how to paint these lovely butterflies.

When I started teaching horticulture I found orchids in the class greenhouses. I quickly became infected with the orchid bug. They are so beautiful and make lovely flower paintings.
Orchids are found in every country of the world. Some of them like the Phalaenopsis have flowers that last for months.
When the wild Phalaenopsis orchid was first found in the jungles, they were seen at a distance and the explorers thought that they were a group of white moths flying.
Here are some phals in "White Flight".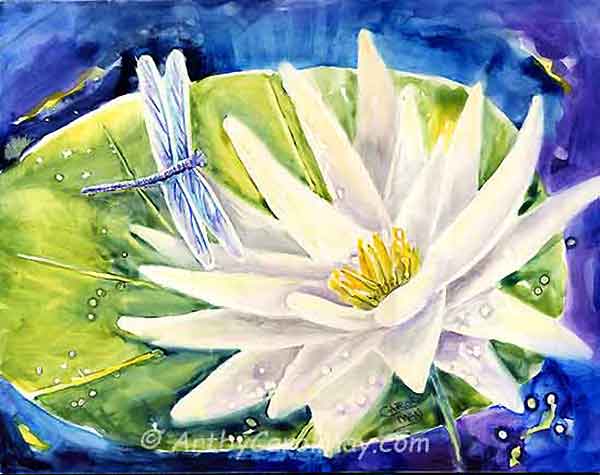 Lily 'n' Dragonfly
Who doesn't love water with all the flora and fauna?
This "Lily 'n' Dragonfly" made a perfect watercolor painting.
The contrast between the dark water and the bright plant and the critter makes it a striking watercolor flower painting.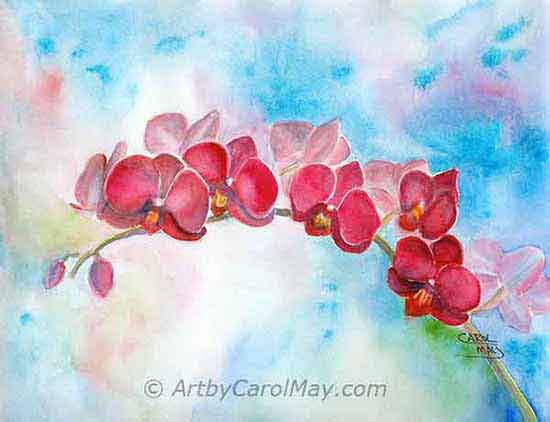 Doritaenopsis
"Doritaenopsis" is a cross of a Phalaenopsis with a Doritis orchid which gives the flowers brilliant colors. They are grown the same way as the Phalaenopsis orchids.
Why don't you try some of your own watercolor flower paintings?

It is challenging and rewarding. Then the flowers will last forever.