watercolor flower paintings allow you to enjoy the garden flowers all over again
Growing flowers for watercolor flower paintings is such a pleasure. Painting and gardening, especially flowers are my two favorite things.

Paintings bring joy!
Springtime is a joyous time of the year with all the flowers blooming.
We had an azalea plant in front of our house that bloomed every spring with white and pink flowers on the same plant.
So they are recorded here forever in "Azaleas".


watercolor flower paintings

Hibiscus Hunter
A green hummingbird is hunting for some delicious flowers.
The pink Hibiscus are just what he was looking for. "Hibiscus Hunter"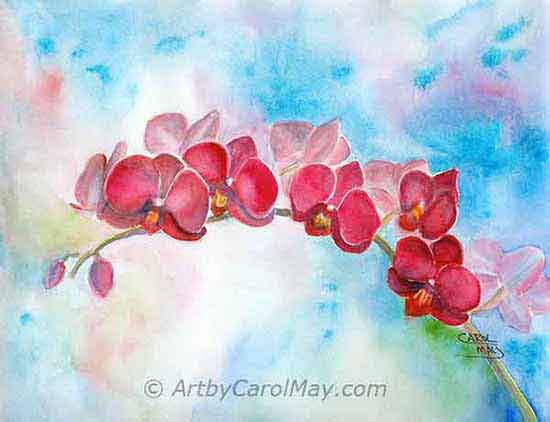 Doritaenopsis
"Doritaenopsis" is a cross of a Phalaenopsis with a Doritis orchid which gives the flowers brilliant colors. They are grown the same way as the Phalaenopsis orchids.
Growing and painting flowers is very rewarding.
Sunflowers
One year I grew some of those giant sunflowers. The birds enjoyed them as much as I did.
When the sunflowers were heavy with seeds their heads would bow over. Then the birds would come and sit on the back of the sunflower, reach down over the edge and pick themselves some seeds. What Fun!
There are numerous lakes and ponds all over Florida. So waterlilies are quite common. The wild waterlilies are white or yellow, but here are some "Pink Waterlilies".

Fine art prints are available from many of my watercolor flower paintings.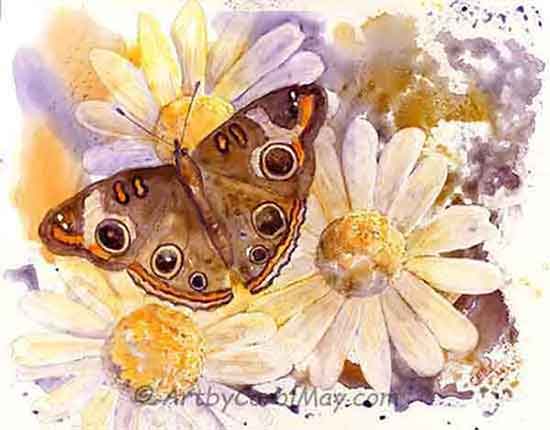 Buckeye Butterfly
The "Buckeye Butterfly" is a dark colored butterfly with its big eye-spots. It is a frequent visitor to many yards.
There were on some of my white daisy Chrysanthemums. They made such a beautiful contrast that I wanted to do this butterfly painting.
Using my photos as reference I painted it with the mixed media method explained on the Awesome Paintings how-to page.
This painting is on my favorite watercolor support, Aquabord. After the painting was thoroughly dry it was sprayed with a UV resistant coating that seals the watercolor paint.
Traditional watercolor paintings on paper have to be matted and framed under glass. This painting can be framed without any glass.
It is painted with the freedom of expression we feel when we see butterflies. This one of my favorite butterfly paintings!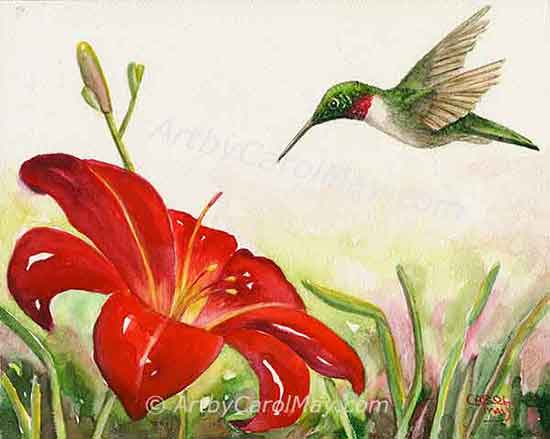 Ruby-throat and Daylily
One day when I came home and pulled up in front of my porch. There was a hummingbird feeding from the daylilies.
The throat of the Ruby-throated Hummingbird matched the red daylilies perfectly. The scene cried out to be painted. "Ruby-throat and Daylily"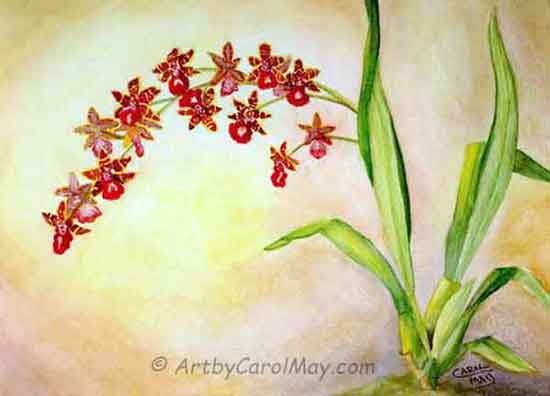 Upside-down Wildcat
At one time we had a whole greenhouse of orchids. We enjoyed growing and showing them. There is such a variety of orchids to grow.
There are more types of orchids throughout the world than any other type of plants.
The Wildcat orchid is an interesting intergeneric cross. It decided to bloom with one flower out of place making an "Upside-down Wildcat".

Longwing Butterfly on a Butterfly Bush
"Longwing Butterfly on a Butterfly Bush" is one of those paintings that turned out absolutely beautiful.
You may see the painting process of this painting on a how-to tutorial page.
The page teaches how to preserve the white of the paper in watercolor paintings. Plus, you see how to paint the butterfly step-by-step.

Magnolia
Lovely "Magnolia" flowers with their leather-like leaves made a good subject for a watercolor flower painting.

The majestic Magnolia trees are native to Florida and across some of the other southern states. Their flowers have a wonderful lemony fragrance.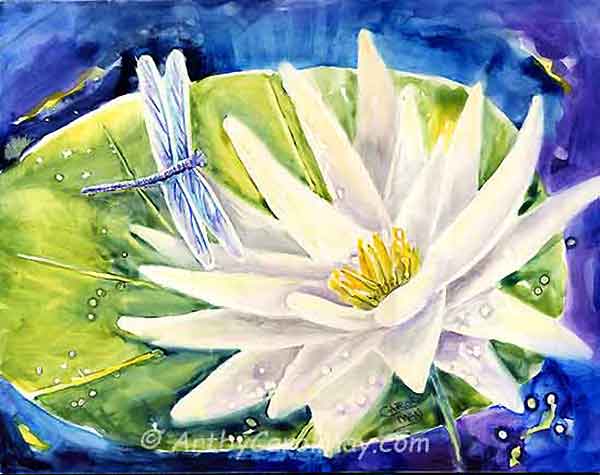 Lily 'n' Dragonfly
Who doesn't love water with all the flora and fauna? This "Lily 'n' Dragonfly" made a perfect water painting.
The contrast between the dark water and the bright plant with the dragonfly made it a striking watercolor flower painting.
When I started teaching horticulture I found orchids in the class greenhouses. I quickly became infected with the orchid bug. They are so beautiful and make lovely flower paintings.
Orchids are found in every country of the world. Some of them like the Phalaenopsis have flowers that last for months.
When the wild Phalaenopsis orchid was first found in the jungles, they were seen at a distance and the explorers thought that they were a group of white moths flying.
Here are some the "white moths". Phalaenopsis flowers flying in "White Flight".

Bearded Iris
I painted these "Bearded Iris" plus some Coneflowers and Poppies. These flower paintings were all done with watercolor paints.
It is challenging and rewarding. Then the flowers will last forever.
Oct 20, 21 09:05 AM

You can enjoy the flowers all year long with oil paintings of flowers.
Paintings of roses, daisies and more by Carol May, flower paintings are both fun and challenging!

Oct 05, 21 09:29 AM

The beautiful and awesome paintings of the old and modern masters inspire us to learn painting.
How do we get started leaning how to paint? What supplies should we get? What colors do we need? What is…

Sep 26, 21 09:23 AM

Learning the principles of good art made me a better painter.
All successful paintings use the same principle elements of art. Rev-up your art journey by using the elements of composition, values, foca…
Oct 20, 21 09:05 AM

You can enjoy the flowers all year long with oil paintings of flowers.
Paintings of roses, daisies and more by Carol May, flower paintings are both fun and challenging!

Oct 05, 21 09:29 AM

The beautiful and awesome paintings of the old and modern masters inspire us to learn painting.
How do we get started leaning how to paint? What supplies should we get? What colors do we need? What is…

Sep 26, 21 09:23 AM

Learning the principles of good art made me a better painter.
All successful paintings use the same principle elements of art. Rev-up your art journey by using the elements of composition, values, foca…