Painting Daily Will Make You a Better Artist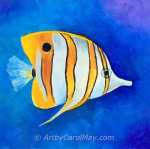 Painting small and painting daily is a great way to learn painting.
What do you need for daily painting?
First, it helps to have a dedicated place for painting. If you can leave your supplies out, you'll be ready for the next day's painting session.
You need to have your supplies in stock, so you don't run out in the middle of a painting. Figure out what size paintings you want and keep them in stock.
Paint things you have around the house or from a file of photos. If you are lucky you can go out and paint on location.
Don't expect every painting to be perfect. The dedication of painting is what counts.
Set yourself some guidelines of when and how long you will paint. Stick to your guidelines and your painting skills will go into warp speed.