How do we tell the difference between moths and butterflies?

Even though they are related, there is a difference between moths and butterflies. Some moths are just as pretty as butterflies. In fact, some of them are quite amazing in appearance.

As a young married couple my husband and I would go to a pay phone to call the family. (This was way before cell phones.) One evening after dark, we went to the convenience store to make a call.
There under the night lights were a bunch of moths. I was amazed at some large black and white ones that were stunning. At that time, I have no idea what they were called. Later I found out they were Giant Leopard Moths.

When I started painting butterflies, I planted butterfly flowers. This enabled me to see them close-up and get photos for paintings. Then I began to wonder about the differences between a moth and butterflies.

Wouldn't this Swallow-tailed Moth make a beautiful painting?
what's the difference between moths and butterflies?
Moths and butterflies are both insects. They have three body parts consisting of a head with two antennae, a thorax with six legs and an abdomen. That's what classifies them as insects.
Moths are the unsung members of the Lepidoptera order of insects. It is about ninety percent moths and less than ten percent butterflies.
If there are so many moths, why don't we see more? We quite often see butterflies visiting our garden flowers.
The main difference between moths and butterflies is moths are mostly nocturnal. 
They work at night and rest during the day.

Butterflies are active only during the daytime.
While it's light they are out flying from flower to flower.
Check it out. Go out by a street light or porch light at night. We can see all kinds of interesting moths flying around the lights.
Sometimes we see them landing on the exterior of our windows at night. The lights inside the house attract them to our windows.
my early moth lessons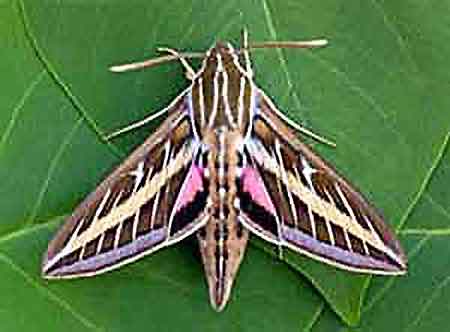 The Sphinx Moths is a type of Hawk Moth.
During the late 1960s organic vegetables were becoming popular. We had friends growing organic tomatoes.
Late one afternoon when we were visiting, they said, "It's about time to go out and get the Sphinx Moths."
We wondered - What in the world?
It was just about dusk. We all went out with flyswatters looking for Sphinx Moths. When we saw one flying around the tomatoes, we would give it a strong swat! That was organic pest control.
Why did they want to get rid of the moths? Because they lay eggs on the tomato plants. Then their eggs hatch into the dreaded tomato hornworm.
If you have ever grown tomatoes, you know how much damage a hungry tomato worms can do. Growing tomatoes can be is easy.

is it a moth or a butterfly?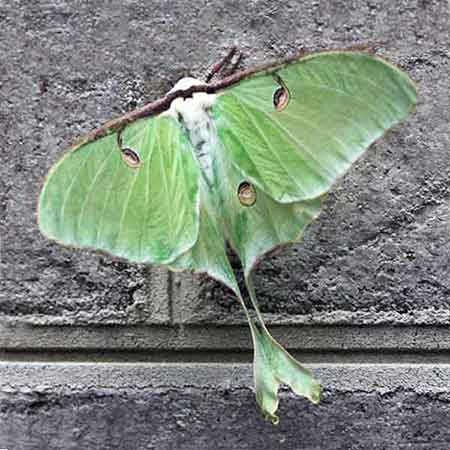 The stunning Luna Moths are quite large.
Farther down the road my husband and I were tromping through the deep woods of Florida.
We came upon a beautiful critter hanging on the side of a tree trunk in the shade. 
It was pale green with a long swallowtail. It was fairly large. It just hung there and didn't fly away while we admired it in amazement.

We were still learning the difference between moths and butterflies. Because it was so pretty, I thought it was a butterfly. At that time, I had no idea how to tell the difference.

When we checked with the local people, we found out it was a moth.
That makes sense now because it was resting from its night time activities.

more differences between a moth and a butterfly

There are some typical differences between the two.
The easiest way to tell a moth is they look fuzzy.
Another difference between a moth and butterfly is their antennae.
An Emperor Moth has feathered antennae.
Butterflies and moths both have scales on their wings and bodies. The scales are actually modified hairs that are called scales.

The moth's scales stand up on their body and wings. That makes them look fuzzy or furry.

The moth's antennae are feathered or leaf-like. Whereas the antennae of butterflies are long, smooth and slender.

Generally, there is a small bulb on the end of a butterfly's slim antennae.

Besides a hairy body, moths tend to have heavier bodies. The butterfly's body is slimmer and lighter weight.

Consequently, moths will fly slower than butterflies.

watch the moth or butterfly when they land
Moths land and sit down to rest with their wings stretched out.
When butterflies land, they hold their wings folded up above their head.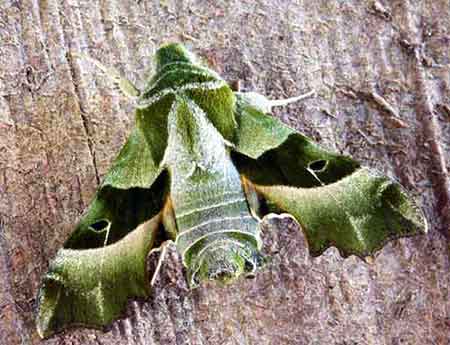 A Willowherb Hawk-moth resting with its wings out.
Notice the moth looks hairy compared to the butterfly's lightweight, smooth body.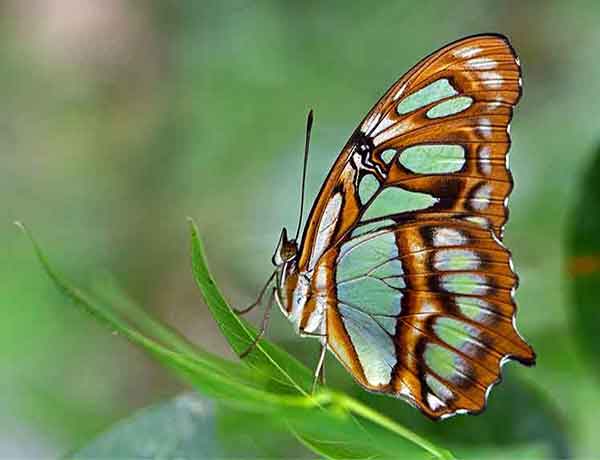 A Malachite Butterfly landed with its wings up.
Also, there is an enlargement on the end of the butterfly's long, slim antennae.

another difference between moths and butterflies
Moths and butterflies are colored differently.

Butterflies tend to have brighter colors.
Most moths are duller colored. 
The dull colors of moths don't attract the attention of predators during the daytime while they are resting.
defense mechanisms
The Eyed Hawk-moth is good at camouflaging.
Many moths and butterflies have what is called an eye-spot. They normally are on the outer portion of the wings.
There generally are two circles with a dark spot in the middle. The dark spot mimics the pupil of mammals.

See the eye-spot on the image of the Eyed Hawk-moth.
The eye-spot is a defense mechanism that works one of two ways.
Either the eye-spot would scare a predator away. Or a bird would peck the eye-spot instead of the actual eye.
Then the moth or butterfly would only lose a bit of wing instead of their whole head.
Different Structures

Moths have a different structure from butterflies. They have a frenulum, which is a wing-coupling device.
This mechanism locks their fore-wing and hind-wing together. So, when they fly, their wings fly in unison.
Butterflies don't have this mechanism.
metamorphosis
Both moths and butterflies go through complete metamorphosis.
The adult female moth or butterfly lays eggs, they hatch into larvae, called caterpillars. The caterpillars eat and gorge themselves.
This stage may be called worms, like the silkworm. They behave the same as caterpillars.

Then comes the difference between moths and butterflies.
Moths spin a cocoon which is covered with strands of silk. 
The cocoon hatches into an adult moth.
Butterflies make a smooth shelled chrysalis, also called a pupa.

The chrysalis completes its metamorphosis by hatching into an adult butterfly.
Silk Moth cocoons are getting processed.
That's how the beautiful silk clothes are made in the orient. In the orient silk moths are raised to collect their silk to make clothing.
No wonder real silk costs so much.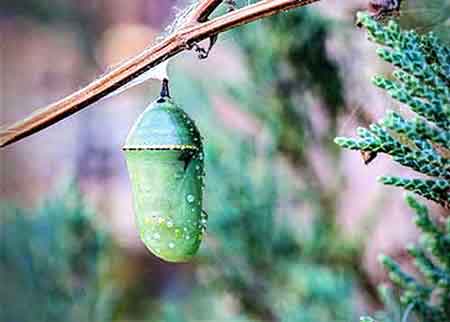 Chrysalis of a Monarch Butterfly
During this stage of metamorphosis all butterflies make a chrysalis. The Monarchs make particularly pretty ones.
the wonders of nature - moths and butterflies are different