Everything we need to know about how to care for roses

Learning how to care for roses is easy with just a few simple guidelines.
Select the rose type you like, plant your roses in an area with good sunlight and drainage. Give them regular water and fertilizer. Prune them and use pest control as needed.
Soon you will have America's national flower flourishing in your garden!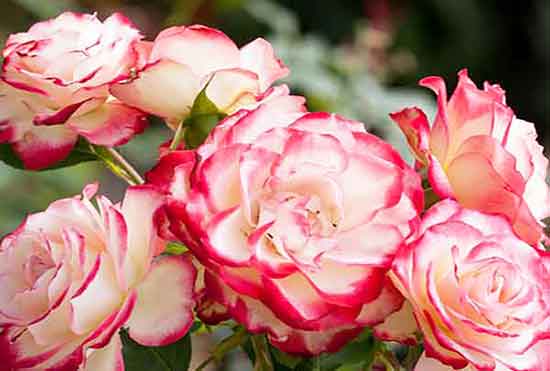 Rose care is very rewarding.
Choose modern rose bush types

Roses have been cultivated for hundreds of years.
Select your rose bush types depending on how you intend to use them in the landscape.
You want to feature your roses as specimen plants, climbing on an arbor or feature them in containers on your patio.
The choices are entirely up to you. Find the colors, types and fragrances to suit your desires.
Select roses that are already in bloom, so you actually can see what they look like. You get to see their colors, forms and enjoy their fragrances.
Hybrid Tea Roses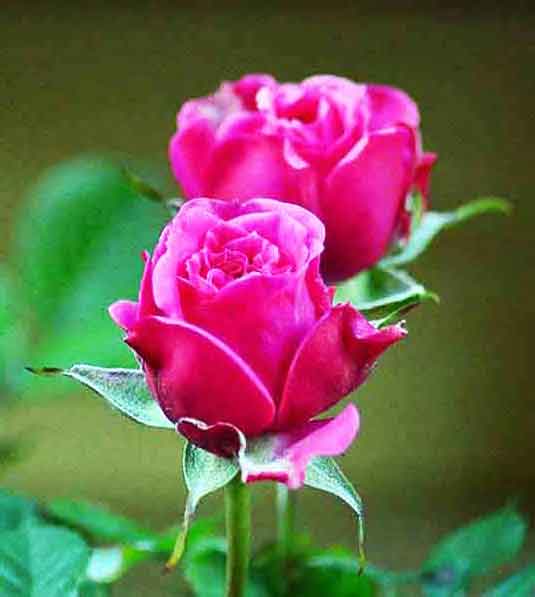 Hybrid Tea Rose
Hybrid Tea Roses have long stems with one flower on the end of the stem. These are the cut flowers used in the florist industry.
They have a large flower with a high center and a high petal count. More petals mean longer lasting blooms.
Many have a wonderful fragrance from the original tea roses.
They flower early in the summer and then sparsely the rest of the season.
They are very effective as specimen plants in the landscape. They may grow from 3 to 6 feet.
Generally, they are not as disease resistant as many other rose bush types. So they require attention to care.
But, they are gorgeous! Popular Hybrid Tea Roses
Floribunda roses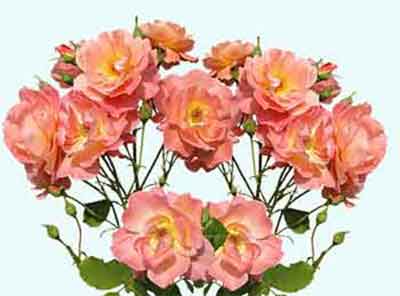 Floribunda rose
Floribundas have many loose-formed, smaller flowers on the end of the stem.
The center flower on the end of the stem usually flowers first. Then the side flowers open later giving an extended bloom time.
They are more cold hardy than the hybrid tea roses.
Floribunda rose bush types provide a lot of color in the landscape. They are continual blooming, from summer until frost.
The abundance of flowers and lower growing plants make them useful as hedges.
They are generally are 2 to 4 feet tall and they are known to be easier to care for than the hybrid tea rose bush types.
Grandiflora Roses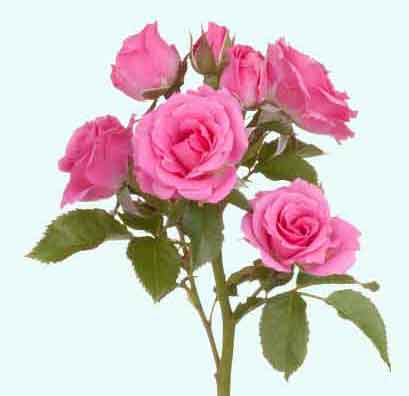 Grandiflora Rose
Grandiflora Roses were developed by crossing the hybrid teas roses with the floribunda rose.
Grandiflora roses have the larger flowers of the hybrid tea rose. Some have a wonderful fragrance from the tea roses.
They also have the hardiness and numerous flowers of the floribunda rose.
Queen Elizabeth was the first grandiflora to be registered in 1954. It's hard to find a more regal flower with its shell pink color and light fragrance.
Today there are many wonderful grandiflora rose bush types. They are an excellent choice for home rose growing and they are very rewarding.
They generally grow from 3 to 5 feet, occasionally taller.
knockout roses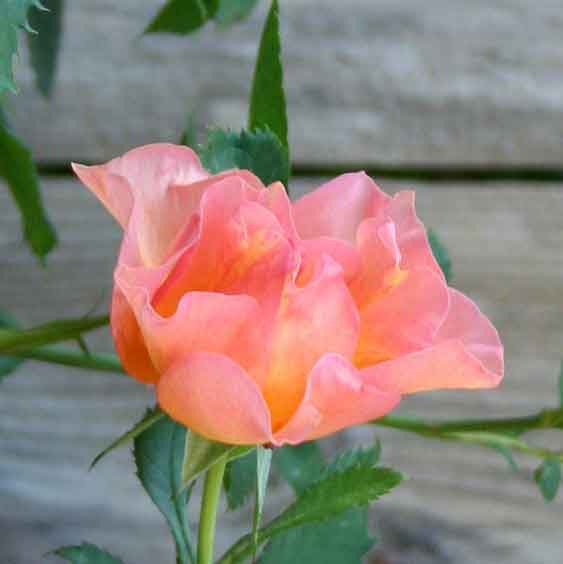 New Knockout Rose color
The popular Knockout Rose has greatly simplified growing roses!
They are the most popular of the modern rose types with good reason. They bloom all season long from spring until frost in waves of flowers about 6 weeks apart.
Knockout roses are extremely disease resistant, no pesticide applications required. They do not require deadheading of their spent flowers.
They may be used in the landscape like any other shrub and they have flushes of flowers all summer long.
They generally grow to around 3 to 4 feet tall and wide.
other rose types
Miniature roses look much like a hybrid tea or floribunda roses. But they are scaled down to a small size.
Miniatures are great for low growing hedges or growing in pots. Under most conditions they grow from 1 to 2 feet tall.
Climbing roses are popular for their usefulness in the landscape. They are used for growing on fences, arbors or a trellis. They need to be tied up to their support.
In harsh winter climates, lay the canes on the ground and cover them for winter protection. The next spring put them on their supports again.
Their long arching canes may grow up to 15 feet long.
what makes roses happy?

Selecting the correct location for our roses is one of the most important aspects of how to care for roses.
do roses need sun?

Yes, roses need at least 5-6 hours of sunlight for strong growth and good flowering. Roses will delight in 8 hours of sun.
The most common reason roses don't flower and grow well is because they don't have enough sunlight.
There are some roses that will grow in shady locations, but not many. Don't try planting a rose in the shade, unless it is specially bred and labeled as a shade rose.
The planting area should have good air circulation to help prevent leaf diseases.
When we are planting roses into a shrub bed against a building, plant them far enough away from the building to provide good air circulation.
Learn more about how to plant a rose.

how to care for roses
The rose planting is finished, now how to care for roses for their long life.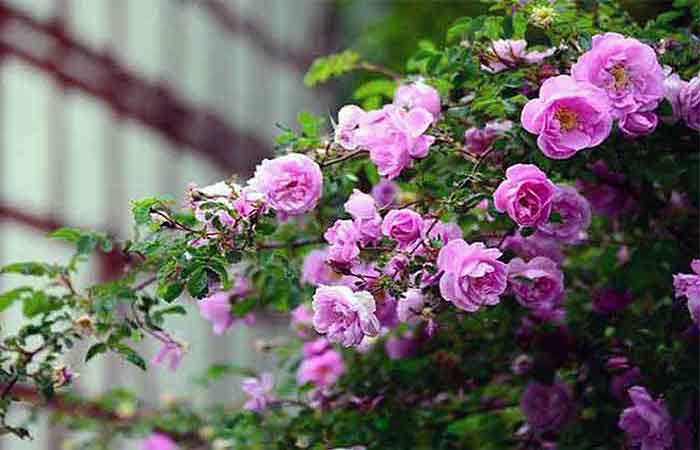 Taking care of roses is easy.
how often to water roses?

How to care for roses includes regular watering. Once your roses are established they are very drought tolerant.
Check them about once a week to see if the soil is dry. When you do water, water deeply with about 1" of water.
Apply the water at the base of the plant. That allows all of the water to soak into the soil. This is how to grow roses with fewer leaf diseases.
If you do water by sprinklers, do the sprinkling in the morning.
The leaves need to dry off before night. Because wet leaves at night encourage leaf diseases.
Fertilizing Roses

If your roses flower all summer fertilize them about three times during the growing season.
Fertilize the last time around Labor Day to give the new growth time to harden off before winter.
Roses that bloom once a year are fertilized once a year, early in their growing season.
Apply the fertilizer at the leaf drip-line. The feeder roots that pick up water and nutrients are out at the drip-line.
Use a rose food or a fertilizer such as a 5-10-5. This is how to care for roses.
simple Pest Control

Systemic pesticides have simplified how to care for roses.
If you have a pest problem with either bugs or leaf diseases, get a rose food that has a systemic pesticide and fungicide included with the fertilizer.
The systemic pesticide is taken up into the plant through the roots. It then works from the inside of the plant out to control the pests and diseases.
This greatly simplifies how to care for roses. It eliminates the necessity of spraying the top of the plant.
Follow the directions on the pesticide container.
how to prune roses
Pruning rose bushes controls the shape, size and health of the rose plant. When you know how to prune roses you will get larger blooms and healthy new growth.
After the rose flowers are past their peak appearance and are withering, it is time to deadhead the spent flowers.
Deadheading roses is a simple pruning done throughout the flowering season. It promotes more new flowers.
how to deadhead roses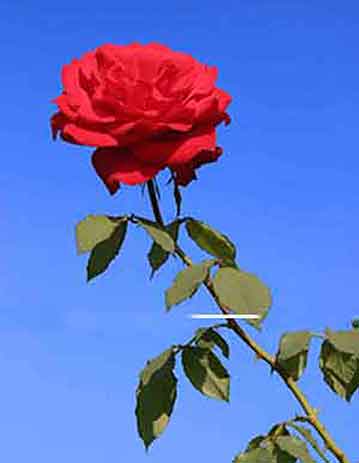 Cut above a five-leaflet.
Cut just above a five-leaflet leaf. Don't cut to three-leaflet or the resulting growth will be weak and spindly.
Prune to an outward facing bud, so the new growth will go outward instead of toward the interior of the bush.
Cut about 1/4" above the leaf axial. Cutting too close to the leaf axial will injure the new bud.
If you leave too much stem above the axial, there is a chance the cane will die back.
The flower in the photo is not actually ready to be trimmed off, yet. But it makes a nice picture.
Only deadhead the spent blossoms. This is how to care for roses.

When is the best time to prune roses?

Pruning is best done in the early spring when the buds are swollen, but not leafed out.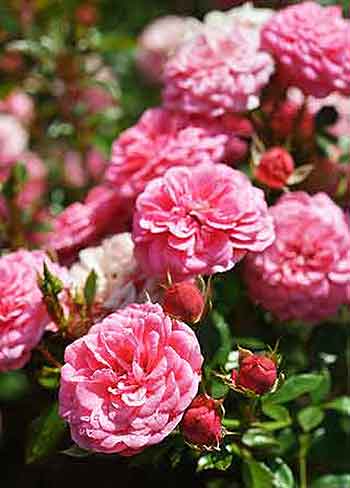 Pruning keeps the roses healthy.
Cut off all broken, diseased and crossing canes.
Normally 1/3 to 1/2 half of their height is removed to keep them a manageable size.
Prune to outward facing buds. 
Prune to three to seven strong, evenly spaced canes that will allow plenty of light and air into the center of the plant.
Shrub roses are pruned to keep them in their allotted space, full and natural looking. Normally reduce their height by about half each spring.
Knock Out roses are pruned in the spring before they leaf out, cut back about one third to keep them at a nice manageable size of 3 to 4 feet.
Knockout roses do not require deadheading spent flowers. This greatly simplifies how to grow roses.
Miniature roses are pruned to about half their height. Leave about six canes, while shaping the plant during the spring pruning.
Climbing roses are pruned after they have bloomed. Many bloom on last year's growth. If they are pruned first thing in the spring their flower buds would be cut off.
growing roses is so rewarding

When we know how to care for roses, we can enjoy the gift of beautiful roses every year.
Grow any type of roses, they are all worth it!
Enjoy God's gift of beautiful roses!