There are so many beautiful nature paintings to do.
Some of my favorite things to paint are butterflies and flowers. Then I have to do some of God's other critters like dragonflies and birds. The wonders of nature are so inspiring, what about a sunset or a seascape - yes!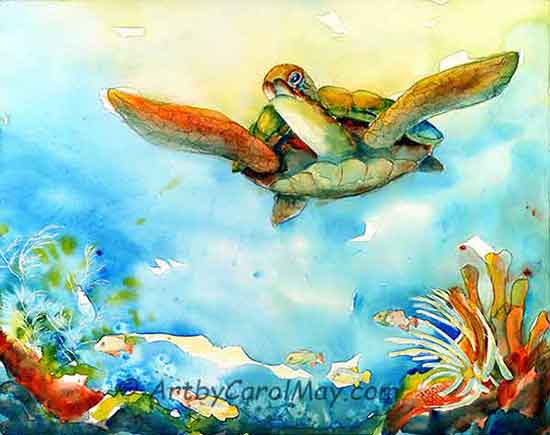 "Bold Freedom"
One time my husband accidentally caught a sea turtle. He brought him home for me to see.
We took him to the water to let him and go his flippers started going. I saw a tear coming out of his eye. I said, "Look he is crying." We turned him loose and now he is now swimming in his "Bold Freedom".
If that doesn't make you want to paint, I don't know what does?
beautiful nature paintings

Leafy sea-dragons are native on the coral reef of Australia. They are a quiet animal related to the Sea Horse.
They camouflage themselves in leafy appendages and wait for small fish to come by to suck them up.
Do you see two "Leafies" in this painting?