paintings of nature
There are so many beautiful nature paintings to do.
Some of my favorite things to paint are butterflies and flowers. Then of course I have to do some of God's other critters like dragonflies and birds.
I originally learned to paint with oil paints. Then I found out about watercolors. Now I paint with one or the other. I switch back and forth between oils and watercolors.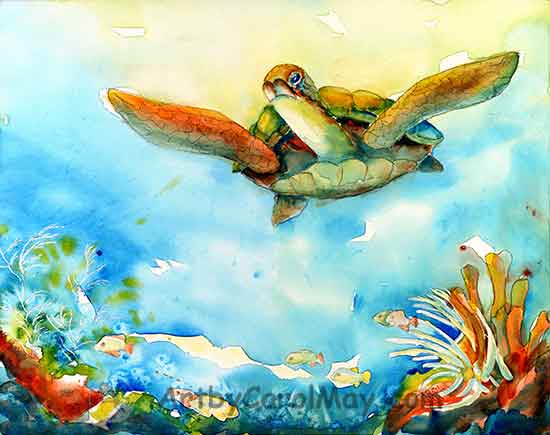 "Bold Freedom"
One time my husband accidentally caught a sea turtle. He brought him home for me to see.
We took him down to the water to let him go. When we got close to the water his flippers started going.
I saw a tear coming out of his eye. I said, "Look he is crying."
We turned him loose and now he is now swimming around in his "Bold Freedom".
If that doesn't make you want to paint, I don't know what does?

---
Click on one of the images below to get a full size view.


Click here to see all of my paintings with close-up views.
They will bring peace and beauty into your home.


---
beautiful nature paintings

Leafy sea-dragons are native on the coral reef of Australia. They are a quiet animal related to the Sea Horse.
They camouflage themselves in leafy appendages and wait for small fish to come by to suck them up.
Do you see two "Leafies" in this painting?



There are lots of little critters among the coral.
I like to walk in the mornings when everything is clean and crisp.
One time I kept seeing a Downy on the pine trees where I walked by every morning.

Finally I told my husband, I think it means I am supposed to paint him.
So I did the "Downy On Pine" with Virginia Creeper climbing up the tree.
The red creeper leaves complimented the red on the Downy's head to make a beautiful nature painting.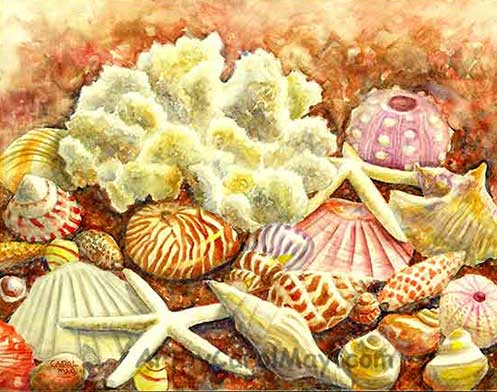 Sea Shells
While the weather was cool outside I was dreaming of going to the beach.
And you know what we all do when we go to the beach - collect "Sea Shells" to take home for memories.
This is a watercolor painting is full of lots of memories.
Two Sisters
Flowers are one of my favorite nature subjects. However, I have not painted many flowers.
Iris bloom in the late spring and there are some wonderful varieties that bloom again in the fall.
Here is an oil painting of "Two Sisters" in all their glory.

Pink Waterlilies
i looked forward to seeing the waterlilies blooming in our outdoor ponds.

With this painting of "Pink Waterlilies" I can have waterlilies all year long.

When we were living in a home with a tin roof, we started getting a "Northern Flicker" that came by every morning at the same time.
He would beat on our tin roof. He was staking out his territory.
We started calling him our alarm clock!
This painting of nature turned out gorgeous done with watercolors.

Mother's Love
Giraffes are such amazing animals. They have interested me for years.
I have put them in a number of nature paintings over the years.
Here is my newest painting of a mother giraffe showering love on her baby. "Mother's Love"

"Avocets" are beautiful water birds. The first time I saw them, I thought they looked just like a painting.
This painting was done quite a while back while I was still painting on Arches fine cold-pressed watercolor paper.
Now-a-days I use other materials for my watercolor paintings.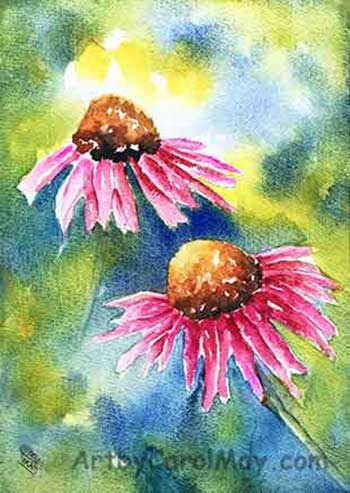 Purple Coneflowers
Flowers are one of my favorite things. And I am endeavoring to learn how to paint them better.
I did three watercolor paintings of flowers this spring while I was waiting for the flowers to grow in my garden.
Echinacea in the gardener's world is called Purple Coneflower. They look pink to me and that is how I painted them.
They are lovely to look at and if they are made into tea they supposedly improve the immune system.
I thoroughly enjoy doing nature paintings.

Paddlin' Pelican
Pelicans are amazing birds. We felt one when we accidentally caught him while we were fishing.
They look large, but they don't weigh very much.
We let him go and I did this original nature painting of a "Paddlin' Pelican".
He was very thankful to get set free.